FOGHAT 8 Days On The Road


By Andrew Depedro, Ottawa Corespondent
Thursday, July 15, 2021 @ 11:33 AM


| | | |
| --- | --- | --- |
| | | |
FOGHAT
8 Days On The Road
Foghat Records




Driving ambition! Stone blues! The right rhythm! And lots of perspiration!

What a long, slow 50-year ride it's been for FOGHAT ever since their founders "Lonesome" Dave Peverett and Roger Earl made their split from SAVOY BROWN to form one of the UK's most enduring legendary bluesy hard rockers. Indeed, having eight gold albums, one platinum album and one double-platinum album in their repertoire ain't nothin' to blow smoke over. They've continued to release new music every few years and have been non-stop on the touring circuit since their inception in the early 70's. Not even the passing of longtime key members Rod Price in 2005, Craig Macgregor in 2018 and Peverett himself in 2000 have abated or even slowed down this legendary powerhouse from continuing to work up a lively sweat. And it was this live recording on November 17, 2019 at Daryl's House Club in Pawling, NY, that helped to not only bring the current FOGHAT incarnation of drummer Roger Earl, bassist Rodney O'Quinn, guitarist Bryan Bassett and vocalist Charlie Huhn back to their familiar blues rock environment (particularly as this venue was known for its fine-tuned acoustics), but had also further solidified their longstanding touring reputation so much more that the experience was captured in the form of the band's latest live album 8 Days On The Road.

As Roger Earl And from there, the band would navigate through their rambunctious setlist starting with "Drivin' Wheel". With ¾'s of the current FOGHAT lineup likely having only been in their early adult years when the band's self-titled 1972 debut dropped, the combined talents of O'Quinn, Bassett and Huhn make for a stellar-sounding road crew throughout the album. From Bassett's slide guitar skills matching Price's own early work (and Price himself had tapped Bassett to replace him following his retirement from touring) to O'Quinn's funkified bass licks right down to Huhn's powerful soulful crooning and lively energetic stage presence, FOGHAT encompass their early blues, soul, funk and rock influences into a wild barroom boogie wonderland for the faithful crowd. Whether they're plowing through their lesser-familiar tracks such as the twin guitar attack of "Road Fever", the road trippin' vibes of "Chateau Lafitte '59 Boogie" and "Stone Blue" alongside their best-known hits such as "Fool For The City" and totally "Slow Ride", the sound and the tone is unmistakeably FOGHAT – even on their coveted renditions of WILLIE DIXON's "I Just Wanna Make Love To You", CHUCK BERRY's "Maybelline", AL GREEN's "Take Me To The River" and a surprise amplified take of WILD CHERRY's disco hit "Play That Funky Music" showcase the band's versatility both in the studio and onstage.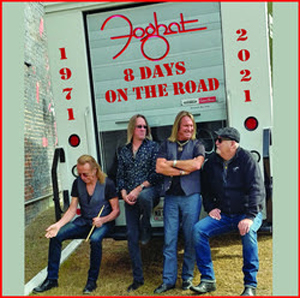 Few bands in this day and age with a 50-year-old ongoing history to boast – and even a global pandemic notwithstanding – can attest to still connecting fully with their audience on a close level as FOGHAT have successfully attributed to. And whether 8 Days On The Road can confidently be inspired from the band's vast touring longevity, even the band itself have long since been content with their place in rock 'n roll being firmly secure, knowing that their own roadwork throughout their 5-decade-long career could never be fast-tracked with an expectation of immediate success.
5.0 Out Of 5.0
And speaking of fast tracks, FOGHAT are already in the process of recording new music for 2022, and most likely these upcoming tour dates will be roadworthy for their test drive if you're in any of these following towns:
7/17 St. Charles, IL Arcada Theatre
7/23 Walker, MN Moondance Jam (with CHEAP TRICK and TODD RUNDGREN)
7/30 The Woodlands, TX Dosey Doe
8/7 Danbury, WI St. Croix Casino Danbury
8/13 Eldon, MO Shawnee Bluff Vineyard
8/14 Granite City, IL Nick's Bar & Grill (outside)
8/21 Canyonville, OR Seven Feathers Casino Resort
8/27 Kennewick, WA Benton Franklin Fair 2020
9/4 Mulvane, KS Kansas Star Casino (w/ ATLANTA RHYTHM SECTION, FIREFALL and PAT TRAVERS)
9/11 Huntington, NY The Paramount
9/16 Ocean City, MD OC Bikefest (with GEORGE THOROGOOD & THE DESTROYERS)
9/18 Uncasville, CT Mohegan Sun
9/19 West Springfield, MA The Big E
9/23 Ashland, KY Paramount Arts Center
9/26 Roanoke, VA Berglund Performing Arts Theatre
10/2 Ojai, CA Ojai Nest Fest
10/9 Port St. Lucie, FL Mid Florida Credit Union Event Center
10/16 Santa Fe, NM Buffalo Thunder Resort
11/20 Miami, FL Magic City Casino
11/27 Hiawassee, GA Anderson Music Hall (with NIGHT RANGER)
2/26/22 Biloxi, MS IP Casino Resort & Spa
10/29-11/5/22 Port Canaveral, FL High Seas Rally 2022-Royal Caribbean Mariner of the Seas
www.foghat.com
www.facebook.com/Foghat
www.twitter.com/FOGHAT
www.instagram.com/foghat_official
www.youtube.com/user/FOGHATMUSIC

Please log in to view RANTS


ACID KING Beyond Vision

STEEL PANTHER On The Prowl

NIGHT DEMON Outsider

YNGWIE MALMSTEEN In Ottawa, Canada

THEORY OF A DEADMAN, SKILLET, SAINT ASONIA In Houston, TX With Photos!

OFFICER X Hell Is Coming

PERIPHERY Periphery V: Djent Is Not A Genre

INSOMNIUM Anno 1696

STEEL PANTHER, CROBOT, TRAGEDY In Houston, TX With Photos!

BABYLON A.D. Live Lightning

ROTTING CHRIST, CARACH ANGREN, UADA, GAEREA In Houston, TX With Photos!

MOTÖRHEAD Bad Magic: Seriously Bad Magic

TRAGEDY I Am Woman

ROXANNE Stereo Typical

ANTHRAX, BLACK LABEL SOCIETY, EXODUS In Houston, TX With Photos!