SOCIAL DISORDER Love 2 Be Hated


By Francisco Zamudio, Metal X Candy 2.0
Thursday, August 5, 2021 @ 12:59 AM


| | | |
| --- | --- | --- |
| | | |
SOCIAL DISORDER
Love 2 Be Hated
AFM Records




If you ever needed lyrically filled, feel-good music, this is the time. Through the vision of Swedish Bassist and Songwriter Anders "LA" Rönnblom (KILLER BEE), he looked to bring his story to the forefront of this new endeavor in the form of a supergroup known as SOCIAL DISORDER. Bringing a sense of positivity to those who may need it and just as well to anyone who appreciates some great traditional rock, the debut album titled Love 2 Be Hated is a very personal trip for Anders "LA" Rönnblom. As the key songwriter he also laid down the lyrical content for which he'd like the listener to interpret them however they feel but it also tells his story about confronting his "demons" and alcoholism.

Though the foundation was set by Rönnblom, SOCIAL DISORDER is a collaborative effort of everyone involved. And what powerhouse names they are. To take us on the trip, he enlisted the help of his comrades to help form a powerful album filled with 10 solid tracks. The list of talent on Love 2 Be Hated gives you a hell of an idea how this album is going to rock. I'll get to those names in a second but let's first introduce a relatively new name to the scene in that of undiscovered Swedish singer, Thomas Nordin who was brought in through the recommendation of PERFECT PLAN keyboardist Leif Ehlin. Ehlin also contributes his skills on the album giving the album that keyboard infused classic rock style.

You couldn't get no-name "hired guns" to pull off such an organic sound. The amount of talent on this record with experienced veterans who knew full well what makes for great songwriting, really helped elevate this album. Tracii Guns (L.A. GUNS), Rudy Sarzo (QUIET RIOT, OZZY OSBOURNE, WHITESNAKE), Jeff Duncan (ARMORED SAINT), Dave Stone (RAINBOW), Snowy Shaw (KING DIAMOND, DREAM EVIL, MERCYFUL FATE) and Shawn Duncan (DC4) - all contribute something that makes this album one of those that fits a nice cruise down the highway on a long trip… well, as far as 37 minutes will take you.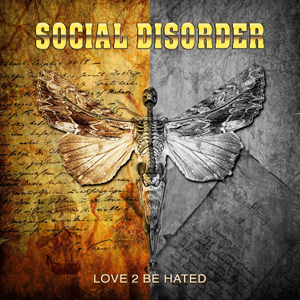 Love 2 Be Hated starts out softly on the first track and already preaches a good message, "believe in your dreams, believe in your goals." The production also shines through immediately, carrying a cool crisp sound on this opening ballad. Nordin's vocals really shine throughout the album and make his approach feel relatable and personable. The uniqueness in his voice makes his style one of a kind these days. The power metal element is also there bringing a bit of versatility without losing traditional Rock n Roll vibe. In the pocket grooves and solos that fit the mood and tone to a T, this album really swings too. A lot of rock n' blues style is a comforting element.
Fans of bands of the players I previously mentioned and other traditional Rock like DEEP PURPLE and URIAH HEEP (bands I've been HEAVILY blasting lately) will really dig this album. I don't think there are many bands doing this lately. The more I listened to this album (and reason I delay my reviews, to be quite honest) the more and more I appreciate what Rönnblom and company did on this one. The dueling guitars on the final track are so fun to hear. With the keys bringing that symphonic touch in the background, it carries out this album in excellent fashion.
A few of the songs that stood out to me that I really enjoyed, whether it's the personable factor through the lyrics or simply because they rock are "Dreaming", "Scars", "Raise A Glass". Well, there really are no bad songs here, nor songs that feel like basic album filler. It's filled with songs that would get any party going, regardless if the "party" for Rönnblom is over. Congrats on the sobriety!
4.5 Out Of 5.0

Please log in to view RANTS