STEVE WHITEMAN
You're Welcome
Red String Music 2021




Recorded because of and in the midst of the ongoing pandemic, KIX vocalist Steve Whiteman has released his first ever solo album. The You're Welcome CD may sound an awful lot like a KIX album but this is definitely a Steve Whiteman production. Given that his voice is such an integral part of the KIX sound, it shouldn't be a surprise that the music sounds like the band he's been with for 35 years. But to write it off as simply that would be doing a disservice to the singer and the material. Whiteman wrote all of the songs on the album, co-produced it and played guitar, harp, bass and drums on various tracks.

The You're Welcome album is pretty much an uptempo affair. It sounds like the soundtrack to the kind of rock and roll party you might've attended back in the day...but with a definite modern flair.

While you'd be hard-pressed to find much in the way of a slow song, the track "Kid Dynamite" does kind of start off that way. The song has an old-time rock and roll feel to it with the slower parts of the song having a cool guitar sound. But the pacing picks up and a more rock vibe along the way.

But the other eleven of the album's twelve songs are a mix of fiery rockers with either a full on aggressively melodic sensibility or a bluesy rock and roll vibe that gives those particular tracks an even great depth of feeling.

The first three songs on You're Welcome are a mix of those two disparate styles. The opening number "Easy" serves as the table setter song that gets you immediately amped up for the rest of the album. "Get Your Wild Out" delivers an in-your-face punch of adrenaline with a bit of that bluesy feel and "Talking About Luv" features a bluesy stomp toward the end of the track that gives it an extra push.

With a title like "Shock", you might expect that it would be a full on rocker, but the song actually downshifts just a bit but ends up growing towards more of an uptempo feel.

The tongue-in-cheek side of Whiteman finds the daylight in a couple of tracks. "Prick Teaser" might not be the most PC of song titles. The track opens with a brief a capella vocal from Whiteman and then all of a sudden it gets more intense with both the vocal and music. Of course, then comes "Tug Of Luv" which leaves nothing to the imagination with it's sex-fueled lyrics. I did find it amusing though and I love the way Whiteman can seemingly play it straight no matter how cheeky the lyrics get. Another example of that is "Do Me Like You Done Me Before".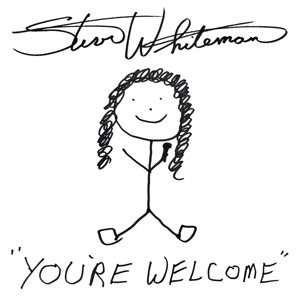 If you are looking for songs that are all high speed aggressively paced numbers, you have to check out "Bad Blood". The tempo is go-for-broke and all that high intensity really makes the track shine. "Lightning Bolt" has an intro that is more bluesy but from that point on, the same kind of blazing rock and roll takes over. The song I found I liked the most was the closing track "Shook Me In My Shoes". It's got a slam bang delivery combined with an overwhelming sense of theatric rock and roll fun. It reminded me a bit of AC/DC's "You Shook Me All Night Long" but damn if this didn't really get me going each time I listened to it.
I do wish there'd been a lyric booklet included in the CD but that's a little nitpick and my copy of the disc came with a little sticker featuring the album artwork. In the You're Welcome CD jacket there is a note from Steve Whiteman that says "Hope you enjoy it as much as we did making it, if you don't" and then he uses a middle finger emoji. Well, no such danger of being on the receiving end of that middle finger for because I think You're Welcome is a vast reservoir of good time rock and roll timed precisely when fans could us it the most. There's not a bad song on the album and it shows that Steve Whiteman sure knows what he's doing. And for that let me just say, "Hey Steve...THANK YOU!"
4.8 Out Of 5.0