WRAITH Undo The Chains


By Alex Yarborough, Orlando Contributor
Tuesday, August 10, 2021 @ 1:58 PM


| | | |
| --- | --- | --- |
| | | |
WRAITH
Undo The Chains
2021 Redefining Darkness Records




WRAITH from Canada? No. From Malaysia? Sorry. Poland? Nay. UK? Arkansas? Connecticut? Nope, nope, nope. This WRAITH is from Indiana, and plays a solid brand of heavy/power/thrash metal. The band consists of Matt Sokol (vocals/guitar), Jason Schultz (lead guitar), Chris Petkus (bass) and Mike Szymendera (drums).

The album opens with the one-minute intro title track, and then "Dominator" grabs you by the throat. Lots of riffage and aggression right out of the gate, with a nice lead from Jason. This speed metal track should win you over. If not, let the "Gatemaster" convince you. "Mistriss of The Void" is another speed metal thrasher that stays uptempo. "Cloaked In Black" assaults with riffs aplenty and nice lead guitar work. The breakdown and build up is a highlight. At 3:51, this is the longest song and one of the best. Take a listen HERE. "Born To Die" will bring MOTORHEAD to mind, with its shout-along chorus; this song is one of the best on the album. "Bite Back" offers no safe haven from the fray, while "Time Wins" is a nice memento mori themed hymn that absolutely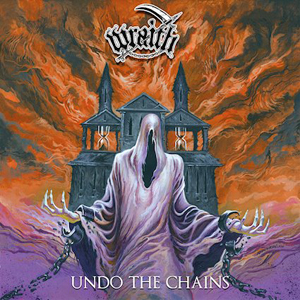 crushes. "Gift of Death" keeps the topic going, while short blast "Disgusting" segues into the face melting high velocity attack of "Victims of the Sword". This sets up what I think is the best song on the entire album, "Terminate". This one will shred your soul for sure. Crank it up and shout out "TERMINATE" all day and night!
WRAITH has been around since 2016 and surely wins the rights to the name with UndoThe Chains. This band will appeal to fans of early METALLICA (think about that hellish riffing from Hetfield on Kill 'Em All) and MOTORHEAD (think of that pummeling sound of "Overkill" for example) as well as SLAYER (the aggression and speed of Reign In Blood comes to mind). Matt's voice is angry and scratchy enough to make these songs work. His and Jason's riffs are engaging throughout and the rhythm section of Chris and Mike are tight and nicely mixed. Overall, the album sounds fantastic, kudos to CJ Rayson for the mix and mastering here. My only complaint is the album is a little short at 33 minutes, but I'd rather have songs that get to the point most of the time like these do. You can put the album on and get through it without needing to skip a track. Redefining Darkness Records will release Undo The Chains on September 24th. So check this band out, and get ready to break your neck.
4.0 Out Of 5.0

Please log in to view RANTS


ACID KING Beyond Vision

STEEL PANTHER On The Prowl

NIGHT DEMON Outsider

YNGWIE MALMSTEEN In Ottawa, Canada

THEORY OF A DEADMAN, SKILLET, SAINT ASONIA In Houston, TX With Photos!

OFFICER X Hell Is Coming

PERIPHERY Periphery V: Djent Is Not A Genre

INSOMNIUM Anno 1696

STEEL PANTHER, CROBOT, TRAGEDY In Houston, TX With Photos!

BABYLON A.D. Live Lightning

ROTTING CHRIST, CARACH ANGREN, UADA, GAEREA In Houston, TX With Photos!

MOTÖRHEAD Bad Magic: Seriously Bad Magic

TRAGEDY I Am Woman

ROXANNE Stereo Typical

ANTHRAX, BLACK LABEL SOCIETY, EXODUS In Houston, TX With Photos!