LAURENNE/LOUHIMO The Reckoning


By Wendy Jasper, Black Metal Aficionado
Tuesday, September 21, 2021 @ 1:26 PM


| | | |
| --- | --- | --- |
| | | |
LAURENNE/LOUHIMO
The Reckoning Frontiers Music Srl By Wendy Jasper What happens when power meets serenity? You get a collaboration between metal's newest darling, BATTLE BEAST vocalist Noora Louhimo and the angelicly poised Netta Laurenne from SMACKDOWN. Frontiers Records has long been in the habit of releasing collaboration albums that seem almost too perfect as it throws together unlikely allies. This album was such a surprise that at first I wasn't sure what to think. BATTLE BEAST is a personal favorite but I will admit that I have less familiarity with SMACKDOWN. I will absolutely check them out now that I have heard this record.

The Reckoning is a bundle of awesome music that sounds more AOR than metal but it works beautifully with these two singers. Once you start listening you find that "Time To Kill The Night" morphs easily into the title track, "The Reckoning". These tracks and "Tongue of Dirt" are reminiscent of the metal of days gone by; very '80s and that fits in perfectly with other projects released on Frontiers Records as they specialize in this sound.

I can easily say that "Bitch Fire" is my favorite track on the album and would love to see this song performed live though it doesn't seem likely that there would be a show done outside both singers' home of Finland, if it is even possible that it is done there. The vocals are soaring and wild and firmly cements making this album part of a frequently listened to collection of songs I have curated for personal listening pleasure.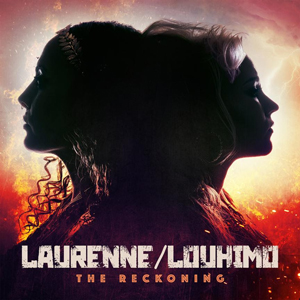 Another key characteristic of a project done for Frontiers Records is the ballad and this album boasts one of the best I have heard in a long time. "Hurricane Love" perfectly showcases Laurenne just as "Bitch Fire" shows the power that is Noora. Both ladies have their outstanding traits and I was pleased that there were opportunities for them to showcase them with these two songs.
"To The Wall" and "Dancers Of Truth" are reminiscent of traditional power metal with a feminine twist and the album is rounded out with these two tracks. I will be honest and say that I was not sure what to expect. I chose to review the album on Louhimo's strength as my new favorite female metal singer but I was blow away by how both singers created a harmony that depicted the singular abilities of each. I will now pay more attention to SMACKDOWN because I was so impressed with Laurenne's voice and I would hope that these ladies collaborate more in the future.
If you are a fan of female fronted metal and have been looking for a new voice then you will be ecstatic when you hear this album.
5.0 Out Of 5.0

Please log in to view RANTS


THE WINERY DOGS, BLACK HEART SAINTS In Houston, TX With Photos!

ROBIN MCAULEY Alive

CRADLE OF FILTH, DEVILDRIVER In Santa Ana With Photos!

KAMELOT The Awakening

ALTER BRIDGE, MAMMOTH WVH In Houston, TX With Photos!

ACID KING Beyond Vision

STEEL PANTHER On The Prowl

NIGHT DEMON Outsider

YNGWIE MALMSTEEN In Ottawa, Canada

THEORY OF A DEADMAN, SKILLET, SAINT ASONIA In Houston, TX With Photos!

OFFICER X Hell Is Coming

PERIPHERY Periphery V: Djent Is Not A Genre

INSOMNIUM Anno 1696

STEEL PANTHER, CROBOT, TRAGEDY In Houston, TX With Photos!

BABYLON A.D. Live Lightning

ROTTING CHRIST, CARACH ANGREN, UADA, GAEREA In Houston, TX With Photos!

MOTÖRHEAD Bad Magic: Seriously Bad Magic

TRAGEDY I Am Woman