MINISTRY Moral Hygiene


By Francisco Zamudio, Metal X Candy 2.0
Monday, October 4, 2021 @ 11:30 AM


| | | |
| --- | --- | --- |
| | | |
MINISTRY
Moral Hygiene
Nuclear Blast Records




What happen to the days when people used to think for themselves and question things? Seems the past couple of years gave way to people who misspell sleeping as "awake". More than anything it gave us time to turn to music (among other artistic forms of expression) which was a means to escape. For artists themselves, it was just another thing that would make for good lyrics and song-writing material. Let me cut through the bullshit. One of Industrial Metals Godfathers has a clear vision on how to project his perspective. Whether he means to influence or if people are influenced by his words is certainly possible. Could be for the majority of free-thinkers that we're sometimes in par with what "Uncle Al" essentially believes, sees and thinks. With six Grammy nominations and over 3 million records sold, MINISTRY has been an iconic name in Industrial Metal, Metal and music in general for four (count them, FOUR) decades. Their sound has influenced so many copycats and bands to the day and Uncle Al returns to remind people and kick them in the head and cause a glitch in the system like only he can.

On their 15th release due out now through Nuclear Blast Records, the title Moral Hygiene encompasses the current state of the world. And when is this ever NOT true. Song titles like "Disinformation" and "Broken System" just to name a couple should give you a clear indication where this album is coming from and going. Along with girlfriend Liz Walton and engineer Michael Rozon, they took to his own self-built home studio "Scheisse Dog Studio" to produce this 15th release. Returning to the fold is guitarist Cesar Soto, John Bechdel on keyboards and Ray Mayorga on drums along now with the added talent of Monte Pittman and Paul D'Amour, completes this nearly new formed lineup of the current MINISTRY. Add to that Billy Morrison (BILLY IDOL/ROYAL MACHINES) covering THE STOOGES hit "Search & Destroy". Even old-school comrade Jello Biafra (LARD anyone??) came on to add more character to Moral Hygiene.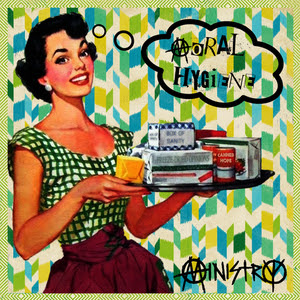 Throughout MINISTRY's legacy they've been combining elements of synth pop, punk, metal in a way that only he can. On Moral Hygiene it sounds like he has brought back a little of the old school MINISTRY sound that is less abrasive (not in a bad way). Such as the song "Believe Me", as Al described "had such an old school vibe I wanted to bring back old school vocals". It also has a familiar sound like the widely popular ΚΕΦΑΛΗΞΘ(aka PSALM 69). When Jourgensen looks back at what he's accomplished in 40 years with MINISTRY and how he sees the current state of things, he exclaims," It's funny how things come back to you… this may sound crazy but I'm more hopeful about 2021 than I have been in two decades at least."
A few of my favorite tracks on the album are "Good Trouble", "Believe Me", "Broken System" and a lovely near revision to the great hit TV Song ("Jesus Built My Hotrod" single, 1991). He's come a long way since 1983's With Sympathy, an album I highly suggest you hear which was a far cry to the MINISTRY we know now.
You and I may not see eye to eye with every word that comes out of Al's mouth, and you don't have to. It shouldn't take away from the fact that the man is a genius and obviously good at what he does. On Moral Hygiene, Al and company have maintained consistency that has welded tight the Industrial sound that many modern bands need to take notice of if they at all want to stay relevant. If not, get out of the way and let the masters due what they do.
4.5 Out Of 5.0

Please log in to view RANTS