APRIL WINE, MONKEYJUNK At The Ottawa Bluesfest


By Andrew Depedro, Ottawa Corespondent
Tuesday, October 5, 2021 @ 11:26 AM


| | | |
| --- | --- | --- |
| | | Canuck Rock Legends Say Hello After 2 Years At TD Place, Ottawa, Canada, September 25, 2021 |
Mass lockdowns!
Empty venues!
Live streaming music performances!
Enough is enough, indeed.

After two years into COVID-19's own world trek which had silenced the music industry worldwide, the entire scene is aiming to return harder and, indeed, faster, whether it be through mass vaccination campaigns or fractionized capacity rates at venues and festivals – and the Ottawa Bluesfest this year was no exception as it had been held at TD Place nearly three months after its regularly projected July date rather than at Lebreton Flats; coinciding with September's CityFolk festival this year, both festivals opted to merge into a six-day weekend split two ways so that each event could run for three days. And more so, at least for the benefit of national talent as the border hadn't yet opened up for most international travel (and especially with most tours being postponed entirely), the lineup was strictly CanCon to the core.

With that said, I'd intentionally saved the last night of Bluesfest to fully concentrate on bands I'd more or less planned to see on my day off from working the merch tent that particular evening (sorry, Raine Maida and David Usher). And local bizarrely-monikered swamp blues/rock troopers MONKEYJUNK – who, in fairness, were rightfully touted by the emcee as being the actual true blues band playing at Bluesfest that night – were the opening band I'd not entirely planned on seeing originally, though they had been billed as the opening band for the evening's events. Founded in 2008 and featuring their consistent lineup of guitarist/frontman Steve Marriner, lead guitarist Tony D and drummer Matt Sobb and their name coming from a statement made by legendary guitarist Son House describing about how the blues as an art form is about love and not "about monkey junk", they've released five studio albums and won a couple of Juno Awards throughout their modest career – and this was either the band's 11th or 12th appearance at the festival. Their latest album Time To Roll kinda featured a bit in their setlist (that is, had one been made available online) beyond the title track as the show opener but otherwise the more notably recognizable songs for the audience appeared to come from 2010's breakthrough album Tiger In Your Tank: "Boogie Man", "When Push Comes To Shove", "Light It Up" and the title track, with material from 2015's Moon Turn Red also making up some of the rest of the setlist in the form of burgeoning blues boogie anthems such as "Light It Up" and "Show Me Yours". Yet, even though not everyone who'd really attended mostly to see the headliners had been entirely familiar with their setlist overall, that didn't hinder MONKEYJUNK's own excitement in being able to return to the stage for the first time in 2 years. The band overall played with unbridled enthusiasm, with Marriner and Tony D's respected rhythm and lead riffs gelling pretty well for a band whose lineup never featured a bassist while Sobb covered every bottom-end percussive back beat flawlessly. And if you'd left their set without any real sense of respect for a band, though like every other affected by the pandemic, simply grateful to be back on the stage after a two-year absence that had been entirely out of their control, I could only feel sorry for you that day.

Granted, their name now seems less bizarre-sounding once its origins are known, but with Son House not being exactly available for comment on his opinion of the name as he hasn't been alive since 1988, it's safe to say that otherwise, MONKEYJUNK's ongoing foray through the blues jungle absolutely upholds his vision of the rustic anthems of the deep South continuing to resonate much love, no matter how bananas their moniker sounds to the untrained ear.

https://monkeyjunkband.com/
https://www.facebook.com/monkeyjunkband/

If a rejection letter from the Montreal offices of Aquarius Records back in 1970 over their first demo tape wasn't going to deter highly-anticipated co-headliners APRIL WINE from pursuing their musical career, neither would the Delta variant have a similar effect on the Nova Scotia-based veteran hard rockers on their return to Ottawa in 2021. And while only Myles Goodwyn and Brian Greenway remain from the band's most well-known lineup from the 70's – and even then, Greenway only joined the band in 1977 – they emoted every bit of their exuberant hard rock sound of the 70's without sounding mired by either age or musical trends. Perhaps credit the backing groove of Richard Lanthier (bass) and Roy Nichol (drums) as well for also giving the band a new revived and energized sound even if the entire setlist consisted of the best-known hits.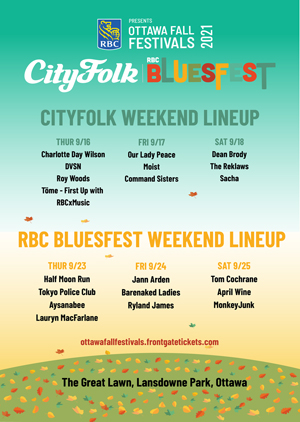 Opening with their rendition of HOT CHOCOLATE's "You Could Have Been A Lady" (and, yes, that same HOT CHOCOLATE of "You Sexy Thing" fame), Goodwyn, Greenway and esteemed company played the CRTC-approved hits, many which all went on to grace FM radio playlists the world over, including KNAC's, to this very day. Goodwyn's powerful vocals and Greenway's neat-sounding pick-free solos remained in fine form, but even despite a pandemic and the band's last studio album being 15 years ago, they were always keeping busy with either solo projects or remastering some of their past catalogue and then rehearsing for their current cross-Canada tour, so their performance was never in any risk of deteriorating to begin with. If anything, for the diehard AW follower since the Jim Clench/Steve Lang and Jerry Mercer eras of the band, it was witnessing how their respective successors in the form of Richard Lanthier and Roy Nichol handle their bass and drum duties throughout the performance despite both the latter having joined the lineup in 2011 and 2012. The verdict overall, naturally, especially from myself on my fourth time seeing the band (including once in 2005 with original bassist Jim Clench in the lineup), was that they crushed it – from the well-timed cymbal-simulated cowbell tapping intro to "Oooowatanite" and crashing snare/cymbal work on the driving "Weeping Widow" (the latter which Nichol also sang on), to the sultry bass grooves handled by Lanthier on "Say Hello" and the Francophone bilingually-pleasing ballad "Just Between You And Me" ("Seulement entre toi et moi/Means that our love will always be"), the band delivered hundredfold on their comeback that night, despite the surprising omission of "I Like To Rock" from the setlist, though, by now, such a statement in their case never really needed to be implied in the first place.
And they were actually the co-headliners of the evening, with Tom Cochrane being the closing headliner of the evening and my sister forgetting to inform me that she wouldn't need my babysitting duties for 9 PM following the concert after all that evening, which is why you're unfortunately not getting an accompanying review of his set. Then again, did KNAC ever play any of his hits outside of "Lunatic Fringe" AKA The Best 80's New Wave Hit FEAR FACTORY Should've Covered?
Rock 'n roll may be a vicious game, but it's more fun than watching Roblox videos on YouTube since 2019.
Much thanks to Brian Greenway for finding the setlist for me to use for this review and for TD Place and Bluesfest for hosting the event.
http:///www.aprilwine.ca
https://www.facebook.com/AprilWineOfficial/
Setlist:
"You Could Have Been A Lady" (originally by HOT CHOCOLATE)
"Fast Train"
"Say Hello"
"Rock 'N Roll Is A Vicious Game"
"Weeping Widow"
"Drop Your Guns"
"Enough Is Enough"
"Tonite Is A Wonderful Time To Fall In Love"
"Before The Dawn"
"Sign Of The Gypsy Queen"
"Just Between You And Me"
"Roller"
"Oooowatanite" (encore)

Please log in to view RANTS