BLACK LABEL SOCIETY, PRONG And OBITUARY In Portland, OR With Photos!


By Ruben Mosqueda, Contributor
Monday, October 18, 2021 @ 1:43 PM


| | | |
| --- | --- | --- |
| | | At The Roseland Theater |
All Photos By Mike Lewis Photography
BLACK LABEL SOCIETY returned to Portland, Oregon on October 8th, 2021. Like the previous time and the time before that, they performed at The Roseland Theater. ZAKK WYLDE has a loyal following in Oregon and BLS shows sell-out. While not sold-out prior to the doors swinging open, it was damn near, if not a sell-out by the time BLS took the stage.
PRONG went on first as the room was starting to fill up. The first band on the bill has the chore of getting the attention of the BLS faithful. Tommy Victor has created some incredible riffs during the band's existence. That said, the response was a bit on the 'lukewarm' side of things, which was surprising having caught several PRONG performances in Portland over the years. It got to a point about ¾ of the way into their set that you could sense Victor's frustration. Victor has an excellent band in place, joining him are Jason Christopherson on bass and Aaron Rossi on drums. The highlights of the PRONG set included, "Beg To Differ", "Whose Fist Is This Anyway" and "Snap Your Fingers, Snap Your Neck".
OBITUARY is one of the founding fathers of the death metal scene. Their name is often mentioned with 'death greats' like CANNIBAL CORPSE and DEATH. It's been some time since I caught an OBITUARY show and they haven't lost a thing. They opened their set with a more recent fan favorite, "Redneck Stomp" from their 2005 Frozen In Time album. As you probably imagined, they dipped into their legacy which included "Chopped In Half", "I'm In Pain", "Deadly Intentions" and "A Lesson In Vengeance". OBITUARY's set was a solid 45 minutes, it was intense, brutal, pummeling and went by way too fast. The band is readying new music soon. I can't wait for a headlining set in 2022.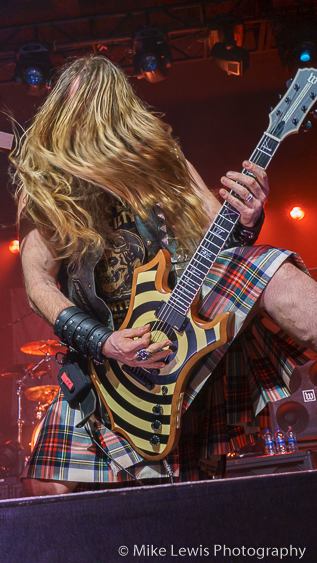 When Zakk Wylde cut the Pride And Glory album, it was the logical progression from OZZY OSBOURNE's No More Tears album. That album had a lot of 'southern rock' and 'country twang' injected into it and enough pinch harmonics to make your eardrums explode. When Zakk formed BLACK LABEL SOCIETY I didn't know what to think. I mean, he beefed up the sound, the music was less 'twangy' and then there was the 'faux biker' image. I thought initially that he'd get that out of his system and would return to recording material more akin to that of Pride And Glory or the material heard on the album Book of Shadows. Did I mention how wrong I was? Over the 20+ years since Zakk has built BLS from the ground up and has one of the most loyal followings out there.
If you've been to a BLS show you know they raise a giant curtain in front of the stage with the iconic BLS logo. When this happened the fans screamed, when the LED ZEPPELIN/BLACK SABBATH mash-up of "Whole Lotta Sabbath" played then you knew it was just about time. The intro to "Bleed For Me" kicked in, the curtain fell and it was on! In typical Portland fashion, minutes into the opener the first drunken 'attendee' was thrown out by security. You've been waiting since summer for this show and this is how you want to end your night? In recent years, Zakk has added a kilt to his attire, so he's got this neo-viking, biker look going. I'm not exactly one to talk about fashion, so what do I know? BLS has had a stable lineup for a few years now and Zakk's right hand man, bassist John Deservio, guitarist Dario Lorina and drummer Jeff Fabb are as tight of a band as you could assemble. They're not household names but they are damn fine musicians. Virtuosos, actually. As you know Zakk shreds like hell throughout the set, he also plays acoustic guitar and plays piano proficient. Highlights of the set included "Bleed For Me", "Blessed Hellride", "In This River", "Overlord", "Spoke In The Wheel", the new tune "Set You Free", "Sucide Messiah" turned into a guitar 'slugfest' as Wylde and Lorina traded off licks as they turned a 4 minute tune into a 10 minute 'epic'. I was spent from just watching it! BLS closed out the set with their 'hit' "Stillborn". It was an incredible night. An eclectic bill, that worked and expanded the Oregon Chapter's musical pallet.
Check out some more photos from the show!
All Photos By Mike Lewis Photography

Please log in to view RANTS