JAY JAY FRENCH
Twisted Business: Lessons from My Life in Rock 'N' Roll
RosettaBooks




By Kelley Simms, Contributor Rock 'n' roll is Jay Jay French's business… and reinvention was the key to his success.

As the guitarist and founder of the iconic metal band TWISTED SISTER, French (born John Segall) was also the band's manager and was pulling double duty throughout the band's existence. He also owns the band's trademark and does all the licensing deals.

French gives a complete rundown of his life as a musician and an entrepreneur throughout its 240 pages. All French ever wanted to be was a rock star, and you pretty much get the gist of his life story within the first few pages of the book's introduction.

French states that he ran the band like a business from day one. He describes his ultimate business model that led to his success with the acronym of T.W.I.S.T.E.D.: T=Tenacity, W=Wisdom, I=Inspiration, S=Stability, T=Trust, E=Excellence, D=Discipline.

Co-written with Steve Farber — bestselling author and one of the world's top leadership and management experts — Twisted Business unveils French's life from a glorified drug dealer to a sober rocker.

This book isn't just about music or the history of TWISTED SISTER, it's also about politics, art, relationships and business. However, in some parts of the book, French comes off as a bit self-gratifying, often praising himself for launching the brand of TWISTED SISTER.

However, some of the highlights of French's life that we may not have known are:

He auditioned for a later incarnation of WICKED LESTER (pre-KISS), he jammed with film director Wes Craven, he went through a deep depression in the early days, he became SEVENDUST's manager and co-produced their debut album and later became a professional business motivational speaker, to name a few.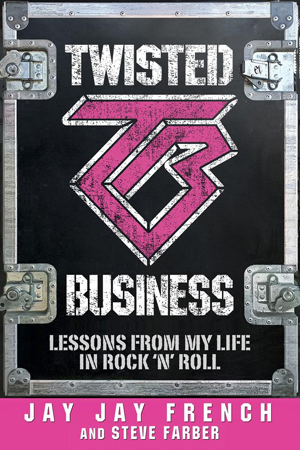 Unsurprisingly, French admits that the biggest mistake TWISTED SISTER made was releasing THE SHANGRI-LAS cover song "Leader of The Pack" as the first single from 1985's Come Out And Play album, which seemed to label the band as a cartoon joke amongst its core fan base. And it was downhill from there.
French had to rebuild his life and his band after filing for bankruptcy in 1995.
With the help of Eddie Trunk's 9/11 benefit concert entitled NY Steel, it led to the band's reunion tour in 2003.
Things were now back on track for the band and it eventually recorded a well-received Christmas album, A Twisted Christmas, in 2006.
However, the sudden death of drummer AJ Pero due to a heart attack in 2015 was the band's swan song. There was really no where else for it to go. However, with former DREAM THEATER drummer Mike Portnoy filling in, TWISTED SISTER played its final farewell show on Nov. 16, 2016 in Mexico opening for KISS.
French speaks some good wisdom and offers some sound advice after each chapter. Some of it is common sense and some of it is learned through experience. It may be naive in a way, but you take what you want away from the book. It's a rather short book and the discography at the end tends to repeat most of what he already spoke about.
Twisted Business: Lessons from My Life in Rock 'N' Roll is a decent read, but I wish French would've talked more about TWISTED SISTER songs or how they recorded the albums, or even more details on the business side of things such as record contracts, royalties, band per diems, record recoups, etc.
3.0 Out Of 5.0