LORNA SHORE
...And I Return to Nothingness EP
Century Media




By Wendy Jasper LORNA SHORE...Who are they? They are not new, but they have evolved and I discovered them recently. They may have never been on my radar because of several reasons; most notably that they were pigeonholed into the deathcore genre and I don't have a great love of it. However, they have a new singer and a new EP and I must say I'm impressed. They have burst free from being genre specific and their new music is something that all metalheads would likely love!

...And I Return To Nothingness has been out for a couple of months, but their first video and single for "To The Hellfire" has made the metal community take notice. A significant factor in this new crossover sound is the new singer, Will Ramos. He filled in when the band had to release vocalist CJ McCreery because of allegations of sexual misconduct against multiple female complainants. The band clearly had to distance themselves from this situation and they called upon Ramos and he stepped up to the plate.

The rest of the band is comprised of guitarist Adam DeMicco, bassist Andrew O'Connor and drummer Austin Archey. They have put together a three song EP via Century Media Records that, if I didn't know who they were, I would wonder who this great new black metal band is. Don't get me wrong, they aren't traditional black metal by any stretch of the imagination, but Ramos has let loose screams that are truly black metal inspired. The songs are also keyboard heavy and reflect the symphonic bent eerily similar to early Emperor.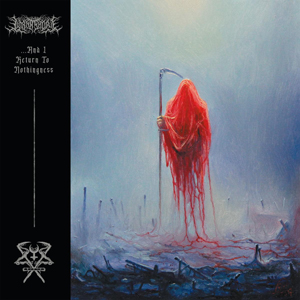 "Of The Abyss" is next up and in similar fashions takes the listener on a wild ride of heavy guitars, screeching and wailing vocals and monstrous breaks that have made the band stand out. I am equally as impressed by this tune as I am the first.
Then we round out the EP with the title track. Lush keyboards, blast beats and guttural screams keep pace with the other songs on the offering and are richly supplemented with guitar virtuosity by DeMicco. The three songs share similar traits without sounding repetitive.
Incidentally, I gave some of their earlier work a listen to draw comparisons. I can honestly say that there is no comparison; The songs on this EP are exceptional and I hope the band continues using this blackened death formula as it makes for a stellar sound that sets them above other bands that I have heard that try to do this same thing.
Good Job, LORNA SHORE. Good Job.
5.0 Out Of 5.0