BUCKCHERRY, HARD LABOUR In Ottawa, Canada


By Andrew Depedro, Ottawa Corespondent
Monday, November 1, 2021 @ 6:04 AM


| | | |
| --- | --- | --- |
| | | At The Brass Monkey October 22nd |
All Photos By Andre Depedro
After an on-off-on again season marked by at least four lockdowns since March of 2020 and an overall successful vaccination policy, Ottawa's Brass Monkey was finally able to open to the public within a more wider capacity rate. Its patrons did have to comply with house protocols – valid proof of both double vaccinations or you couldn't enter, much like everywhere else – but overall, this concert would be indicative of the first night of a hopeful return to post-pandemic relative normalcy thanks to its staff's due diligence, patience and hard labour – and also for this sentence nicely segueing into the review of this said concert.
For the opening band for both concerts that weekend (of which I was only available to review the Friday one) were indeed known, in fact, as HARD LABOUR, a local hard rock trio who've been around since late 2017. Comprised of frontman/bassist Doug Freake – or Sebastian Z'Nuff whenever he's wearing those John Lennon shades onstage – guitarist Mike Bashall and drummer Donavon O'Leary, the band have built up a steady live following in and around eastern Ontario while taking their time recording their debut EP titled Denham Way (named after the road where the band's recording studio and rehearsal space was located), which eventually saw its release in 2020 – just in time for COVID-19 to hit. Luckily, the band were able to make their neat brand of hard rock and power pop available to the masses via Spotify and Apple Music, but this was the night they could officially present some of those songs in front of a well-packed crowd. As it turned out, their setlist appeared to be comprised of mostly new songs such as "You And Me", "Left Right Goodnight", "Forget", "Darkness Falls" and "What About Me" which all received a great reception from the crowd. Doug Freake commanded the crowd with both his humble yet upbeat rock star persona and Thunderbird bass-wielding skills (and I swear he'd forgotten that his bass strap had come undone during half the set), while Mike's improvised EVH-style solos and Donavon's solid drumming talents built the foundation of a well-run performance. And if you were Trevor Phillips who happened to be celebrating your birthday in the vicinity of the audience, you couldn't have picked a better environment that night to do so or with the band with the best name to do so.
https://www.facebook.com/HardLabourBand/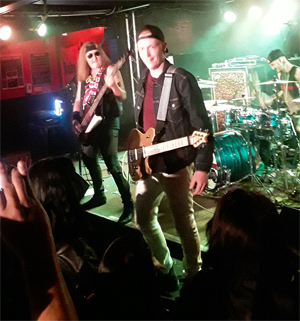 While I'd managed to overcome both a former team lead's attempts at creating her own pandemic at work from a simple bout of flu she wouldn't take time off work to battle and setting a trail for my local H3 chapter in order to see URIAH HEEP and THE IRON MAIDENS play two different back-to-back shows at the Brass Monkey – and even interview the latter in between as well – I wouldn't be as fortunate in catching more than one of the two consecutive shows which headliners BUCKCHERRY would be playing that weekend. Indeed, that the band were even playing two nights in Ottawa at all during the Canadian leg of their previously postponed North American tour in support of their ninth album Hellbound was really good fortune in itself as the Friday show was a last-minute add after their show in London was cancelled, leaving them with an unexpected extra day off until the collective brainstorming of both esteemed podcast host Mitch Lafon and Brass Monkey owner Skotti Ruffo resulted in the LA hard rock quintet landing a newly paid gig at the venue.
Opening with the breakneck banger "5-4-3-2-1" followed by "So Hott" from Hellbound, the band, compromised of Josh Todd (vocals), Stevie D. (rhythm guitar), Kelly LeMieux (bass), Billy Rowe (lead guitar) and Francis Ruiz (drums), claimed the stage and encouraged the 300-odd faithful to help bring the rock back after a 2-year hiatus. Having reviewed the aforementioned album from which the two opening songs were from, I can now attest that BUCKCHERRY play them just as brash, fast and unpolished onstage as they do in the studio.
Josh Todd has already worked up a sweat by the third track "Ridin'" that he's taken off the denim jacket and black T-shirt, revealing his body mural of assorted tattoos across his bony frame; his front chest alone easily has more ink than the entire RED HOT CHILI PEPPERS' lineup combined. The similarly-tattooed rhythm guitarist Stevie D. was already shirtless before the first chant of "5-4-3-2-1" was even uttered and he played every bit as energetic and frenetic throughout the entire show. And given that this current version of BUCKCHERRY had been rebuilt by its sole original member/founder Josh Todd from the ground up about 20 years ago just as the band were on the cusp of further claiming their turf in the post-glam/grunge game of Red Light Green Light, he's kept a lineup of diverse musicianship throughout the years and especially during this concert. LeMieux' background from playing with legendary LA punks FEAR and MD.45 with Dave Mustaine as well as playing with punk/ska outfit GOLDFINGER and being a founding member of 90's sleazy funk rockers the ELECTRIC LOVE HOGS reflected in his raw-sounding bass mix, while Billy Rowe's long-standing tenure as JETBOY's guitarist and founder is well represented in his divide of flashy soloing and precise rhythm grooves, blending well with Stevie D.'s similar-sounding funkified blues riffs. Certainly, the early inclusion of playing the popular hits such as "Ridin'"and "Lit Up" were the evident crowd pleasers as this meant that the band had something bigger to see out the show with – which turned out to be some rather well-done improvised covers. While Christ knows that we all could do with never having to hear "Summer Of '69" in any capacity again in our lives, BUCKCHERRY's rendition of the BRYAN ADAMS anthem was a nice gesture otherwise, but it's the medley of KOOL & THE GANG's "Jungle Boogie" and CREEDENCE CLEARWATER REVIVAL's "Proud Mary" hidden neatly in between their extended version of "Crazy Bitch" – which must've been popular enough to set off a brief brawl about a few feet behind me before Skotti and a couple of bouncers had to intervene and kick out the offending punters. It did reduce the risk of clustering to be fair.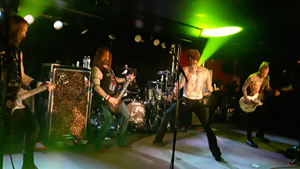 The encore for BUCKCHERRY's set was finally comprised of a faithful rendition of The Jeffersons' theme song which, while few of us really understood why, it was still a fun-sounding cover. And then Josh Todd sought revenge on one of his high school teachers with a punishing rendition of "Dead" from the band's fifth album All Night Long. A quarter century and nine studio albums into their career, it's safe to say that BUCKCHERRY have topped every one of their lifelong expectations and goals – and overcoming the tail-end of a global pandemic hadn't even figured on their list.
Much thanks to the Brass Monkey, its staff, its owner Skotti Ruffo and Mitch Lafon for actively securing this show on the band's tour.
Setlist:
"5-4-3-2-1"
"So Hott"
"Ridin'"
"Out Of Line"
"Lit Up"
"Hellbound"
"Bent"
"Wasting No More Time"
"Too Drunk To Fuck"
"Sorry"
"Gluttony"
"Gun"
"Summer Of '69" (BRYAN ADAMS cover)
"Crazy Bitch"/"Jungle Boogie" (KOOL & THE GANG cover/"Proud Mary" (CCR cover) medley
Encore:
"Movin' On Up" (The Jeffersons theme song/Jeff Barry & Janet DuBois cover)
"Dead"
http://buckcherry.com/
https://www.facebook.com/buckcherry/
https://twitter.com/buckcherry
https://www.instagram.com/buckcherry/

Please log in to view RANTS