SUFFOCATION Live In North America


By Francisco Zamudio, Metal X Candy 2.0
Wednesday, November 17, 2021 @ 10:35 AM


| | | |
| --- | --- | --- |
| | | |
SUFFOCATION
Live In North America
Nuclear Blast




I don't think there are many live albums that encompass the nostalgia of being at a live show quite well like the standout albums that are on a short list when you think of all the bands that have released one. Ones worth noting are JUDAS PRIEST and Unleashed In The East, KISS and Alive!, MOTORHEAD's No Sleep Til Hammersmith, IRON MAIDEN's Live After Death - just to name a few. I think a live album should capture a special moment in time and not just a concert. Case in point is the new release by Death Metal veterans SUFFOCATION who bring a close to another chapter with Live In North America which is an ultimate collectors piece as it is the final appearance of lead vocalist, the one and only Frank Mullen, with the band. A man that he has dedicated his life and career to the band since 1988, Frank, his trademark 'hand-chop' and the guys have dominated stages for about 30 years as one of the godfathers of Slamming Brutal Death Metal, and are responsible for the resurgence that the Death Metal scene has seen in the past decade (or so).

Very much like a comic book that gains value as the final appearance of a character, this live album should be in any die-hards collection. Frank has given his all to the band through 10 albums and various EP's, Mullen's hand-chopped his way into our hearts and we can't thank him enough. It certainly has been a rocky road for SUFFOCATION from a brief hiatus, the departure of another great, drummer Mike Smith, the stepping down of guitarist Guy Marchais due to health – this only leaves Derrick Boyer and Terrance Hobbs on bass and guitar (respectively) to take the helm and continue the legacy of the mighty SUFFO' for at least a few more years or however long they care to go.

Live In North America was recorded practically 3 years ago during the 'Death Chopping Tour' in 2018. The setlist is essentially a 'Best of' consisting of many crowd favorites but let's face it, practically all their songs are crowd favorites, am I right? "Thrones Of Blood", "Pierced From Within", "As Grace Descends", "Catatonia", "Funeral Inception", "Breeding The Spawn" – you name it! Joining them on this are Eric Morotti on drums and Charlie Errigo on guitar who came aboard only recently and contributed to the last full-length, …Of The Dark Light (2017) which would also be Frank's last appearance on a SUFFO' record. They've had some big shoes to fill but it's safe to say that the crowd has been most welcoming. At this point, they'll take what they can get so they can enjoy these great SUFFOCATION tunes.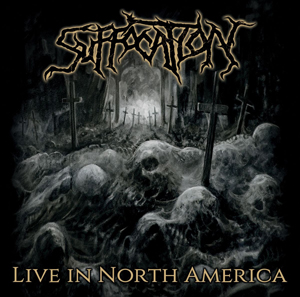 I can gladly say that I got to see SUFFO' with Mike, Guy and Frank a few times later in their career. They didn't tour much, even less, they didn't come out to the West Coast very much from what I remember. It was between the California MetalFest and Summer Slaughter tours that came around as well as a couple of other short runs. The last had Southern California's DISGORGE drummer Ricky Myers taking on vocal duties and the dude killed it. For me, having been able to see the elite line-up, I hold that in high regards and Frank was an amazing frontman, Mike Smith and his name-sake style dubbed the "Smith-Blasts" and Guy's remarkable compatibility and balance on the other side of the stage from Terrance – this was an unstoppable force. For reasons like, one shouldn't take for granted the opportunity to see your favorite band. Especially these days, you never know when it could be the last time you see a particular line-up or even that band overall. GO to those shows and support YOUR favorite bands.
Just 16 years from The Close of a Chapter: Quebec City Live 2005, another great live album from SUFFOCATION, this latest and last chapter, in saying goodbye to Frank Mullen, I'd like to say on behalf of all the diehard SUFFO' fans from all over the world, thank you so much for your efforts and dedication and ferocity that you brought to the stage. You are an icon in the Death Metal world and thanks for the gift of this last live album that gives us a new memory to hold on to.
5.0 Hand-Chops Out Of 5.0

Please log in to view RANTS