AEON God Ends Here

By Francisco Zamudio, Metal X Candy 2.0
Sunday, November 28, 2021 @ 10:09 AM

| | | |
| --- | --- | --- |
| | | |
AEON
God Ends Here
Metal Blade Records




I love it when I find a band that unbeknownst to me has been around for a good minute. It's a rewarding feeling to hear a band and listen to their discography and discover how constantly great they are. In this case is Swedish Death Metal group AEON who came about in 2001 with their EP Dark Order. Their full-length debut from 2005, Bleeding The False was a sole release through Unique Leader Records but their current home Metal Blade Records saw something obvious in them and have been with the renowned label since 2007's Rise To Dominate. Now nearly 10 years since their last album Aeon Black, AEON has returned to stir up the pit with Brutality with the new full-length God Ends Here.

With what could be considered a comeback album 9 years in the making, they felt it appropriate to release a massive album with 16 great tracks (11 if you don't count the intro and instrumentals). The timing seems right to release this album as the pieces seemed to have come together for the band. With the return of guitarist Daniel Dlimi who had left in 2013, it re-invigorated guitarist Zeb Nilsson's songwriting. Add the talent of drummer Janne Jalome (DARK FUNERAL, IMPERIUM) who according to Nilsson is "a perfect fit for us". Also making his first recording appearance with the group is bassist Tony Östman who rounds out this new era. On vocals is Tommy Dahlström who along with Zeb and the return of Daniel are the sole long-standing members who have kept AEON going for the 21 years.

With a new found rhythm section, it helped create God Ends Here, which is nonstop banger of a record. At nearly 50 minutes, they keep your ear glued to the speakers with catchy songs that encompass all the great things about brutal Death Metal. Although from Sweden you'd expect the typical but adored "Swedish Death Metal" style but AEON is a different Death Metal band from Sweden. Their style leans more towards straight up brutal Death Metal. Once you hear the band, you'll hear the mixture of the many great old school bands must have had an influence on them.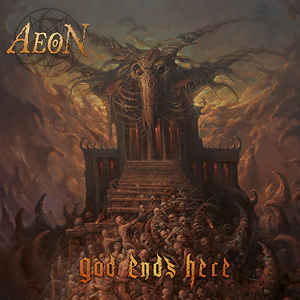 This ripe young band that has only been around about 21 years, to me is one of the best modern brutal Death Metal bands around that stick to a formula that works. With a big gap in time since their last album, 10 years is a long time but it seems worth the wait. Once they shook off some of that rust, they prove here that that not only not lost a step but also gained a few steps and level up. The song writing is intense and varies from song to song, giving this album a lot of great character. Gut-punching grooves like "Let The Torturing Begin" will snap your neck. The title track will have you screaming along with "GOD ENDS HERE!" The blistering onslaught of "Deny Them Eternity" and several other tracks go you covered and give the listener everything they could want from a brutal DM record.
With God Ends Here, it's evident that AEON are a well-groomed band with 2 decades under its belt that shows a consistency and continue to become more brutal with every release. With only 5 albums to their name, it should be recognized that every album they have put out has been outstanding but their newest release here has indeed elevated them. "… we don't do shit half assed and I feel like this is our strongest album yet", as guitarist Zeb Nilsson would state and I would have to agree that as God Ends Here, AEON are just getting started.
4.5 Out Of 5.0