THE 450's The 450s


By Jason 'JRock' Houston, Contributor
Friday, December 10, 2021 @ 8:20 AM


| | | |
| --- | --- | --- |
| | | |
THE 450's
The 450s
2021 Louder Than Loud Records




If you're looking for a band that sounds like nothing you've ever heard before then let me urge you to check out the debut album by the band THE 450's! This band's self titled CD will not only be sure to satisfy you but I guarantee you that this dose of Hard Rock and Metal is also sure to impress the hell out of you! I mean I listened to the entire CD from start to finish myself and I did not once skip any track because every single song on this CD really stands out on it's own and I can tell you that any of the 12 tracks on this CD could be released as a single and the fans would eat it up alive! The last band to get me this excited about anything was THE DEAD DAISIES! Now I'm not saying THE 450's sound anything like THE DEAD DAISIES because they don't and if truth be told THE 450's really do impress because they really have something fresh and original to offer the music world! After one listen through to this CD I dubbed this music "Ear Candy"!

Ok so we've talked about the sound of the band and the fact that the entire CD is All Killer and No Filler material, bbut let's now talk about the fact that the entire band really comes to life. Each and every member of this band is on fire and I must say that no one band member really shines all on their own but rather as one rocking unit! The band's drummer is none other than Carl Canedy, who many metal fans know from the legendary metal band THE RODS! The singer is Rhett and believe me, soon enough Rhett will be a name that will be screamed for years and years to come! Guitarist James Jacobs displays some real nice riffing throughout the album, and bassist Robert Jacobs really does a great job with showing what he can do on the bass! The final piece of the band's sound is keyboardist Ryan Sambrook who really shows why keyboards really do Rock!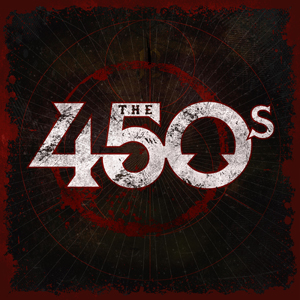 Now I'd say if you're a fan of Hard Rock/Metal then the debut 450's CD is an album you'll want to pick up because after listening to the entire CD you'll be convinced that you're listening to the latest CD by a veteran act rather than a new band putting out their very first album! The songwriting really is the strength of this band and song-wise I must say THE 450's really deliver the goods on their debut CD!
Now I usually like to when I am listening to music for the first time ask myself who does this band remind me of but I have to tell you, truth be told that the best thing about THE 450's debut CD is that they sound like nothing that came before them, best thing I can say again about this band is they on this album have not only created their sound on their debut CD and done it masterfully, be it by design or not, so I can't sit here and tell you THE 450's sound like METALLICA or MOTORHEAD but I can say anyone who is a fan of THE DEAD DAISIES, AEROSMITH, WHITESNAKE, or CHEAP TRICK will probably LOVE THE 450's just as much as I did! My only complaint after listening to the entire CD is I'm now already eagerly awaiting their next release!
For a little taste of what THE 450's has to offer, check out the video for "Flowers For Columbine" on KNAC.COM HERE.
5.0 Out Of 5.0

Please log in to view RANTS


WISHING WELL Sin And Shame

OTTTO Life Is A Game

SAXON More Inspirations

THE WINERY DOGS, BLACK HEART SAINTS In Houston, TX With Photos!

ROBIN MCAULEY Alive

CRADLE OF FILTH, DEVILDRIVER In Santa Ana With Photos!

KAMELOT The Awakening

ALTER BRIDGE, MAMMOTH WVH In Houston, TX With Photos!

ACID KING Beyond Vision

STEEL PANTHER On The Prowl

NIGHT DEMON Outsider

YNGWIE MALMSTEEN In Ottawa, Canada

THEORY OF A DEADMAN, SKILLET, SAINT ASONIA In Houston, TX With Photos!

OFFICER X Hell Is Coming

PERIPHERY Periphery V: Djent Is Not A Genre

INSOMNIUM Anno 1696

STEEL PANTHER, CROBOT, TRAGEDY In Houston, TX With Photos!

BABYLON A.D. Live Lightning

ROTTING CHRIST, CARACH ANGREN, UADA, GAEREA In Houston, TX With Photos!

MOTÖRHEAD Bad Magic: Seriously Bad Magic

TRAGEDY I Am Woman