HATE Rugia


By Francisco Zamudio, Metal X Candy 2.0
Friday, December 10, 2021 @ 8:21 AM


| | | |
| --- | --- | --- |
| | | |
HATE
Rugia
Metal Blade Records




Blackened Death Metal has been a growing genre for some time now and Poland seems to have a good grip on this. It is a blend of Death Metal and Black Metal that crosses over to each other from bands from both ends of the spectrum. Not too new but has steadily seen growth especially out of Poland who has a history of great Death Metal bands that have expanded their sound. One Polish group that is living up to its name and continues to become more and more dark as others seem to lighten up is HATE who initially were more "brutal" than "blackened". While some bands regress as they've crossed over from Black Metal to simply Death, HATE has done a great job blackening their sound within the last few releases since 2010's Erobos. This new record marks their 12th full-length album and only their 2nd album with Metal Blade Records since being previously with Napalm Records. They've learned to embrace both and now this evolution has made them one of Poland's top bands who dominate the Polish Death Metal scene.

In my recent conversation with ATF, he explains the meaning of the title Rugia and it adds to the lore of the album and gives you an added perception of the album that makes it much more enjoyable. This latest full-length release is an excellent follow-up to 2019's Auric Gates of Veles. It is a relentless album that captures the definition of what "Blackened Death Metal" is. The opening title track throws you into the fray and with the lead into Track 2, "The Wolf Queen" (one of my favorite tracks), you fall so fast into this albums theme of darkness that unfortunately only lasts just over a half hour with 9 tracks of hatred.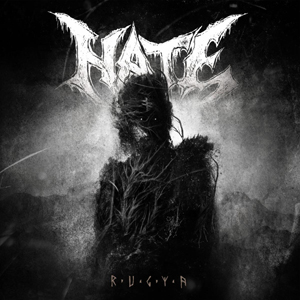 Like a fine smoked steak that takes time to properly cook, HATE has been an excellent example of this as their sound has developed into something quite unique. My first notion of them was the 2001 release Holy Dead Trinity, which was a compilation that was released by the defunct label WWIII (World War III) Music. The compilation was made of tracks from of their previous releases, the Victims (1999) EP and the Lord Is Avenger full-length from 1998. Both originally released by the Polish label Novum Vox Mortis Records (also no longer in existence).
They were highly intense then as they are now and a large credit goes to guitarist/vocalist Adam The First (ATF) Sinner who is the sole original member throughout HATE's legacy. He has had some great talent to help him relay his vision of what HATE is over the past 3 decades. Guitarist Domin returns from 2019's Auric Gates of Veles, HATE's first Metal Blade release. Praise also to Mortifer who perished in 2013 after Solarflesh: A Gospel of Radiant Divinity and also contributed to Erobos, which is worth mentioning again as HATE's further decent into a darker realm. On drums, taking the place of Pavulon (Paweł Jaroszewicz) who had been on the last 3 records, is Nar-Sil (Dominik Prykiel) and on bass is Tiermes (Tomasz Sadlak), both making their first appearance on a HATE album and what a grand performance they make in their debut. Proving that HATE overcomes, Rugia promotes them as Poland's Blackened Death Metal elite who exemplifies its historic tradition that massively rages, as you feel the anger coming through your speakers. HATE continues to prove to be an outstanding and under-rated band that has been relentless since the mid 90's and undoubtedly will be fueled by hate for years to come. This line-up has created a brilliant album which I believe is HATE's best to date. I'm glad I got to see them just a couple of years ago in Los Angeles and I highly suggest you jump at the opportunity to see them live as they bring just as much intensity in concert as on CD (or in what ever format you listen to).
4.5 Out Of 5.0

Please log in to view RANTS


THE WINERY DOGS, BLACK HEART SAINTS In Houston, TX With Photos!

ROBIN MCAULEY Alive

CRADLE OF FILTH, DEVILDRIVER In Santa Ana With Photos!

KAMELOT The Awakening

ALTER BRIDGE, MAMMOTH WVH In Houston, TX With Photos!

ACID KING Beyond Vision

STEEL PANTHER On The Prowl

NIGHT DEMON Outsider

YNGWIE MALMSTEEN In Ottawa, Canada

THEORY OF A DEADMAN, SKILLET, SAINT ASONIA In Houston, TX With Photos!

OFFICER X Hell Is Coming

PERIPHERY Periphery V: Djent Is Not A Genre

INSOMNIUM Anno 1696

STEEL PANTHER, CROBOT, TRAGEDY In Houston, TX With Photos!

BABYLON A.D. Live Lightning

ROTTING CHRIST, CARACH ANGREN, UADA, GAEREA In Houston, TX With Photos!

MOTÖRHEAD Bad Magic: Seriously Bad Magic

TRAGEDY I Am Woman