HELD HOSTAGE Epic


By Jason 'JRock' Houston, Contributor
Friday, December 10, 2021 @ 8:26 AM


| | | |
| --- | --- | --- |
| | | |
HELD HOSTAGE
Epic
2020 Metal Mania Records




Now let me start off by saying how is it that the New York based Hard Rock band HELD HOSTAGE is a band that has been around since 1984 and I'm just discovering them now. With that being said I will go on record as saying that HELD HOSTAGE is really one of the best, kept secrets in the world of Hard Rock and metal but with the release of their 2020 CD Epic that is finally, now starting to change! The band was formed by Guitarist/Lead Singer Tom Collier and while he is the band's main songwriter on the band's latest release they feature Tim Ripper Owens on vocals and Tim now is an official member of the band and he really is that special it factor that will really make more and more people take notice of HELD HOSTAGE.

HELD HOSTAGE takes me back to the days when I was a teenager and that Hollywood was still the Hard Rock/Metal capitol of the world! Oh sure, HELD HOSTAGE is very much a band from New York but HELD HOSTAGE's Epic is just that, an epic release filled with well written songs that one listen to and you're convinced that this was a band from Hollywood delivering the Hollywood Rock sound of the 80's! Just in case I haven't painted you a well enough picture yet the sound of HELD HOSTAGE could be dubbed MOTLEY PRIEST because to my ears the sound of HELD HOSTAGE if Classic 80's MOTLEY CRUE era sprinkled with a dash of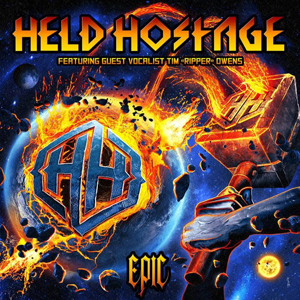 Classic JUDAS PRIEST! Now one might think that the JUDAS PRIEST comparison is simply because Tim 'Ripper' Owens sings on the album. In regards to Tim Owens being on the album, the funny thing is his voice here sounds more Halford-like on this album then he did on the JUDAS PRIEST albums that he sang on and I think that's really saying something!
If you're looking for a band that can really deliver the goods and you simply want a band that will Rock your world with an album full of well written tunes then HELD HOSTAGE's Epic is an album you'll no doubt want to pay your hard, money on because the songs are instant Hard Rock gems and Classics filled with great melody, great 80's style Hard rock guitar riffing and powerhouse drumming take my word when I tell you that HELD HOSTAGE and their 2020 release is just the Hard Rock/Heavy Metal delight that awaits you. HELD HOSTAGE's Epic is pure ear candy guaranteed to satisfy you.
Now if you'd like to hear small taste of what HELD HOSTAGE has to offer then check this out! "Turn The Light On (feat. Tim Ripper Owens)"
5.0 Out Of 5.0

Please log in to view RANTS


ROBIN MCAULEY Alive

CRADLE OF FILTH, DEVILDRIVER In Santa Ana With Photos!

KAMELOT The Awakening

ALTER BRIDGE, MAMMOTH WVH In Houston, TX With Photos!

ACID KING Beyond Vision

STEEL PANTHER On The Prowl

NIGHT DEMON Outsider

YNGWIE MALMSTEEN In Ottawa, Canada

THEORY OF A DEADMAN, SKILLET, SAINT ASONIA In Houston, TX With Photos!

OFFICER X Hell Is Coming

PERIPHERY Periphery V: Djent Is Not A Genre

INSOMNIUM Anno 1696

STEEL PANTHER, CROBOT, TRAGEDY In Houston, TX With Photos!

BABYLON A.D. Live Lightning

ROTTING CHRIST, CARACH ANGREN, UADA, GAEREA In Houston, TX With Photos!

MOTÖRHEAD Bad Magic: Seriously Bad Magic

TRAGEDY I Am Woman

ROXANNE Stereo Typical