AD INFINITUM Chapter II Legacy


By Halo, Heavenly Contributor
Tuesday, December 14, 2021 @ 10:38 AM


| | | |
| --- | --- | --- |
| | | |
AD INFINITUM
Chapter II Legacy
Napalm Records




AD INFINITUM released their second album in October, Chapter II- Legacy. I'm a little late to this game. AD INFINITUM are relatively new to the Metal scene. Their debut album, Chapter 1- Monarchy was released right before the first lockdown. It captured attention across the international Metal scene. To date it received upwards of 1.8 million views and streams on streaming platforms. I would not call this band just metal. I would classify this Swiss band as symphonic-melodic metal with an operatic twist. I also refuse to call them a female-fronted metal band. If you have ever read my reviews I have done for bands such as AMARANTHE (which you know I love), I loathe the whole female-fronted comments. YES, they are fronted by a woman, but can they just be recognized for being a badass band? The premise of this album continues the subject of Vlad/Dracula, his life and afterlife. The correlation of these two, Vlad the Impaler and Dracula are linked for two reasons. First is both had a thirst for blood. Second is Vlad had a disease in which he was allergic to sunlight. There were three aspects of Vlad-Dracula: A national hero protecting his country, Vlad the Impaler a horrible, coldhearted tyrant who with his armies killed 80k people. Bram Stoker's Dracula was not directly inspired by Vlad but a Transylvanian superstition. There are obvious links of which one can get creative when writing music. How do four people make Vlad the Impaler- Dracula hauntingly mysterious and beautiful. Listen to Chapter II- Legacy. AD INFINITUM did just that.

This foursome is going to be a force to be reckoned with, not that they haven't already started to make their mark. Melissa Bonny-vocals, Adrian Thessenvitz-guitars, Korbinian Benedict-bass and Niklas Muller on drums. These four have their own pedigrees, accomplishments in their own rights. Together they successfully produced this album themselves. As far as composition and writing it was 100% them without outside influences. They did however have the amazing talents of orchestrators Elias Holmid and Jacob Hansen (VOLBEAT, EPICA, AMARANTHE and many others) who manned the recordings (vocals), mix post-production and mastering duties. All 12 tracks on this album are good in my opinion. The first is "Reinvented". It sets the tone for the album. Melissa's glaring operatic highs to her bass low hard vocal-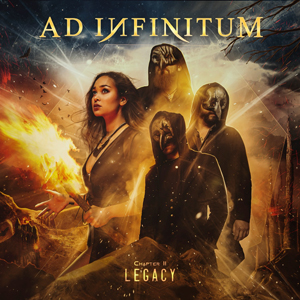 growls. The song is heavy and grabs you. One of my favorite tracks is "Afterlife". Nils Molin of AMARANTHE and DYNAZTY joins the band for this one. The intro is heavy guitar and fast drums. Nils brings that rock god opera sound to this one and meshes well with Melissa. "Son of Wallachia" is one of the more beautiful and gorgeous arrangements on the album. The beginning is very symphonic. Later comes in the stellar guitar solo. It's on the softer side and I absolutely loved it. "Unstoppable" is and will keep being a fan favorite. The guitars suck you in with the first notes. Dare I say this one is more of a catchy song. This is one I believe the fans will be singing along with at the live shows. The vocals are fantastic. The guitars are not too heavy, the drums are one of my favorite parts of this one. Niklas is quickly becoming one of my favorite drummers thanks to this album. "Into The Night" is one of the heaviest ones, Melissa breaks out the growling-hard vocals at the beginning and continues this throughout. For those fans that like heavy, this one is for you. "Haunted" tells the story of good and evil, love and hate, the tragedy of Vlad-Dracula. "Lullaby" is definitely not a sweet lullaby. This track is one of the heaviest, very much a grand finale of this story. A goodbye.
This album has so many aspects musically. If you know me, you know I'm a huge fan of this mixed genre that I tend to make up genre names for. I cannot nor will I ever lump all these bands into Metal, or Death Metal. There are too many variations of different genres. The heavy rock mixed with melodic, symphonic sounds and phenomenal vocals and the guitars and drums make the most absolute best music. AD INFINITUM's sophomore album is fantastic. Looking forward to seeing this quartet live. The European co-headline tour has been announced for 2022. AD INFINITUM will be touring with AMARANTHE, BEYOND THE BLACK and BUTCHER BABIES. That is a kickass lineup. Hoping for a North American schedule, fingers crossed!!
4.0 Out Of 5.0 Halos

Please log in to view RANTS


THE WINERY DOGS, BLACK HEART SAINTS In Houston, TX With Photos!

ROBIN MCAULEY Alive

CRADLE OF FILTH, DEVILDRIVER In Santa Ana With Photos!

KAMELOT The Awakening

ALTER BRIDGE, MAMMOTH WVH In Houston, TX With Photos!

ACID KING Beyond Vision

STEEL PANTHER On The Prowl

NIGHT DEMON Outsider

YNGWIE MALMSTEEN In Ottawa, Canada

THEORY OF A DEADMAN, SKILLET, SAINT ASONIA In Houston, TX With Photos!

OFFICER X Hell Is Coming

PERIPHERY Periphery V: Djent Is Not A Genre

INSOMNIUM Anno 1696

STEEL PANTHER, CROBOT, TRAGEDY In Houston, TX With Photos!

BABYLON A.D. Live Lightning

ROTTING CHRIST, CARACH ANGREN, UADA, GAEREA In Houston, TX With Photos!

MOTÖRHEAD Bad Magic: Seriously Bad Magic

TRAGEDY I Am Woman