FUZZRD Near Life Experience


By Terry Martinson, Contributor
Tuesday, December 14, 2021 @ 10:46 AM


| | | |
| --- | --- | --- |
| | | |
FUZZRD
Near Life Experience
Independent Release




As I sit at my computer, headphones in, iTunes open and far too loudly immersing myself in the debut long play Near Life Experience from Minneapolis' FUZZRD, I can't help but be reminded of a now infamous quote taken from conversations with my dear friend Gordon Gekko, of which I will share here: "The point is ladies and gentlemen that FUZZRD for lack of a better word are good, real good. FUZZRD are right. FUZZRD works. FUZZRD clarifies, cuts through and captures the revolutionary spirit of rock n roll. FUZZRD in all their forms, hard rock, melodic rock, and heavy metal have marked the upward swing of rock n roll. And FUZZRD, mark my words, will not only save this fickle rock 'n' roll industry as we know it, but mark my words, FUZZRD will, and a big thank you to Dave Meniketti, FUZZRD will also "save the world". FUZZRD "is the way we're gonna change it."

To the casual listener FUZZRD and Near Life Experience will be one of those aural riddles that they can't quite put their finger on but know that when any of the 10 tracks are heard an instantaneous recognition, appreciation and jubilation is achieved. Not unlike that feeling when classic/seasoned/highly successful acts in the likes of BON JOVI, KISS, AC/DC, DEF LEPPARD, METALLICA, or AEROSMITH come on the radio, with what may seem like a supremely simple formulaic song, with song writing and standard 2's and 4's song structures, that when done right create that 5-gallon bucket of ear worms. There is no denying that the songs are good, great and certainly unmistakable, yet why? Well for the artist and the audiophile's it is known that to achieve that unwavering appreciation, admiration and adoration from a seemingly simple song or melody it is quite a laborious and complex endeavor, an artform really and FUZZRD has done so, through their painstaking effort of crafting song structures that grab hold and move the listener, songwriting that is engaging and poignant, production that locks bass speakers and has more layers than TIGERTAILZ' Berzerk album, and mixture of subtle, complex and downright obvious nods (plenty of Easter eggs herein, the album is literally littered with them) to the bands that stood on the mountain and shouted keep it simple stupid, which as a listener, you have that revelation while listening and at that moment when you do recognize, then FUZZRD has plowed forward and you're swept up in the undertow. That is the art. It's these details that cull the herd, separating the greats from the unfortunate average and ultimately have listeners constantly replaying the songs in an attempt to catch those moments that courtesy of those well-crafted songs continue to be elusive, but ultimately that is OK because the songs are good, it's just those subtleties that make them great.

From the opening chords of "Monster Carnival", which is simply a monster of a hard rock track, your ears instantly perk up and then at the 6 second mark, the tidal wave of sound hits you in the chest like a 40" kick drum, knocking you back on your heals, plastering a Cheshire Cat grin on your mug and setting the unrelenting tempo for the aural onslaught that is to come. Which for the next 40 minutes FUZZRD is on a mission, a mission of mass distortion. Amongst a literal cavalcade of the aforementioned trade tricks, effects use, gear and production wizardry hold on for the ride and you don't have to be Danica McKellar or Raymond Babbitt to notice the songs clock in at that sweet spot 3:30-ish minute mark. Another trade secret to mass appeal, get in, set the hook, land the listener and move on to the next one. The rock 'n' roll revolution that is FUZZRD and Near Life Experience, the listener nary has a moment to catch their breath. Track after track is a clinic in hard rock and melodic metal. Swerving purposely in and out of headbanging, fist pumping metal, to LEPPARD-esque gang vocals and Joe Elliot exasperated breathy sighs, to heartwrenching arena rock angst ridden balladry. Cigarette lighters (cellphones) engaged.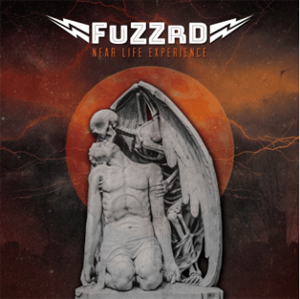 No play by play today kids as it would be a disservice to the listener, as on each and every spin Near Life Experience and all of its delectable nuances is like Christmas Day to be appreciated and (re)discovered. A few highlights (not a lowlight here) and extra points for noticing the Vibro-slap (Google it) , the Zube Tube, the palm muted slide harmonic, the Joe Perry inspired "clean" solo, the perfectly timed "UH" which makes me think of Lzzy Hale every time (thanks 2 Minutes To Late Night), the METALLICA "Die By My Hands" march, the hammer-ons at the 36 second mark of "Pins & Needles" (oops and thanks Brett for not repeating them), the numerous Lynch infused solos, the China Boys (there are plenty and an underused cymbal imho), the gong, the "Snake" Sabo-inspired solo, the Kory Clark vocals (yep, Brett can go from Joe Elliot to Matt Kramer to vintage Kory Clark without hesitation), the Dweezil Zappa-inspired solo at the 2:20 mark of "Viral Connection" that segues into a SAIGON KICK choral movement, back to the pre-chorus and then another Dweezil incanted outro solo (just brilliant)(oops again), the RAINBOW-inspired intro and this list goes on and on and on...
The 4 piece in Brett, Eric, Robert and Scott generate enough sonic power to light NYC. Each player places forth absolute session player skills throughout the run time of Near Life Experience. It's quite humbling and equally as staggering to know that there are individuals with this much musical proficiencies that are standing next to you at the Quick Stop who can create and perform to this level and that are not heralded among the rock 'n' roll community as the metal gods they are. But hey if FUZZRD were the known commodity they should be then there would be nothing to write about today and there wouldn't be another "Unknown but must own" for me to share with my friends.
Summarizing, Near Life Experience ticks all the boxes when it comes to a rock 'n' roll record that is appealing, radio friendly, shows a diversity in the musicians and their appreciation not only for their audience, but for the fellow players that get driven by ingenuity. I for one am thankful for the efforts gentlemen and being selfish I can't wait for more future FUZZRD, and Near Life Experience for all the previous prattling is certainly a desert island disc.
5.0 Out Of 5.0
https://www.facebook.com/fuzzrd
https://fuzzrd.com/
FuZZrD's "Pins & Needles" (Official Video)
FuZZrD's "Monster Carnival" (Official Video)

Please log in to view RANTS