Judas Priest Rising in the East DVD


By Jeff Kerby, Contributor
Wednesday, November 16, 2005 @ 12:18 AM


| | | |
| --- | --- | --- |
| | | Rhino Home Video |
The best metal show of the year. Period.

It isn't even really all that close. Priest's recent trek in support of this year's standout recording Angel of Retribution easily provided the best live performance of any metal act or package tour of the summer. Sure, Ozzfest and Gigantour may have had more bands, and Motley Crue may have had more theatrics, but for just an amazing set full of some of the best hard rock ever created, Rob Halford's crew delivered a brand of goods that served night after night to reaffirm to countless believers just why they were truly moved by this type of music in the first place. For those just getting into rock, seeing the Priest presented itself as a revelation defining what metal once was as well as what it still has the ability to be---simply an affirmation of life, love and rage. "Rising In The East" chronicles this experience in a visual format that allows Priest fans the ability to play and replay the exploits of a group that undeniably proves that although some band members are now nearing sixty, they may actually be better than they were during those incredible tours of the eighties. Even if a given metalhead doesn't believe that JP has actually improved, it is an indisputable fact that at the very least they haven't lost anything as this performance in Budokan aptly attests.

Saying that this DVD is a fair representation of what a concertgoer could witness during nearly any of the Priest dates this summer basically means that the set list here is static and pretty much exemplary of the same one Priest used throughout their recent tour, so if a fan is looking for any rarities to be thrown in like "Dreamer Deceiver" or "The Sentinel" that wasn't on the set list this summer--then it probably still isn't here now either.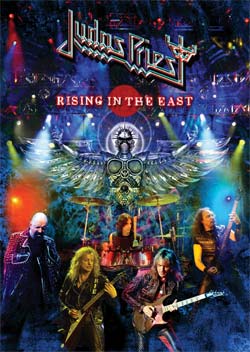 What is left though are twenty-two quality tunes performed in inimitable Judas Priest fashion. After the standard intro of "The Hellion/Electric Eye", JP immediately kicks into four tried and true classics—"Metal Gods", "Riding On The Wind", "The Ripper" and "A Touch of Evil". The next two offerings from their latest entitled Angel of Retribution—"Judas Rising" and "Revolution" are remarkable in that generally when a band breaks out their new material ala Iron Maiden or Queensryche, the first few unfamiliar notes usually signifies that it's time to take a piss, but that isn't the case here. Instead, the strength, tempo and intensity of the set remains in tact and truly provides the perfect segue into fiery versions of "Hot Rockin'" and "Breaking The Law". The biggest surprise out of the first ten selections would have to be the inclusion of "I'm A Rocker"—I know it's a good song and all, but…I don't know of anyone who ever names that selection as one of their top fifty Priest tracks of all time, yet even this comparatively ordinary Priest tune works here because the band rocks it in such a captivating way that it speaks to the strength of JP's catalogue and the proficiency involved any time K.K., Glenn, Rob, Travis and Ian hit the stage that they have the power to turn even one of their more mediocre selections into a concert highlight.
The stripped down version of "Diamonds and Rust" that follows may very well be the best song on the DVD as Halford's vocals have always seemed more emotive on that track. After the ballad come two more new offerings, "Worth Fighting For" and "Deal With The Devil". The second pair of selections from Angel of Retribution may not be as sonically thunderous as the previous couple of offerings, but then again, the festivities don't suffer much from their inclusion this time around either--the same can pretty much be said for "Hellrider" which makes an appearance later in the set. The stretch drive of this concert consists of nine favorites starting with the amazing "Beyond the Realms of Death"—a song that is just as hauntingly soulful as it was the first time it played in your pal's basement while the pot smoke wafted over his brother's lava lamp. Now, at first glance, it may seem as though the juxtaposition of "Turbo Lover" coming right after such an intense number as this may be a bit incongruous, but…Turbo was one those records that a listener seemed to either intensely love or absolutely hate with equal conviction leaving little room for a middle ground to be involved with that record at all. The aforementioned "Hellrider" comes afterwards while proceeding the legendary tracks "Victim Of Changes", "Exciter" and "Painkiller" which provide more than enough heat to work the crowd into a frenzy before breaking into their essential triumvirate of metal "Hell Bent For Leather", "Living After Midnight" and "You've Got Another Thing Coming".
There aren't any surprises here—the DVD simply represents a helluva set from the best f'n band currently defending the faith. Yep, that includes Maiden. As much as Bruce and his crew have undeniably contributed to metal throughout the years, I would even go as far as to say that Priest probably possesses two quality tracks in its catalogue for every one the group who brought us Eddie and a bunch of cool t-shirts has come up with in their career. That isn't as much a knock on Maiden as it is a belief that Priest may be the best metal band that has ever played--that includes the seminal band Black Sabbath as well. A person could reasonably arrive at this opinion based on the fact that JP's collection of material is incomparable and that there is no one else—including Slayer—who delivers more in a live performance. When a person factors in the fact that Priest's Angel of Retribution is better than anything that either one of the aforementioned bands has released in over ten years, what the listener/viewer is left with is a performance given by the band that represents the best hard rock has to offer today which is impressive because Priest probably exemplifies the best it had to offer twenty years ago as well. The fact that one could quibble endlessly about which songs were left out while others were included is yet another testament to the band's recording legacy--if you don't believe me about the strength of their recordings, I'll bet any Priest fan would have absolutely no trouble coming up with a second set list of twenty-plus songs that would be darn near as good as the grouping on this DVD. As for the lack of bonus material or interview footage…well, I don't know how up close and personal you want to get to Halford off stage, and that's really none of my business, but for the rest of us, the stage performance is probably more than enough. It looks good--sounds good--the material is good. Buy it.
Here's to another ten years of Judas Priest style heavy metal.
****

Please log in to view RANTS


ROBIN MCAULEY Alive

CRADLE OF FILTH, DEVILDRIVER In Santa Ana With Photos!

KAMELOT The Awakening

ALTER BRIDGE, MAMMOTH WVH In Houston, TX With Photos!

ACID KING Beyond Vision

STEEL PANTHER On The Prowl

NIGHT DEMON Outsider

YNGWIE MALMSTEEN In Ottawa, Canada

THEORY OF A DEADMAN, SKILLET, SAINT ASONIA In Houston, TX With Photos!

OFFICER X Hell Is Coming

PERIPHERY Periphery V: Djent Is Not A Genre

INSOMNIUM Anno 1696

STEEL PANTHER, CROBOT, TRAGEDY In Houston, TX With Photos!

BABYLON A.D. Live Lightning

ROTTING CHRIST, CARACH ANGREN, UADA, GAEREA In Houston, TX With Photos!

MOTÖRHEAD Bad Magic: Seriously Bad Magic

TRAGEDY I Am Woman

ROXANNE Stereo Typical

ANTHRAX, BLACK LABEL SOCIETY, EXODUS In Houston, TX With Photos!