ARKENSTONE Ascension Of The Fallen


By Alex Yarborough, Orlando Contributor
Friday, February 25, 2022 @ 7:34 AM


| | | |
| --- | --- | --- |
| | | |
ARKENSTONE
Ascension Of The Fallen
2022 Steel Cartel




A new Australian power metal quartet is on the scene, and they have just released the very strong four track EP Ascension of The Fallen. The supergroup ARKENSTONE features veteran players Stu Marshall (DEATH DEALER) on guitar, Louie Gorgievski (Ex-CRIMSONFIRE) on vocals, Clay T. (BLASTED TO STATIC) on drums and Mike LePond (SYMPHONY X) on bass.

The title track "Ascension of The Fallen" gets the ball rolling with power chords from Marshall and operatic vocals from Louie Gorgievski. If you haven't heard him before, Louie's voice will impress you! The track is not what I would expect from a lead song, being more anthemic and mid-tempo, but man what a great song overall. The viking theme is cool and Marshall's solo is perfect.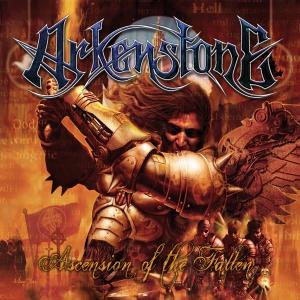 Next is the BLACK SABBATH-ish "Tree Of Witches". I dig this track a lot, and once again all players really bring the fire in their playing. Again, it's more of a mid-tempo power metal track, but still very good. This brings us to my favorite song, vampire hymn "Lord Impaler", which is killer up-tempo power metal. The song features a great vocal from Louie and fantastic riffs from Stu and Mike. Clay's drumming is impressive and he really lays down the hammer. Anyone craving some Tolkien-inspired metal needs to check out the killer final track, "The Arkenstone" (Video on KNAC.COM HERE). This song is guaranteed to satisfy your craving for fantasy-based power metal!
Ascension of The Fallen has a great cover from legendary artist Marc Sasso, and a fun layout inside. The EP also comes with a bonus CD featuring tracks from CAGE, THREE TREMORS, SNOWY SHAW (and many more). You need to check this EP out! Go to THIS LINK to order.
4.7 Out Of 5.0

Please log in to view RANTS