AMORPHIS
Halo
Atomic Fire Records




AMORPHIS has been through the gamut of sounds and ideas since their humble beginnings as a somewhat blacked death metal band from Finland. In 1990 there was much emerging from the Nordic countries in the way of experimental music and the band identified as a death metal band, but one listen to 1992's The Karelian Isthmus or 1994's Tales From The Thousand Lakes and it was evident that the band could appeal not only to their core fans but to black metal and progressive metal fans as well.

Moving forward to 2022 the band celebrates their 14th studio release, Halo. It is everything you would want it to be; folky, symphonic, heavy, deathly, black and brilliant. This is a band that makes it seem effortless to come up with new and different topics for each new record.

The top charting album has been well received in Finland and abroad. As of March 2022, "The Moon" and "On The Dark Waters" have been released as videos. The videos are outstanding and the album has similar themes to their previous releases that are inspired by Finnish folklore.

The album kicks off with "Northwards" and it reels you in from beginning to end. Strong symphonic overtones so characteristic from the band opens the tune and it quickly moves into the band's signature vocal style; clean and deep growling. Vocalist Tomi Joutsen is a beast and he can pound you in the head with his growls or he can send you on an emotional roller coaster with his lilting croon.

AMORPHIS is a band that has not suffered nearly the amount of line up changes as their contemporaries in this particular style of music. They are made up of guitarist Esa Holopainen, guitarist Tomi Koivusaari, drummer Jan Rechberger, Olli-Pekka Laine, Santeri Kallio, and Joutsen.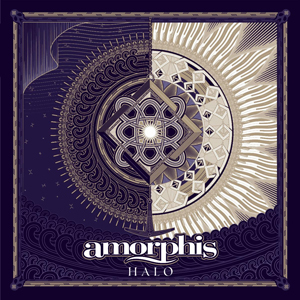 The second song, "On the Dark Waters" is engaging and "The Moon" is ethereal. The songs flow together easily from one to the next and "Windmane" and "A New Land" are heavily influenced by myths surrounding Tuonela, the realm of the dead or the Underworld in Finnish mythology.
"When The Gods Came" is a heavy and orchestral treat and "Seven Roads Come Together" is technically diverse and a delightfully symphonic and engrossing. Each song has its own theme and melds seamlessly together one right after the other.
"War" and the title track, "Halo" have a sound heavily reminiscent of the progressive metal of the 1990's and I find that particularly appealing. I've never really moved out of my sphere of beloved '90's black and progressive power metal bands so this fits in well.
The album ends with "The Wolf" and "My Name Is Night" and I know this is one that I will listen to regularly. It has been in heavy rotation since I received it and it has everything I love about AMORPHIS from all iterations blended together into this offering. Touring should commence now that many countries have lifted their COVID-19 restrictions and if you have never had the opportunity to see them live I heartily recommend it!
5.0 Out Of 5.0