DEAD LORD Dystopia EP


By Rob McNees, Vinyl Aficionado
Tuesday, March 22, 2022 @ 11:52 AM


| | | |
| --- | --- | --- |
| | | |
DEAD LORD
Dystopia EP
Century Media Records




Much like sports junkies, I try to stay up to date on the newest band worth talking about and spreading the word on their progress if I truly dig what they're playing. And luckily my friends do me the same solid in return. So when the head News Monkey himself, Larry Petro hit me up with the word that there was a band from Sweden called DEAD LORD who shared that dual harmony guitar sound and songs like one of my fave all time bands THIN LIZZY, well I had to go seek them out! And I'm certainly glad I did. And yes they do somehow manage to channel LIZZY, but they're more than a 1 trick pony. Check out some of the covers they've done: "Would Not Be Seen Dead in Heaven" by WITCHFYNDE from a split 7" with BLACK TRIP, and "Burnin' For You" from the legendary BLUE OYSTER CULT from another split 7", this time with the band '77. Great taste in music AND Vinyl fans too, so they just kept ticking all the right boxes for me.

The story of DEAD LORD dates back to January 2012, when the band was formed. Since then, besides the above mentioned songs, they've released 4 full length albums, the last being 2020's Surrender. Now here in 2022, DEAD LORD are set to unleash some more tasty licks and further cement their status as a band who can go toe-to-toe with anyone, especially when it comes to showcasing their immense knowledge of great bands from the past.

The new EP is called Dystopia, and should be out now as you read this. Consisting of 6 tracks, the title track kicks off where the last album ended, and gets the EP kicked off in fine fashion. An uptempo track with a driving rhythm, I have no doubt that this should be the new opener when the lads storm the stage. To these ears it has a much worshipped nod to the great NWoBHM, and you can NEVER go wrong with that. "Sleeping My Day Away" is next, a cover of Danish glam band D.A.D. or DISNEYLAND AFTER DARK as they were originally called. Easy to see why they shortened that, as Walt and Co. put a kibosh to that rather quickly. Being a hater of the whole wretched glam movement I can't tell you how the DEAD LORD version stacks up to the original, but if I had to fathom a guess I'd venture to say that the DEAD LORD version is superior. As a song it's a solid catchy track that really rocks. Impressive. Now here's where DEAD LORD REALLY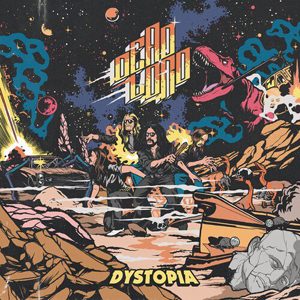 caught my attention: a cover of the extremely cult band WINTERHAWK and guitarist Jordan Macarus from Chicago, Ill. The song is "Ace In The Hole" from their 1982 album Revival and D.L. do a faithful version including the harmony background vocals. A really amazing track and band, and D.L. do it proper justice. Well done indeed. "Hands Down" is next and it's a cover from unheralded rocker MOON MARTIN, off his debut album Shots From A Cold Nightmare from 1978. And a surprise tidbit for you is that also on that album is the song ""Bad Case Of Loving You (Doctor Doctor)" made a million selling hit by ROBERT PALMER. But it was a MOON original. That's one of the amazing things about DEAD LORD, that they not only celebrate their own kickass music, but shine a light on (some) bands that just never got their due. And for that I applaud them a hundred times over. Up next is a cover of one of my favorite guitarists, Ireland's late great Rory Gallagher and "Moonchild" off his 1976 album Calling Card. Another sadly overlooked player, and another amazing version by D.L. A really standout track, I believe Rory's Irish eyes would be a smilin' from the faithful yet solid cover. EP closer "I Staden Som Aldrig Slumrar Till" is a Swedish language version of the English-sung song "Letter From Allen St." off of their last album Surrender from 2020. If you mated THIN LIZZY with Swedish retro rockers WITCHCRAFT that should give you an idea of what this track sounds like. A fine way to close an extremely enjoyable slab of Rock!
If you've never heard DEAD LORD then I believe this is a fine starter kit to get the blood pumping for one of the truly underappreciated bands of the 21st century. And you can double up by getting a lesson in some great bands from the past that you might have overlooked, or just never heard about. Either way, it's a win/win for you. So what are you waiting for?? School is about to be in session. Don't be late.
And for the Vinyl geeks out there, every DEAD LORD release has seen Vinyl, and this one is no exception. My collection is sadly lacking, and luckily I can and will fix it soon. BUY OR DIE!!
4.5 Out Of 5.0 Skulls

Please log in to view RANTS