CELTIC HILLS Huldufólk


By Caribbean Crab, Contributor
Monday, March 28, 2022 @ 2:14 PM


| | | |
| --- | --- | --- |
| | | |
CELTIC HILLS
Huldufólk
Elevate Records




CELTIC HILLS is a somewhat new band for me, and in case they are new to you as well, here's a short introduction. This is an Italian Power/Thrash metal band with a very well defined and distinct play style, clean vocals, and lots of speedy melodies. They have been active since 2008 but are only recently gaining more traction. CELTIC HILLS is a trio consisting of Jonathan Vanderbilt on guitars and vocals, Jacopo Novello on bass and Simone Cescutti on drums.

Between 2010 and 2020 they circulated their demo Horns Helmet Fighters in the underground scene. In 2020, the band signed a record deal with Elevate Records, which released the debut album Blood Over Intents and the EP Weird Music1 in the same year. Both releases were very well received by the metal world, including interlational audiences. CELTIC HILLS then released their second album MystaiKeltoy in 2021, produced and recorded by Michele Guaitoli, vocalist of TEMPERANCE, VISIONS OF ATLANTIS and ERA. This ofcourse brings us to 2022, which will see the release of the band's third studio album Huldufólk on the 1st of April.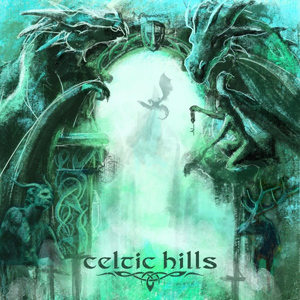 Once again, this album was recorded in partnership with Michele Guaitoli. It feels like a lovely continuation of the last one, with the addition of Johnathon showing off even more guitar prowess. He is well known for creative riffs, and he does not disappoint.We see a shift towards even more melodic sound, while retaining the speed and vocal style. CELTIC HILLS hail from Friuli and the northeast of Italy, and some lyrics for this new release are related to their home area. An example is "After the Earthquake", a song about the resilience of the people after the terrible earthquake of May 6, 1976 in Friuli. This event went down in history as the Great Reconstruction of Friulias the quake was devastating. Now, the song reminds us of the human power to come together and overcome adversities, no matter how difficult.
The album has a very powerful, epic and encouraging feel to it to say the least. One can call it "feel good" music but very metal and never boring. It's a nice and welcome change of pace for someone like me who is used to the darker genres of metal, such as black metal. I must say that CELTIC HILLS' music has grown on me quite quickly and I find myself rather happy to see this band creating more awe-inspiring albums. Enjoy Huldufólk from April 1st!
4.0 Out Of 5.0

Please log in to view RANTS