DARK FUNERAL We Are The Apocalypse

By Francisco Zamudio, Metal X Candy 2.0
Thursday, March 31, 2022 @ 7:13 AM

| | | |
| --- | --- | --- |
| | | |
DARK FUNERAL
We Are The Apocalypse
Century Media




Absence makes the dark heart grow fonder and Sweden's DARK FUNERAL is well aware of this. It has been 6 years since their last release in 2016, Where The Shadows Forever Reign. Now as the world pulls out of darkness set by seclusion and despair, DARK FUNERAL felt it was time to pull us out and take back the darkness for ourselves. Their new album We Are The Apocalypse encompasses what DARK FUNERAL has always been about. Since their self-titled debut EP saw the dark of night in 1994, followed by their full length debut in 1996, The Secrets of The Black Arts, they set a president that Black Metal from Sweden will have its representation and presence felt.

Guitarist and founding member Lord Ahriman returns with Chaq Mol who has served on guitars with the band since 2003, followed by his full-length debut on the 2005 album Attera Totus Sanctus. The two would continue a standard that had made DARK FUNERAL one of the great Black Metal bands still going strong today. For We Are The Apocalypse to capture all the dark elements from shadows past, Lord Ahirman had the help of Heljarmadr on vocals marking his 2nd album with the band. Making their debut on record are Jalomaah (aka Janne Jaloma) on drums and Adra-Melek (aka Fredrik Isaksson) on bass, both who had been performing live with the band since 2017 and 2018 respectively.

To follow up on such a great album in that of Where Shadows Forever Reign which received 2 awards, one from the Swedish P3 Guld & a German Metal Hammer Award, would prove to be a task that DARK FUNERAL lives to die for. Both Lord Ahriman and Heljarmadr had an involvement on the production for the new album. Through 9 songs and 43 minutes and along with Daniel Bergstrand who continues his engineering contributions with the band (through 3 albums), all capture the DARK FUNERAL essence in an excellent manner.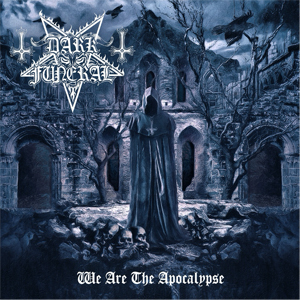 The faster tracks on this album are what caught my attention more overall. The opener "Nightfall", "A Beast To Praise" and "Noseferatu" will live forever on playlists everywhere. There's also enough for those who prefer a slow side to the band's art like songs "Let The Devil In" and "When I'm Gone" that will soothe your blackened, cold soul. As a drummer, I believe Jalomaah did an excellent job here on his debut with DARK FUNERAL. He can carry a groove, then turn it around and throw down relentless blast beats. "When Our Vengeance Is Done", "Beyond The Grave" and "Nail Them To The Cross" are good examples of this.
While the 80's gave way to the creation of Death and Black Metal, the 90's served as a gateway to a new evolution in extreme metal for sounds that was evolving into entities bigger than itself. While Norway's statement in Black Metal was strong, it would be discovered that they weren't the only ones to cast a shadow in the evolution of extreme metal and that Sweden had much to contribute to the Metal scene. Lord Ahriman has done an amazing job carrying the torch of DARK FUNERAL and through constant touring and allowing large gaps in time for each album to live in the minds of fans, We Are The Apocalypse will provide enough pleasure for more tours until the next album to fuel the black flame.
4.0 Out Of 5.0