AXEL RUDI PELL
Lost XXIII
Steamhammer/SPV
www.axel-rudi-pell.de




AXEL RUDI PELL released his first solo album Wild Obsession in 1989, after having recently left STEELER (the German one, not the KEEL/MALMSTEEN one). Over the course of the next 30+ years, Pell carved out his own little niche of fantasy themed Heavy Metal, or as a friend of mine once called it, "Castle Rock." You know the style; dragons, strange beasts, damsels in distress, etc.

Over the years band members have changed and notable singers have come and gone; Charlie Huhn (NUGENT, VICTORY, FOGHAT), Jeff Scott Soto (SONS OF APOLLO, YNGWIE MALSTEEN), and Rob Rock (IMPELLITTERI). Johnny Gioeli (HARDLINE) has held the vocalist spot since 1998's Oceans of Time.

With the release of 2020's Sign of The Times, AXEL RUDI PELL ditched the "Castle Rock" for more relateable lyrics and even ditched most of the keyboards to deliver a more classic Rock/Metal sound.

Lost XXIII is the 21st studio album from AXEL RUDI PELL, and it kicks off with the lead single "Survive". This uplifting track, clearly inspired by current events, is led by a crunchy riff that accents Johnny Gioeli's powerful vocals. Axel's solo runs are quite possibly his fastest.

While that song is certainly no slouch, I feel as though "No Compromise" should have kicked things off. It delivers all the energy you'd expect from an opening track. It's also THE anthemic song on the album. If you've heard any AXEL RUDI PELL album, then you know what I'm talking about. Pell & Gioeli take on the homeless crisis with "Down on The Streets". It's a toe-tapper, but not much of a stand out.

Inspired by a dog that waited on a train platform for a year expecting its deceased owner to return, "Gone With The Wind" is sure to elicit a strong emotion or two. Gioeli sings his heart out on this acoustic/electric ballad. The sentiments expressed here could easily be applied to a loved one that recently passed, so be warned.

Is it necessary to have two songs about the homeless on one album? AXEL RUDI PELL seems to think so. "Freight Train" is about the train-hopping hobos of yore that used the rail system to get around. It's another toe-tapper.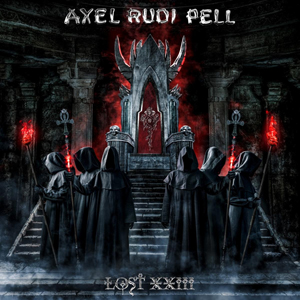 A soft piano and soothing electric guitar licks introduce the second ballad "Fly With Me". The tempo change punches up the emotion as the track progresses. Pell plays a solo similar to the song's vocal melody. "The Rise of Ankhoor" begins as a duel between AXEL RUDI PELL and his Hammond organ player Ferdy Doernberg (ROUGH SILK), but continues as a display of Pell's virtuoso guitar abilities.
The album concludes with the ominous epic title track "Lost XXIII", which returns to Pell's observations of current world events. The song is dark in its presentation, with signs of hope within its lyrics. Axel concludes the track with some fiery licks.
Much like MOTÖRHEAD and AC/DC, you know what you're getting from an AXEL RUDI PELL album. Lost XXIII delivers what you expect from Pell when it comes to instrumentals, ballads, anthems, and powerhouse vocals. The album doesn't really stand out against the rest of his discography, but it's sure to be a winner with fans. When a band like AXEL RUDI PELL releases an album practically each year, you really can't go wrong.
3.0 Out Of 5.0