RIOT ACT Closer To The Flame


By Andrew Depedro, Ottawa Corespondent
Tuesday, April 5, 2022 @ 10:48 AM


| | | |
| --- | --- | --- |
| | | |
RIOT ACT
Closer To The Flame
Global Rock Records




As one of the more well-known bands from the NYC hard rock underground scene during the early to mid-70's while punk was dominating the landscape, RIOT had long forged a name for themselves starting with their debut album Rock City from 1977. With their sophomore efforts Narita and Fire Down Under, the band's blend of street-savvy bluesy hard rock with elements of classic and even southern rock had caught the attention of then-younglings Steve Harris and Lars Ulrich among other aspiring teenage musical protégés looking for the ideal sound upon which to hone their first musical projects later on. And whether fronted by the powerful dynamic vocals of original singer Guy Speranza or the deep south suave and swole of his successor Rhett Forrester, RIOT were a heavy force to be reckoned with amongst their peers even if their hard-rockin' and hard-livin' style rarely translated fully into large album sales throughout their tumultuous careerspanning well over 4 decades. A shame in of itself as some of their best-known tracks such as "Swords And Tequila", "No Lies", "Warrior" and "Rock City" to name a few of their esteemed hits were the sound of raw, emotive meat-and-potatoes hard rock that managed to help birth a myriad of then-new subgenres such as thrash, speed and power metal. Unfortunately, the band's musical habitat had changed with such frequency that it struggled to keep up despite its own tenacity and relentless touring, before finally coming to an abrupt halt with the passing of founder/guitarist Mark Reale in 2012. Its surviving members, with the blessing of Reale's family, went on to form two alternate versions of the band afterwards: RIOT V, resurrected by bassist Don Van Stavernand two albums into its new lease on life as it continues with the band's power metal evolution, and a newly-formed version who were the mutual brainchild of its classic-era members/guitarists Rick Ventura and Lou "LA" Kouvaris who, along with the solid rhythm section of Paul Ranieri (bass) and Claudio Galinski (drums), capture the band's early years and sound.

Formed in 2019, RIOT ACT embolden the rustic and raw-sounding vibe of classic mid-70's/early 80's RIOT, paying homage to the memories of its past fallen brothers, whose list tragically would also include Kouvaris' name on it a year later, while also transcending their sound and energy to a new generation and beyond – which translates into actual fresh new songs but also new versions of many of RIOT's aforementioned back catalogue. That would explain why the catalogue of RIOT ACT's debut album Closer To The Flame is a rather hot commodity for both volume and value.

"Stranger things have happened" opines the blues-soaked pipes of frontman Don Chaffin as Rick Ventura's swaggering riffs has his back on the album's title track opener, which exudes total BLACKFOOT/MOLLY HATCHET vibes. Its follow-up number and lead-off single "Wanted" is a sleek-sounding Southern-style banger that just sounds more awesome the more you hear it; credit Don Chaffin's post-vocal spoken monologue in between where his gift of vocal improvisation would not only have Guy Speranza and Rhett Forrester but also Ricky Medlocke and Danny Joe Brown respectively bowing down at his solid A-game Wayne's World style. Chaffin keeps upping his proverbial ante throughout the rest of the album on tracks such as "Straight For Your Heart", "Smoking Gun", "Stand Or Fall" and "Rock Love And Roll" and particularly celebrates RIOT's fast rhythm skills with "Right Between The Eyes" while the jammin' "Rock Love And Roll" makes up for a silly-sounding title with a dulcet violin outro.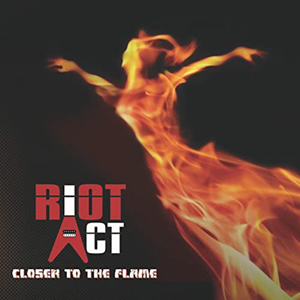 And getting back to the initial RIOT album catalogue that gave the band their sound and identity, Closer also features some key versions of several of the band's classic tracks. It's hard to replicate perfection on the aforementioned classic numbers, but the quartet are overall successful in trying nonetheless, particularly as these new versions feature Kouvaris' final recordings with the band. His riffs and solos on the newly-recorded versions of "No Lies", "Outlaw", "Road Racin'", "Don't Hold Back" and "Rock City" in particular are true standout performances, while "49er" also boasts the guest appearance of RIOT V axeman Mike Flyntz who delivers a stunning solo on the song. Paul Ranieri and Claudio Galinski, meanwhile, both flex their rhythm skills respectively through some stellar improvised slick bass riffs and raw-sounding drum beats all around.
They may have been dealt a slow-burning deal throughout the majority of their career despite having helped spark the birth of several genres of hard rock and metal that we've become accustomed to over the course of 40+ years, but the fiery chemistry of RIOT in the form of RIOT ACT shows how its embers are still highly combustible and prime for stoking once more on Closer To The Flame.
5.0 Out Of 5
http://riotactband.com/
https://www.facebook.com/riotactbandofficial
https://twitter.com/riotactband
https://www.youtube.com/channel/UCWU7XErWPlIcH6KP65wL9CA
https://www.instagram.com/riotactband/

Please log in to view RANTS