WYLD RYDE Gasoline Alley

By Terry Martinson, Contributor
Tuesday, April 5, 2022 @ 10:50 AM

| | | |
| --- | --- | --- |
| | | |
WYLD RYDE
Gasoline Alley
Independent/Band Released




Photo Credit: Stephanie Aiko Kidd

Well it should be of little surprise that an independent band released EP from a little known band (at the moment) hailing from Louisville, Kentucky would be the tickler of my aural cavities, even though a nod or 2 will be given to my friend Alpha Male for clueing me in on this must hear OR unknown and must own hard rock 4 piece, calling themselves WYLD RYDE and their sophomore EP Gasoline Alley.

A little history lesson on WYLD RYDE: The band's born on date is 2017 and they released an EP called City Streets in 2018 (subsequently re-issued in 2021)(both releases are unfortunately sold out as the 2018 was limited to 500 copies and the re-iss to 100) and during these 5-ish years the band has played out and cemented their stature as THE band to see (and hear) and their momentum continues into 2021 as they Ryde the wave of the well-received accolades regarding Gasoline Alley.

The album title track starts on high with a rocker that has all to obvious, yet greatly appreciated, nods to MOTLEY CRUE's "Livewire" and "Red Hot" (in the outro chorus), with an equal part METALLICA's "Jump In The Fire", while still remaining a fist pumping, adrenaline fueled original rock n roll song. Check ou the video on KNAC.COM HERE. Tommy's solo is a dinger and bonus points if you can name the SKID ROW song that inspired it. A real solid opener and sets the bar quite high. "Hold On Me" crashes in with a monster riff ripped right from DIAMOND HEAD's "Am I Evil" and then Chief's voice is oh so Udo-like in his wailing of "you ain't got" that it is almost eerie. The bridge between the solo and the outro chorus is one of my favorite parts of this song and the song itself is currently numero uno for me, a real crushing hard rocker with huge gang vocals and slathered from head to toe with swagger. "Alone" is next and it's a more subdued, cigarette lighter, arena rocker with its Frankie died just the other night ("On With The Show") inspired guitar progressions and Chief's "You Can't Kill Rock and Roll" Ozzy-inspired vocalizing until the mid-point of the song and Tommy's solo layered over the galloping "Hit The Lights/Four Horseman" riffage, only to be juxta positioned back to where we came for the last chorus. Quite a nice number that certainly showcases (or cements what we have seen thus far) the musicianship the band possesses.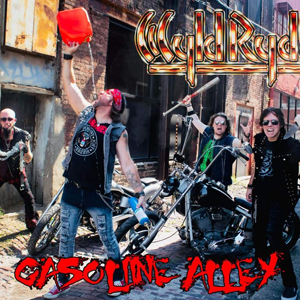 "Six Gun Shooter" thrusts us right back into the hard rock METALLICA-meets-ACCEPT hard rockers that seem to be the comfy spot for WYLD RYDE, and this time we get precariously close to a METAL CHURCH "Start the Fire" intro riff. This one with its period specific double bass drumming provided by Kidd and Chief again incanting Udo and early Vince Neil and let's not sleep on Tommy's solo that is super tasty with its hammer-ons, that is oh so familiar but I just can't place it... I will say that as the last chord rang out an opportunity was missed to drop in a number of different (yet similar) influential songs. "Come & Go", apparently a cover song (sorry kids I am middle aged and the only MARSHMELLOs I see are in my Lucky Charms), however after immersing myself in WYLD RYDE's tastefully done cover I did venture over to the original and I can see why WYLD RYDE took to it, how the song translates into an arena rocker and why, even those not with their fingers on the pulse of pop culture could appreciate a good, well written song. "Don't Say No" is the album's closer and it is another in the stable of up-tempo hard rockers with its "Mob Rules" (or maybe "I Speed At Night") intro, "Trapped Under Ice" bridge and 2nd solo and the obvious "Kickstart My Heart" ending.
I am sure there are many more influential nods and Easter eggs abound in this EP that I may be missing, but that just affords more spins and who knows, a Q&A with the band where we go down that rabbit hole. Some listeners I am sure will try and inflate their egos by knocking on WYLD RYDE and their obvious influences, to them I say 2 things, shame on you and, what have you done? I for one (and I know I am not alone in this opinion) appreciate the band's influences and their inclusion of said influences in their original material. For fricks sake LED ZEPPELIN was a cover band and ripped many artists to craft their "signature sound" so do yourself and WYLD RYDE the courtesy of appreciating their efforts, grabbing a CD and a t-shirt (Another suggestion would be to seek out the band's DEF LEPPARD "Hit And Run" cover, it's a really well done version, not straying from the epic original, but certainly adding the WYLD RYDE signature) because we need bands like WYLD RYDE just as much, if not more than they need us.
In conclusion WYLD RYDE is in fact a wild ride. The band sounds great. The look bad ass and all the members are quite obviously very competent/chameleons/musicians, who can craft very good, tastefully homage'd and infectious rock n roll songs. Well done guys, well done.
4.0 Out Of 5.0
https://www.facebook.com/wyldryde2021/
http://www.officialwyldryde.com/