All Photos By Travis Failey Photography
It's a rarity that you get a chance to see a band or even individual players from an enormous band like IRON MAIDEN in a small club in your hometown. Well, this has happened not only once but twice in the last few years as two members of IRON MAIDEN came with their side projects to the legendary Brass Mug in Tampa. Bassist Steve Harris was there Pre-Rona with BRITISH LION and on Thursday night drummer Nicko McBrain brought his TITANIUM TART band to the pretty packed club.
On a brief 4-stop mini tour of rock clubs in Florida to warm up for the huge continuation of the Legacy of the Beast Tour, Nicko and his 5 bandmates played for close to two hours, hitting the stage at 10:30.
TITANIUM TART, which is a very interesting band name, opened with "Moonchild" from the Seventh Son of a Seventh Son album and right away the crowd, including myself were blown away by the band. They continued directly with another song from the album in "The Clairvoyant". Back-to-back two songs from 7th Son? This was a bit of a surprise, but the band would follow suit with over half of 7th Son being played throughout the night to a very appreciative crowd.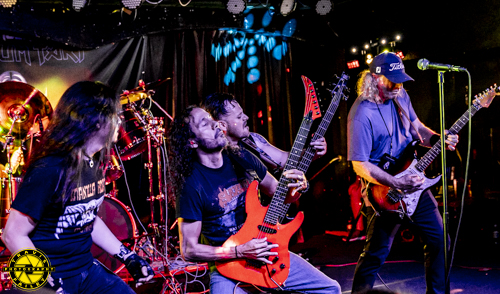 After the MAIDEN staple "Two Minutes to Midnight", Nicko came from behind the kit and grabbed the mic and walked to the front of the crowd barefoot and talked with the fans. He did this 3 or 4 times throughout the night and told all sorts of stories and joked about giving autographs and signing various items like pick guards stating "why would you want a drummers autograph on a guitar?"
He also asked for 20 seconds of silence for former MAIDEN drummer Clive Burr and the FOO FIGHTERS' Taylor Hawkins. Well, the silence lasted for under ten seconds with some jackass yelling out "Maiden rules" or something to that effect. He also thanked his wife Rebecca for setting up the tour. She talked a bit to the fans before the show at the tour bus and was as nice as could be.
With Nicko now back behind the kit, TITANIUM TART continued with "Number of The Beast" and back to 7th Son with "Infinite Dreams" followed by "Stranger In a Strange Land".
Nicko came back out and thanked Heather, the owner of the Brass Mug for having them, with Nicko affectionately calling it the "Ugly Mug" during his chats with the crowd. He then introduced the band, and I can't say enough about how well all of them played MAIDEN's material especially vocalist Paolo Velasquez. His inflections and performance were flawless and I believe Bruce Dickinson and the rest of the band would be as impressed as the crowd was.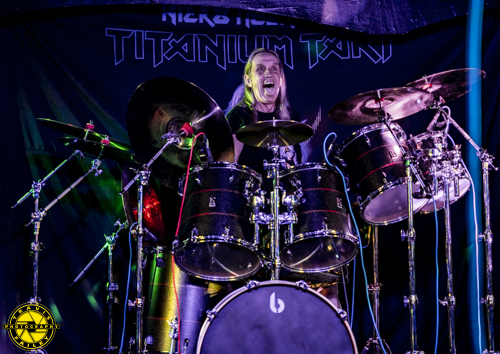 The dual guitar playing of Mitch Tanne and Mike Rivera was dead on balls for most of the night with Rivera covering the leads of Adrian Smith with Tanne handling the Dave Murray parts. Nicko mentioned that Rob Stokes was the second-best bassist he ever played with, only behind Steve Harris of course, and Eldad Kira filling things out by playing the keys.
Nicko was also a comedian while addressing the crowd, busting Bruce's balls about his recent spoken word tour and some of his mannerisms but I think it was payback for some of Bruce's jokes directed at Nicko. You can really tell from both Nicko and Bruce's shows how tight those two are and MAIDEN is as a whole. You might even say they are "blood brothers".
Nicko also spoke about the crazy Russians and that he felt sorry for the Ukraine as MAIDEN has played there in the past. Finally, this chat segment ended with Nicko talking about not playing "Alexander The Great" and discussing playing tracks off Senjutsu on this mini tour but not able to as Steve Harris said "you can't play songs that we haven't played live yet", which got a big laugh from the crowd.
Nicko then asked the crowd if they wanted to hear the title track from Seventh Son and the crowd roared with affirmation. Two MAIDEN tour staples followed in fan favorites "Wrathchild" off Killers and then "The Trooper".
Nicko then thanked the fans and IRON MAIDEN for letting him do the shows and someone from the crowd yelled "drum solo" where Nicko replied with "fuck off", which were my thoughts exactly.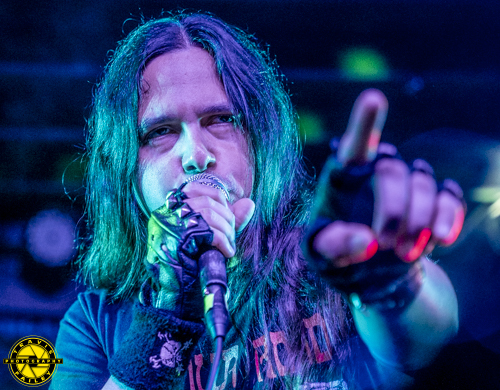 Just when you thought the show was wrapping up, Nicko McBrain's TITANIUM TART continued with "The Evil That Men Do", "Fear of the Dark", "Hallowed Be Thy Name", "Iron Maiden" and concluded with "Run To The Hills". Once again, I can't say enough about the job that Paolo did throughout the set. All the high notes and screams that we have heard from Bruce were smooth and done without strain or any issue. Just an unbelievable performance in front of all the MAIDEN fans in attendance who were looking to criticize any flaws and there were none.
After the show, just like Steve Harris did a couple years earlier, Nicko signed autographs for all the fans but held back from doing photos. This was totally understandable as he doesn't want to catch anything before MAIDEN hits the road.
There are only a couple more stops on this tour to see Nicko and TITANIUM TART but if you are in Florida or close by, this is a must go if you love MAIDEN. The setlist was fantastic and as I departed the venue, I felt a bit of Déjà Vu all the way back to the summer of '88.
For dates for the next few shows, check out TITANIUM TART's Facebook Page.
Check out some more photos from the show!
All Photos By Travis Failey Photography