THE HELLACOPTERS
Eyes Of Oblivion
Nuclear Blast Records




The first and last time I saw THE HELLACOPTERS was in 1999, when the Swedish garage rockers opened for THE SUPERSUCKERS at the 8x10, a fittingly named hole in the wall in Baltimore's Federal Hill. But what I remember most from the evening, oddly enough, was BRITNEY SPEARS.

Let me explain. I got to the 8x10 early to interview SUPERSUCKERS frontman Eddie Spaghetti. Because I had time to kill before showtime once we finished, I popped across the street for something to eat - Cross Street Market rules! But when I stepped outside, there was this pervasive shrieking noise in the air, sounding kinda like the Brood X cicadas from last summer, that seemed to come and go in waves.

After grabbing a bite and a brew, I headed back a half-hour later and that piercing wail was still there, under which was a faint throb of dance pop music. When I got to the 8x10 again, I asked the guy at the door, "what's up with that noise?" "Oh, that's probably BRITNEY SPEARS, she's over at Pier Six tonight."

Actually it was more like the 4,000 or so tweens who packed the Pier Six Pavilion to scream their fucking brains out over the "Princess of Pop" on her first headline tour with a fervor like you might remember from those old BEATLES clips, only more shrill. It was loud enough to be heard over a mile away - all the way across Baltimore's Inner Harbor amid a bustling city neighborhood. Amazing.

That shriek is a sound that has stuck with me ever since, despite an abrasive punk n' roll cleansing by THE HELLACOPTERS and SUPERSUCKERS later that evening, before a "crowd" of like 150 neck beards.

I tell you all that to tell you this: THE HELLACOPTERS are back with their first album in 14 years, and first with new music since 2005's Rock & Roll Is Dead. And it offers every bit the amped up, "Grande Rock" rabble – to borrow the title of the album they were touring on behalf of at the 8x10 show – that made the band stars in their native Sweden back in the day and underground staples just about everywhere else.

After a nine-year hiatus that began in 2007, THE HELLACOPTERS' original lineup - led by ex-ENTOMBED drummer Nicke Andersson and BACKYARD BABIES guitarist Andreas "Dregen" Svensson - reassembled in 2016 for the 20th anniversary of their debut album, Supershitty To The Max!, and have been playing off and on ever since, though bassist Kenny Håkansson bowed out after the initial reunion shows. Current bassist Dolf DeBorst joined up in 2018. A single also emerged around the time of the reunion, with a couple leftover tracks from the Supershitty era recorded anew.

With the release of Eyes Of Oblivion, their eighth full-length, THE HELLACOPTERS would seem to be back in business for real. It sure sounds like they mean it. Oblivion is all new, super-charged "rawk" that pulls together the tastiest sonic bits of IGGY & THE STOOGES/MC5, MOTORHEAD and CHEAP TRICK and delivers abrasiveness and catchiness in equal measure. And while it may sound retro, it is certainly not derivative.

Oblivion opens with the back-to-back buoyant rockers "Reap A Hurricane" and "Can't It Wait" that set a rousing tone the band largely carry forward the rest of the way. Soaring riffs, abundant ragged hooks, and sing-along choruses occasionally flavored by Anders Lindström banging away on the piano make them infectious and irresistible. Same goes for the title track; the bracing, oddly titled "A Plow And A Doctor"; "Positively Not Knowing", which is graced by Lindström's Jon Lord-like organ peals and Andersson and Dregen's spry lead trades;"Beguiled" and "Try Me Tonight", which closes the album out with the same raucous, super-catchy spirit "Hurricane" opened it with 30-some minutes before.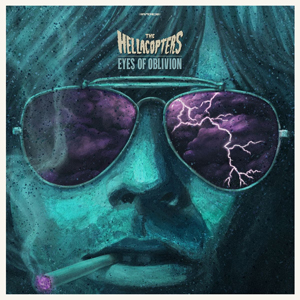 For a bit of variety, THE HELLACOPTERS slow things down dramatically to take a bluesy turn with "So Sorry I Could Die", which highlights Andersson's aching vocals, Lindström's prominent keyboards and Andersson and Dregen's mournful solos. The western-tinged, almost BYRDS-like "The Pressure's On" is more urgent, but equally fatalistic, with its "We're all gonna die, so pray we'll get things done" chorus. "Tin Foil Soldier" offers boogie swagger that provides the punch of the more uptempo material at a more measured pace, letting the hooks hit that much harder.
And this is an album that hits hard to begin with. The quintet were careful to capture the raw spunk of old, but deliver it with a contemporary feel that sounds great without sounding slick. Eyes Of Oblivion may pick things up where the band left them off in 2007, but it brings things forward with an effortlessness that matches its exuberance, and shows this is no mere nostalgia trip.
THE HELLACOPTERS have aged well remarkably well. They may be older, but they have come back wiser after their hiatus with Eyes Of Oblivion. And they certainly haven't lost a bit of vigor or vitality since I saw them way back when – and I think we all know that same cannot be said of BRITNEY SPEARS, who went from tween queen to tabloid punching bag, although she did sell like a 100 million records. So there's that.
4.0 Out Of 5.0