SATAN Earth Infernal


By Rob McNees, Vinyl Aficionado
Monday, April 18, 2022 @ 1:13 PM


| | | |
| --- | --- | --- |
| | | |
SATAN
Earth Infernal
Metal Blade Records




There is something a bit ironic about doing an album review of a band called SATAN on Easter Sunday that is not lost on me. But I believe JC will forgive me as the band in question, formed in Newcastle Upon Tyne England in 1979 and are one of the bigger bands of the legendary NWOBHM movement, are not in the least bit satanic as their moniker might suggest. Guitarist Steve Ramsey even stated as such in 2013, stating that the whole idea of the band is about injustice. "The judge was always part of it, the judge and the devil". To prove that point, from the iconic 1983 album A Court In The Act on thru the latest slab of British Steel, Earth Infernal the judge himself graces every cover. And what is in judgement then you ask? Lyrically everything, from crumbling stardom to global warming. And we'll delve into some of that later on.

The band itself has gone through various incarnations and name changes, even though most of the players have remained a constant. So let's start with intros. The aforementioned Mr. Ramsey (who is also in Celtic metallers SKYCLAD), and guitarist Russ Tippins (also in the rocking TANITH and THE RUSS TIPPINS ELECTRIC BAND) are both OG members, with bassist Graeme English (also in SKYCLAD with Steve) joining in 1980, and drummer Sean Taylor (also in Newcastle's WARRIOR) and last but certainly not least Mr. Brian Ross (also in NWOBHM stalwarts BLITZKRIEG) both joining the fray in 1983. In 1985 the band, sans Brian, enlisted singer Lou Taylor and changed their name to BLIND FURY to avoid being lumped in with the more radically satanic bands of the day and released the killer Out Of Reach album. Singer Michael Jackson (you know better) replaced Lou, and another name change ensued in 1988, PARIAH, releasing 2 brilliant albums, The Kindred in 1988 & Blaze Of Obscurity in 1989. A one off reunion of the band SATAN in 2004 at the legendary Wacken Open Air in Germany got the full band together again and rekindled the fires as it were, with a full reunion occuring in 2011 culminating with the release of Life Sentence in 2013, and SATAN back at full strength.

Which brings us to 2022 and the highly anticipated Earth Infernal. Most legacy bands are churning out greatest hits albums or rehashing past glories, but SATAN took the dreadful pandemic and put that to good use creating a blistering new album. First track "Ascendancy" builds off of a short musical intro before kicking into classic uptempo SATAN. Brian has never sounded better and the band delivers an opening pummeling that should well be the new live opener when the band gets back to touring. "Burning Portrait" slows things down musically a bit as a lyrical part two to the opener, as "Ascendancy" is the climb up the ladder of success and "Burning Portrait" is the inevitable fall from grace. Thought provoking to be sure. "Twelve Infernal Lords" kicks it back into gear and is quintessential SATAN, with those haunting melodies and musicianship second to none. Lyrically it's one of the two tracks tying directly to the album title dealing with global warming. An instrumental "Mercury's Shadow" follows and don't let the mellow beginning fool you as it's as quality as the rest of the album. "A Sorrow Unspent" is another uptempo banger with some amazing soloing by Russ & Steve. "Luciferic" has some amazing harmony vocals and this mid-tempo track really shines on the clean, crisp, precise production of Dave Curle, who engineered & mixed it. Dare I say there isn't another band in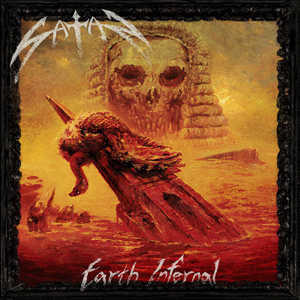 heavy music with a sound like this. "From Second Sight" deals with conspiracy theories and musically is just another amazing uptempo track, a touch less frantic but still as powerful as ever with the rhythm section of Sean & Bean keeping it locked down tightly. "Poison Elegy" has time changes aplenty and some tasty harmony and lead work. SATAN are masters of their craft to be sure. "The Blood Ran Deep" kicks back into high gear with textbook precision. Plenty of bands can play uptempo or fast but no one, and I mean NO ONE, sounds like SATAN. And these days of a million bands, the fact that these lads still sound fresh and original, no one even remotely coming close to their patented sound, speaks volumes to these ears. Album closer and longest track "Earth We Bequeath" (just a tick under 6 minutes) is the sister track to "Twelve Infernal Lords" going back to the warnings of dire consequences for Mother Earth. SATAN has their thoughts put here to music. It's up to you to draw your own conclusions and seek your own truth. Or just crank up the music and rock out! No wrong answer to that scenario.
Easily setting up for my top albums of the year. Yes it's that good. Original. Unapologetic. Heavy. Thought Provoking. Powerful. A statement that in 2022, SATAN isn't here to just tread water or rest on their laurels, but show the young & old how to continue to make music that can speak to you on multiple levels but still kick your ass but good! Miss this at your own infernal peril. You have been warned.
For the Wax Fam, yes there is Vinyl. A few different variations. Limited numbers and colors. Waiting on mine as we speak. Limited to 200 worldwide. Buy or Die.
4.8 Out Of 5.0 Skulls

Please log in to view RANTS


THE WINERY DOGS, BLACK HEART SAINTS In Houston, TX With Photos!

ROBIN MCAULEY Alive

CRADLE OF FILTH, DEVILDRIVER In Santa Ana With Photos!

KAMELOT The Awakening

ALTER BRIDGE, MAMMOTH WVH In Houston, TX With Photos!

ACID KING Beyond Vision

STEEL PANTHER On The Prowl

NIGHT DEMON Outsider

YNGWIE MALMSTEEN In Ottawa, Canada

THEORY OF A DEADMAN, SKILLET, SAINT ASONIA In Houston, TX With Photos!

OFFICER X Hell Is Coming

PERIPHERY Periphery V: Djent Is Not A Genre

INSOMNIUM Anno 1696

STEEL PANTHER, CROBOT, TRAGEDY In Houston, TX With Photos!

BABYLON A.D. Live Lightning

ROTTING CHRIST, CARACH ANGREN, UADA, GAEREA In Houston, TX With Photos!

MOTÖRHEAD Bad Magic: Seriously Bad Magic

TRAGEDY I Am Woman