Photos Credit: Enzo Mazzeo/b>
In 2017, KNAC.COM ran a feature on Giancarlo Floridia of the band FAITHSEDGE, alongside Tim Gaines, former bassist for STRYPER. Gaines, who opened up about his circumstances surrounding his departure from STRYPER created quite a buzz with his honesty about the situation.
5-years later, Giancarlo has more announcements to make, and the full circle that seems to bring him back to involvement with even more members of STRYPER (which Gaines endorses), amongst other exciting announcements. While his band FAITHSEDGE is still viable, Giancarlo has embarked on a new venture with the mighty Italian organization/record label, Frontiers Music srl.
I recently caught up with Giancarlo for his exciting news and announcements. Looking forward to everything he and Frontiersí has planned. From what Iíve garnered, the workings of it reminds me of the 60ís musical collection, The Wrecking Crew; who were famous for writing and performing songs for various artists and groups that were formed by record labels.
Read on:
KNAC.COM: Hey Giancarlo! Howís it going?
FLORIDIA: Itís been crazy! With everything going on and just keeping myself busy, itís been nuts. We (Frontiers/Floridia) just did the ICONIC video (featuring Michael Sweet, Tommy Aldridge, Marco Mendoza, Joel Hoekstra, Nathan James) (Video on KNAC.COM HERE). It was great.
KNAC.COM: Last time we talked, you were doing FAITHSEDGE band with Tim Gaines.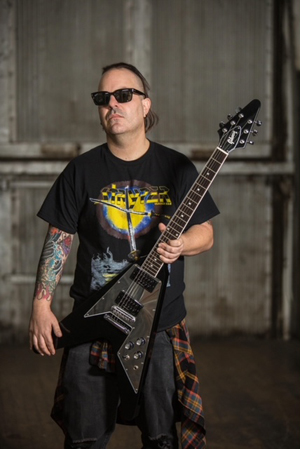 FLORIDIA: Talk about funny. Now Iím working with Michael Sweet (STRYPER).
KNAC.COM: Yeah, I was very curious what you have going on when you told me you were working with him. I remembered there was some really bad blood between Michael and Tim.
FLORIDIA: Itís crazy how I was working with Tim, and the big blowout and the interview with you and it got so much attention. It just got replayed and replayed on Blabbermouth. It gave me a ton of press. [laughing] Now here I am working with Michael, what are the chances? Itís all good though. I got Timís blessing with Robert Sweet. They love Tim. I was talking to Michael today. He called me when he was recording with STRYPER. I mean, he is like my top 3 for influences. Itís like a weird dream.
KNAC.COM: Iíve heard that from a few people through the years. I interviewed Robert DeLeo from STONE TEMPLE PILOTS. He said people kept telling him to not give up. He told me it all hit him when he was sitting in Joe Perryís car (AEROSMITH), listening to music. At that point, it was such a surreal, unbelievable moment for him heíll never forget. He kept looking over at Joe, thinking, ďHoly shit, Iím sitting in a car listening to music with Joe Perry.Ē [Laughing]
FLORIDIA: For me, this new songwriting thing Iím about to announce, that Iíve had to keep my mouth shut about is killing me! Here I am writing for Robert Sweet, Perry Richardson, James Durbin and Mike Flyntz (for their new project, CLEANBREAK). I used to run home and listen to the debut of "Reach For The Sky" from FIREHOUSE when I was 10-years-old, and now Iím writing for them? Itís pretty mind boggling. That same 10-year old, 12-year old or even high school kid, when I was standing for rock when grunge came in, it's like a big middle finger to everybody now. Like, ďFuck you.Ē Itís a great feeling. This is a big thing this songwriting deal with Frontiers that Iím doing.
KNAC.COM: Okay. So letís back up 5 years ago. Youíre doing the FAITHSEDGE thing, so how did you get here?
FLORIDIA: Yeah, so in 2019, the last album that probably did the best, Bleed For Passion, did well. Then Covid hit. We were promoting, and I kept working on songs, but we couldnít do anything. Enzo with Scarlet Records, heís the one who signed me. He called me up and he said he wanted to have a meeting about doing this new music video thing, where we could do major artists. He wanted to bring me on board because I know a lot of people in the business.
KNAC.COM: Wait, so I know you write music, but I didnít know youíre doing videos?
FLORIDIA: Yeah. It just kind of came up to me. I have some history, like in school, but I edited some of the FAITHSEDGE videos and Enzo knew I would be dependable and to show up and do a good job. I mainly do production assistant stuff, but thereís a lot of other things as well. Like I wrote the script for the new L.A. GUNS video. So, Frontiers sent an advance of the singles, L.A. GUNS "Cannonball" and L.A. GUNS "Get Along" was the other. "Get Along", when I heard it, I was just blown away by the song. I wrote the whole script in less than an hour. Keeping the Hollywood theme, the girl leaves the house with the L.A. GUNS style pad.
KNAC.COM: Isnít that your daughter?
FLORIDIA: Thatís my daughter Faith. Yeah! Sheís in a few videos. Sheís in the new BLACK SWAN "Generation Mind" (Robin McAuley, Reb Beach, Jeff Pilson, Matt Starr) video as well.
KNAC.COM: Sheís adorable!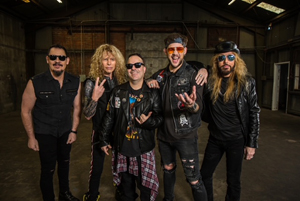 FLORIDIA: Itís pretty cute. Itís pretty wild to see your daughter in videos of your heroes when you were a kid. Weíll probably use her again. Iíve done acting in some of these videos too. In the Robin McAuley "Standing On The Edge" video I'm the homeless guy with the sign.
KNAC.COM: Wow, fun!
FLORIDIA: I was not going to be in the L.A. GUNS video yelling at my daughter. Iím thinking, we know Jesse Snider (Deeís son), heíll do it. My daughter knows Jesse, so in the L.A. GUNS video ("Get Along") when my daughter looks very uncomfortable to the way Jesse is acting, itís because she is. We know him very well and we love him. He was really getting into it, so when she looks concerned, itís because she is. [Laughing] Heís like a family member to us. Heís a great actor.
KNAC.COM: Method acting, right? [Laughing]
FLORIDIA: Yeah. I went to Guitar Center and this kid was playing guitar, L.A. GUNS, and he and his dad were telling me how much they love the new L.A. GUNS video. I told them I wrote that whole story. They were like, ďNo way!Ē I told them it was my daughter in it and they were freaking out. So, knowing that Iím making a difference on a big level like that is an amazing feeling.
KNAC.COM: Frontiers is very cool, I gotta say, itís kind of the last, for the rock genre anyway, music label to go for most rock bands.
FLORIDIA: Yeah. Totally.
KNAC.COM: Okay. So after 2019, the pandemic hits and everybody is freaking out. I mean, in the music industry, it was such a start, stop scenario and there were moments where it felt like weíd never get back to any semblance of normalcy.
FLORIDIA: I was going to go out with my fiance for her birthday at the time. Iíll never forget it.
KNAC.COM: Okay, wait, I just have to cut you off because it sounded like you said, Beyonce. I was going to say you have a lot to talk about dude. [Laughing]
FLORIDIA: Okay, my ex-girlfriend [laughs]. She called me and told me we couldnít go out that night. I was like, ďwhy canít we go out?Ē She told me there was a lockdown. I had no idea what a lockdown was. What does that even mean? At first, it was like we have to stay in for like 2 weeks, and then it was like 2 years? So as a musician, I mean, I have a regular job, so I canít imagine how hard it was on those that do it for a living. First, the record sales got cut out and the rug got pulled out, so that was their first source of income. Then, they rely on touring and they canít tour. How are these bands going to survive? It was a scary time for a lot of people.
KNAC.COM: Oh yeah, I mean, bands, crew. A lot of people have careers based off the music industry. Okay, so youíre in lockdown, and you get the call from Frontiers. Did you decide youíre done with FAITHSEDGE based off that call?
FLORIDIA: Iíd consider bringing it back right now. This year. Okay. So a few things happened. The past couple of years are like a blur. I went for a long walk with Enzo in Huntington Beach, where I live. He discussed the vision that he had and he wanted to have me on his team. I thought that was great. Itís a great idea. He has so many contacts, and Frontiers.
KNAC.COM: What made him contact you, specifically?
FLORIDIA: I think he just believed in me. He trusts me. From everything from booking studios to reaching out to contacts. He says Iím really good talking with people.
KNAC.COM: I agree. [laughs]
FLORIDIA: Heís from Italy. So it works great. He can call Frontiers and they all speak Italian with him, and I handle a lot of the things in English. Even though Iím Italian, I grew up here in California. It kind of worked like a partnership. He just wanted to bring me in, and he had a gig with Frontiers and I said, ďLetís do it!Ē Iíve wanted to work with them for years.
KNAC.COM: I know a few that have tried to get in with Frontiers. Itís pretty exclusive. So congratulations. Now I know why you say itís good to be Italian. [Laughing]
FLORIDIA: Itís good to be Italian! [Laughing] The first video we did was REVOLUTION SAINTS with Deen Castronovo, Doug Aldrich and Jack Blades. It was for the album Rise. Those did very well. If you take a look at the video for THE END MACHINE "Dark Divide" (B-Roll Footage), you can kind of see the work we do with the bands. Anything from me helping George Lynch, to helping Steve Brown. I think thereís a scene where Iím helping Jeff Pilson with a broken strap. Anything they need, I can understand it or help. Doing playback on THE END MACHINE videos, me and George Lynch went over the parts. Iíll sit up there and listen to it with him and Iíll understand song formatting. My job is to work with the bands and keep a real positive thing going for everybody. Whatever needs to be done, we get it done. It can even be something silly, like setting up George Lynchís amp a certain way. A week later we were doing the Robin McCauley video. Robin says he had an idea, but he needed a homeless guy, and everybody is like, (In an Italian accent) ďLetís bring in Giancarlo because he looksa good with the camera.Ē So itís been a lot.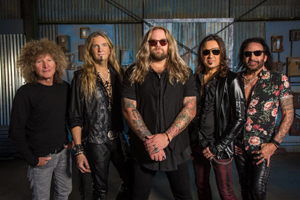 KNAC.COM: Where are you coming up with the storyline?
FLORIDIA: I just felt it, you know? The story for L.A. GUNS is a little personal. We have a family, and thereís some alcoholism going on and the daughter takes off. She decides sheíd rather sleep on the streets of Hollywood than be around that. Halfway through he has an awakening when he sees her baby pictures. It was funny getting my daughterís baby pictures and putting them up. When he sees those photos and he has a revelation, like, I need to change, and he gets rid of the alcohol, I think that video I absolutely love. Something about that song I just wanted to get across. I think that video is one of our best. My son came down and helped out too. To have me and my children working as a family, it was a great thing.
KNAC.COM: So, where does the songwriting come into play?
FLORIDIA: Since Iím not doing FAITHSEDGE at the moment, I had a meeting with Alessandro Del Vecchio, heís the head guy with Frontiers. He does all the production. Instead of doing FAITHSEDGE for now, which I might come back to at some point, he just said that this was a big opportunity. So now Iím writing songs for Frontiersí artists. The first band, which I have two songs on it, one which I wrote about Jani Lane and his wife Kim. I was friends with both of them and they unfortunately both passed away. I knew Jani when I was a teen. He was very supportive. I became friends with Kim when Jani died. I played his memorial in Ohio. Itís a storyline I wrote about the experience I had and about feeling her emotions. Allesandro was blown away. The second one is about me and breaking up with the girl I lived with off and on for 4 years. The song speaks for itself. I wrote both of those for CLEANBREAK, with James Durbin from American Idol, Robert Sweet from STYRPER, Perry Richardson from FIREHOUSE and STYRPER, and Mike Flyntz from RIOT. Itís been so awesome to be writing for my childhood heroes. Itís cool doing the video scripts, but itís a whole other level as a songwriter. I grew up in Los Angeles. I grew up in the MTV era in California. Iíve worked with all these guys. Iím hoping to bring more hard rock edge back. Iíve worked with RATT, STRYPER, DOKKEN, and Iím hoping to bring that L.A. edge to some of the Frontiers songs. So my new role is to write for multiple bands. I work with a great guy named Seann Nicols, he used to play with ADLER'S APPETITE, and I go to his place, heís got a great studio in Anaheim, and I demo my stuff and I work on the songs with him and we send them to Alessandro. We build these great songs together. This is just the beginning. The goal is to keep the songwriting going and the videos.
KNAC.COM: So, itís a dream job.
FLORIDIA: True. Iím hoping this will develop into me singing on some of the albums. Michael Sweet heard some of these demos and heís interested in working with me too. So that is great. I love the 80s, I love that style, but I think Iím giving it my own spin. Itís cool to not only do the video but then to let the guys know I wrote the songs too.
KNAC.COM: So Frontiers puts these groups together?
FLORIDIA: Yes.
KNAC.COM: Aha. I wondered about that. So they arenít really scouting out any new bands, but rather creating what they think would be cool supergroups.
FLORIDIA: Thatís whatís such a unique and fortunate situation. Alessandro is the head guy and itís great to be working with him. To be working with him as a songwriter is such an honor. I donít want to say itís hard to get in, but they have the top notch guys from back in the 80s on the label. So if youíre going to come in, youíve got to come in strong. If you look back at my albums, my songs were strong. Itís how I got the deal. I didnít send Alessandro songs that were half-assed. We did just produce another video for the band SKILLS, with Brad Gillis (NIGHT RANGER), Billy Sheehan (THE WINERY DOGS, MR. BIG), Renan Zonta from Brazil whoís fantastic (ELECTRIC MOB), and David Huff (GIANT). So, theyíre finding a lot of worldwide talent as well and combining them.
KNAC.COM: I have always loved providing press for Frontiers. Iím always a bit bummed out though that I havenít seen any tours with these artists.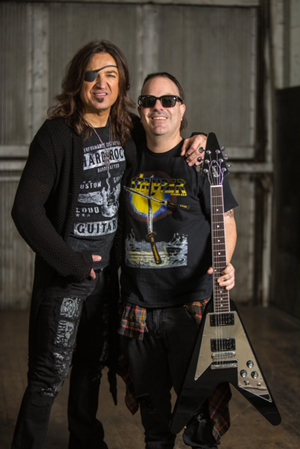 FLORIDIA: Yeah, well. Thatís a whole other deal.
KNAC.COM: Alright. Elephant in the room. Any hard feelings from Tim Gaines now that youíre working with the other part of STRYPER?
FLORIDIA: I had to call him. When I wrote the songs, I didnít want to know who they were for. Thatís a lot of pressure. As a matter of fact one of the songs I modeled after "In God We Trust". I showed it to Michael. I didnít know Robert would be in that song. It was just a complete coincidence. It just happened to be him. When I found out who was going to be on that album, after they were approved and I was told who the songs were for, not only did I need to tell Tim I was going to play with Robert, but also that I was writing for his replacement, Perry, who is now the bass player for STRYPER. So...Tim is a loving guy. You know what? All the guys from STRYPER are great. I hung out with Michael for 4 days with his wife and they love Tim. In fact, Michael told me to tell Tim that the band says hello. I mean, come on, thatís awesome. You can just feel when I was around Michael that they donít hate Tim at all. I think it was just bad timing and there was a lot of bad stuff going around. Iím in the middle. I love Tim and I still talk to him and now Iím friends with Michael and working with the other guys. Itís kind of interesting how I got thrown into that situation. I did call Tim out of respect. He just said that he was proud of me and he gave me his blessing. When I picked up Michael from the airport and we started talking, I said look, ďIím sorry for the KNAC.COM interview, I know it sparked some things.Ē [Laughing]. Michael said ďdonít even worry about it manĒ which was cool. I really think everybody is at the point where itís all cool.
KNAC.COM: I mean, I hope so. I hope it sparks some new conversations and healing. Life is short. Honestly.
FLORIDIA: You can hear it in their voices. Theyíre brothers. I think itíll work out one day. Maybe it wonít be today, but I think itís a possibility itíll get worked out.
KNAC.COM: Make it so boys!
FLORIDIA: You never know. When I talked to Michael today, he told me to tell Tim the whole band sends their love. In a genuine way, it was very clear to me they still care about him.
KNAC.COM: Perfect!