All Photos By Travis Failey Photography
Sometimes when life throws curve balls at you and unfortunate situations occur, some people benefit, and others do not. Well, if you were a fan of STRIKER and SEVEN KINGDOMS, other's loss was your gain.
Confused, I'm sure you might be. What I'm getting at is that the nationwide tour headlined by BEAST IN BLACK with support from STRIKER and SEVEN KINGDOMS got off to a bit of a rough start as BEAST IN BLACK was not able to play at the first 3 stops of the tour. One of these was at the Orpheum in Ybor City in Tampa. It's also the place I affectionately call the dungeon.
This meant that both STRIKER and SEVEN KINGDOMS would play extended sets for those 3 shows and that was fine by me. In full transparency, I've been waiting to see STRIKER live for a few years now after being turned on to them by a good friend.
STRIKER was formed in In Edmonton in 2007 and A lot of American rock fans do not know about this band but if you do, you know these Canadian rockers shred. They are not your typical metal thrash band but one that blends hard rock, some glam and thrash together and combine it for a perfect mix.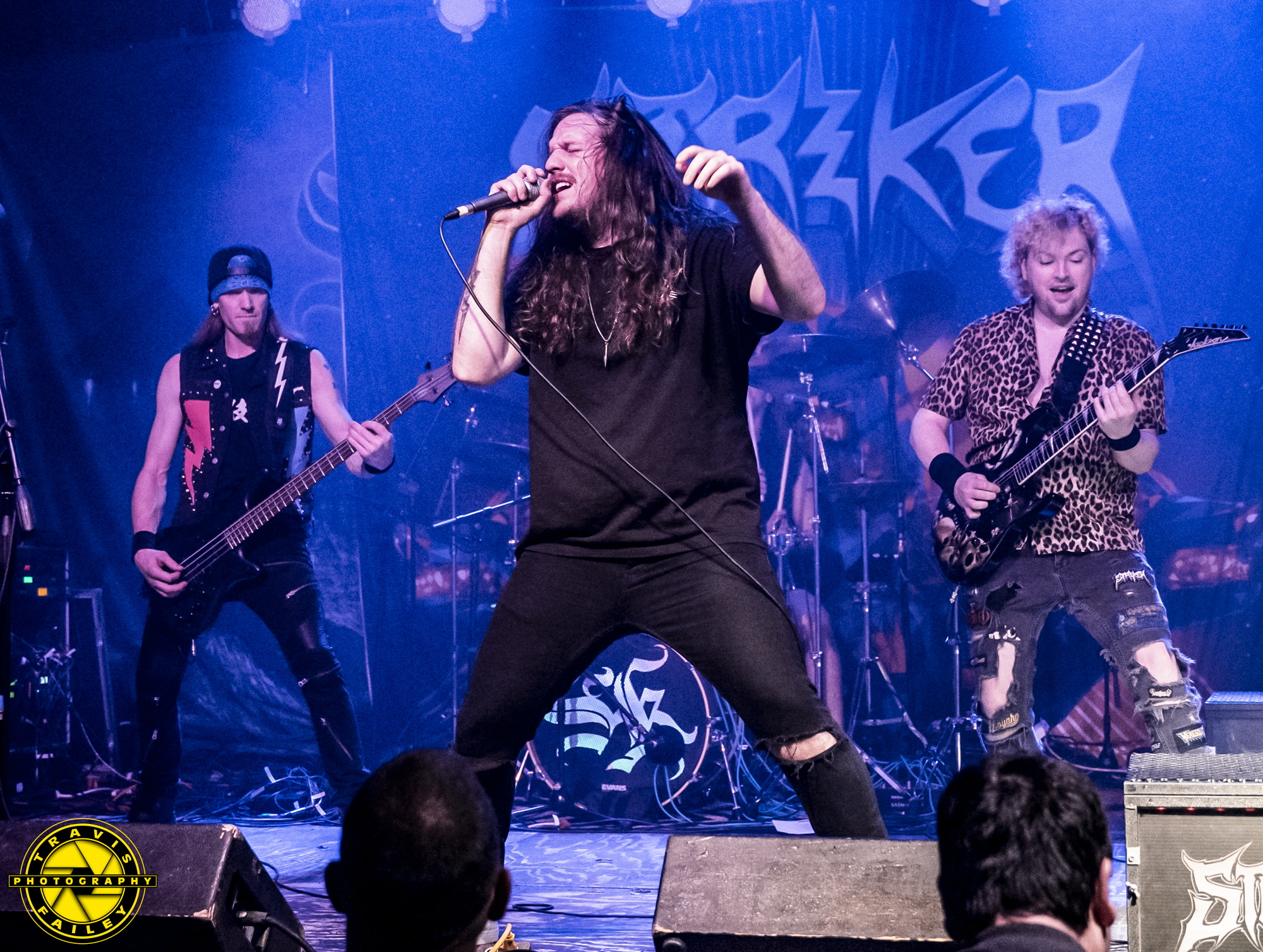 Led by the last original member in vocalist Dan Cleary, STRIKER hit the stage running with "Heart of Lies" from their Juno winning award album Play To Win. It was a perfect start to their 10-song set and if there was any question if they could pull off their music in a live venue, the answer was provided in the first two minutes of the opening track. All five members were in perfect sync from the jump with new guitarist John Simon Fallon and Tim Brown changing off leads without a hiccup like they have been playing together since the inception of the band.
Next up was "Born to Lose" from their self-titled album released in 2017 which really got the energy going in the crowd. Were there a ton of people at the Orpheum? Unfortunately no, but both STRIKER and SEVEN KINGDOMS performed like they were in Wembley.
STRIKER continued with a newer release in "Deathwish" which once again showed off Dan Cleary's vocal abilities. In my opinion, Cleary crushes most modern hard rock and metal singers that are all over Sirius XM Octane. His vocals are clean, clear, and ridiculously powerful. He has the swagger and command of a rockstar on stage but not the off-stage attitude that we see a ton these days.
STRIKER kept up the energy, power and screaming dual lead guitars with their most recent single and video in "Strange Love" This song also showed off the chemistry between bassist Pete Klassen and drummer Jono Webster. The back line is also an energy ball with Klassen running all over the stage and is not shy in showing off his guns.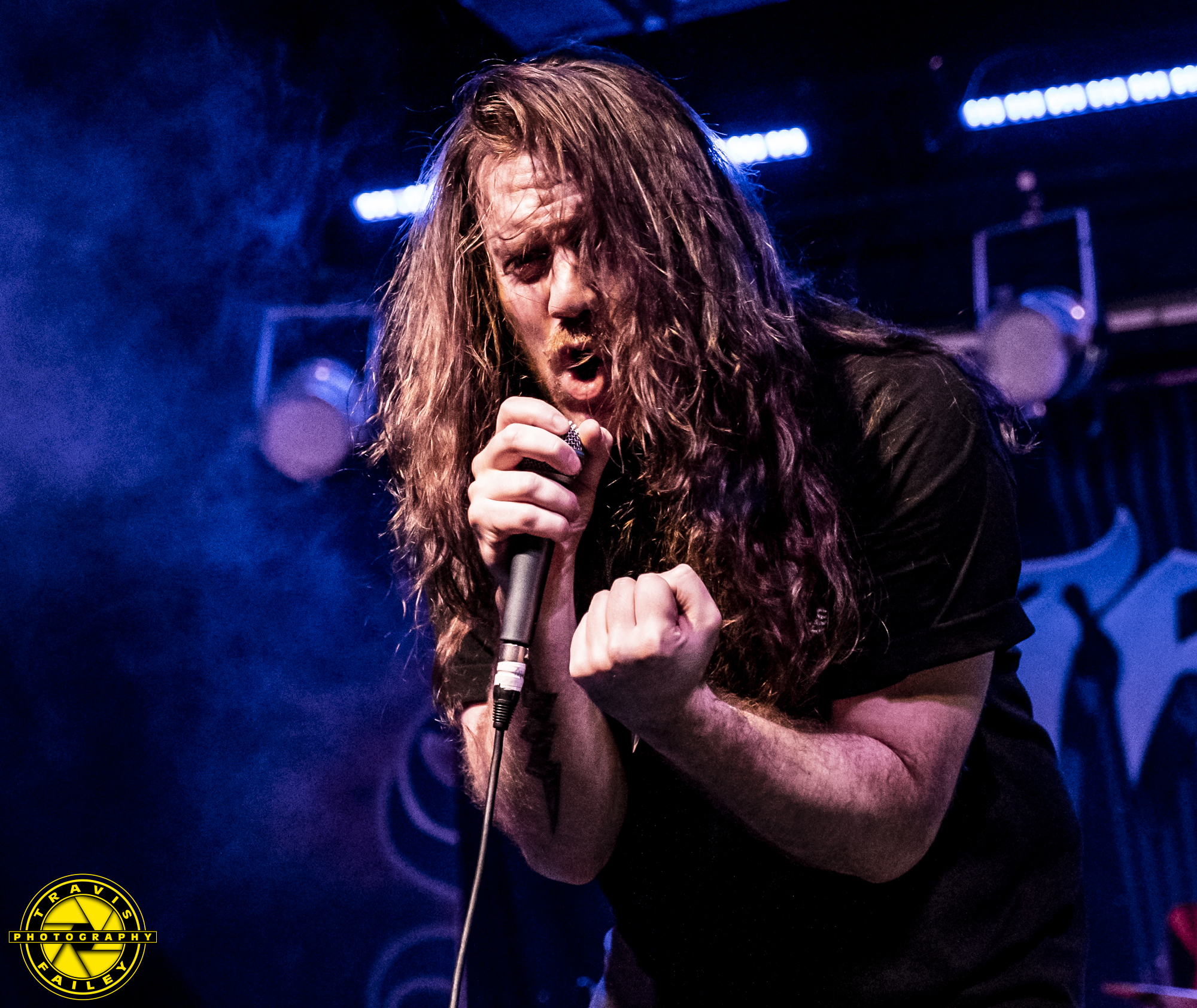 After "On The Run" STRIKER got the heads banging with "Crossroads" from 2014's City of Gold. This is old school trash with lyrics you can understand and not your garbage cookie monster vocals from now and years past. After "Pass Me By" and "Phoenix Lights", Cleary and the boys in STRIKER finished their set with two anthem type tracks that got the crowd singing in "Too Late" and "Fight For Your Life".
Both of these left the crowd wanting more and I was hoping for a few more off of Play to Win but I was just thankful to see them in a venue in our hometown of Tampa. STRIKER said farewell to the crowd with a booming outro of "Reign in Blood" by SLAYER with the crowd throwing up the fists and horns in approval.
After hearing and watching STRIKER's live performance at the Orpheum, there is no doubt in my mind that this band should be all over the US festival circuit and a household name in hard rock.
Up next was a band I wasn't very familiar with but was damn impressed with their live performance and songs in SEVEN KIGNDOMS. The four-piece hailing from Deland, Florida were also formed in 2007 and have gone through some lineup changes especially changing out singers with Sabrina Valentine taking the throne from Bryan Edwards. The power metal band are obviously influenced by tales from medieval times and would get a big horns up from Ronnie James Dio as Valentine reminded me many times of him by her performance.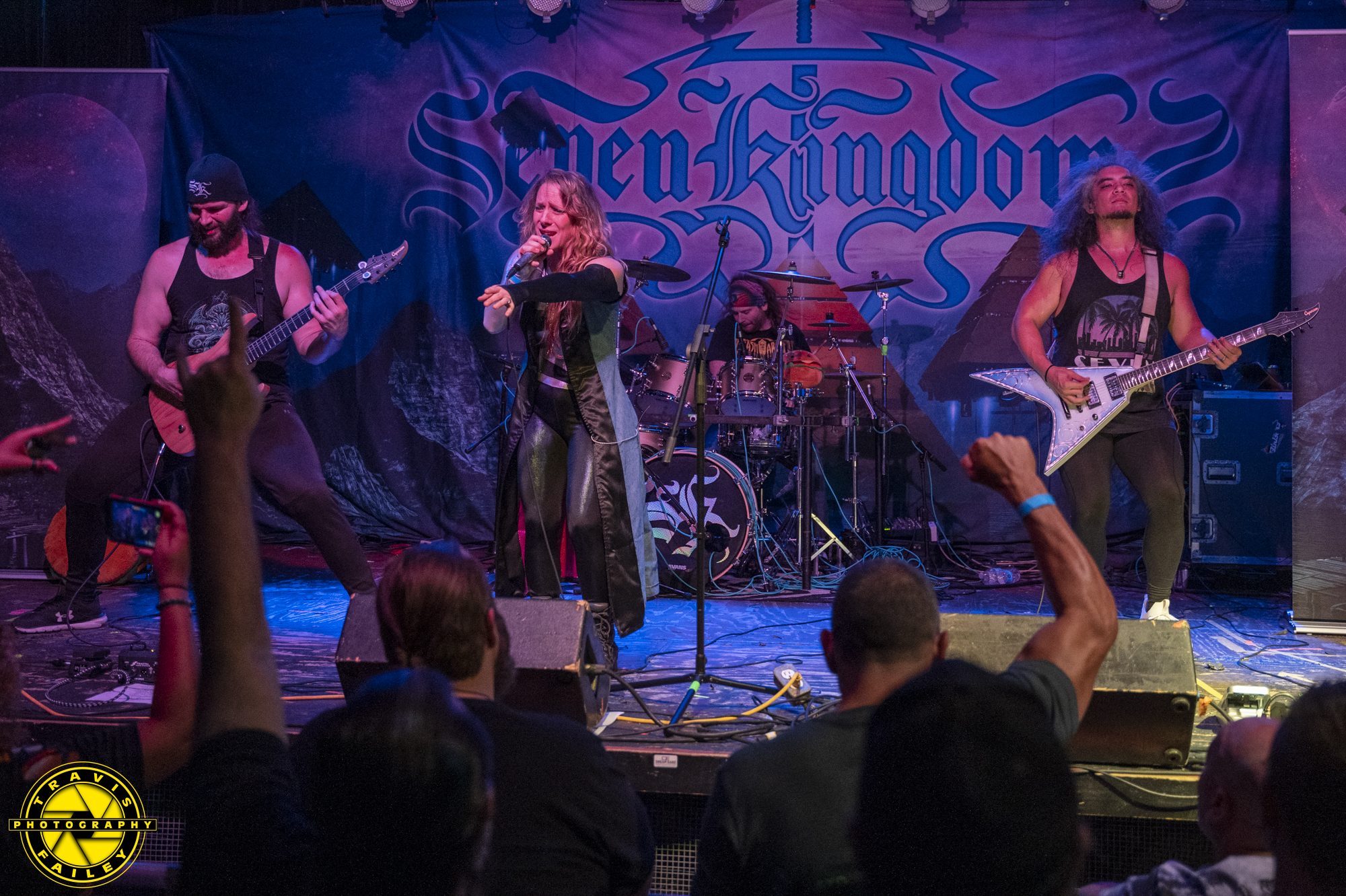 SEVEN KIGNDOMS started their set with 9 song set with older song from 2013 in "After the Fall" and then followed it up with "Empty Eyes" from the EP of the same name from 2019. I didn't know this prior to their set but SEVEN KIGNDOMS does not have a bass player in the band. You wouldn't know it from hearing them live as guitarists Camden Cruz and Kevin Byrd, along with drummer Keith Byrd, really fill out the sound nicely.
Camden Cruz put on a guitar wizard performance and really adds to the flare that SEVEN KIGNDOMS bring to the stage. Valentine donned a gold crown and looked fantastic doing it. I can't say enough about her vocal performance. She packs a huge punch with her small frame and sings like an angel and a devil when the song calls for it.
After crowd favorites "Valonqar" and "Diamond Handed", SEVEN KINGDOMS surprised me with a heavy version of Don Henley's "The Boys of Summer" which I consider one the greatest songs of our time. Call me crazy if you wish. Cruz and Byrd crushed the lead and played it faster than normal and the crowd absolutely loved it. These two really play and feed off each other brilliantly.
As SEVEN KINGDOMS finished their set and said goodbye to the crowd to a huge pop of applause, I once again realized that sometimes going to a show without a lot of knowledge about a band can be a good thing. SEVEN KIGNDOMS defined that thought process and confirmed it as after leaving I went back through their discography and now really enjoy their work and look forward to seeing them once again.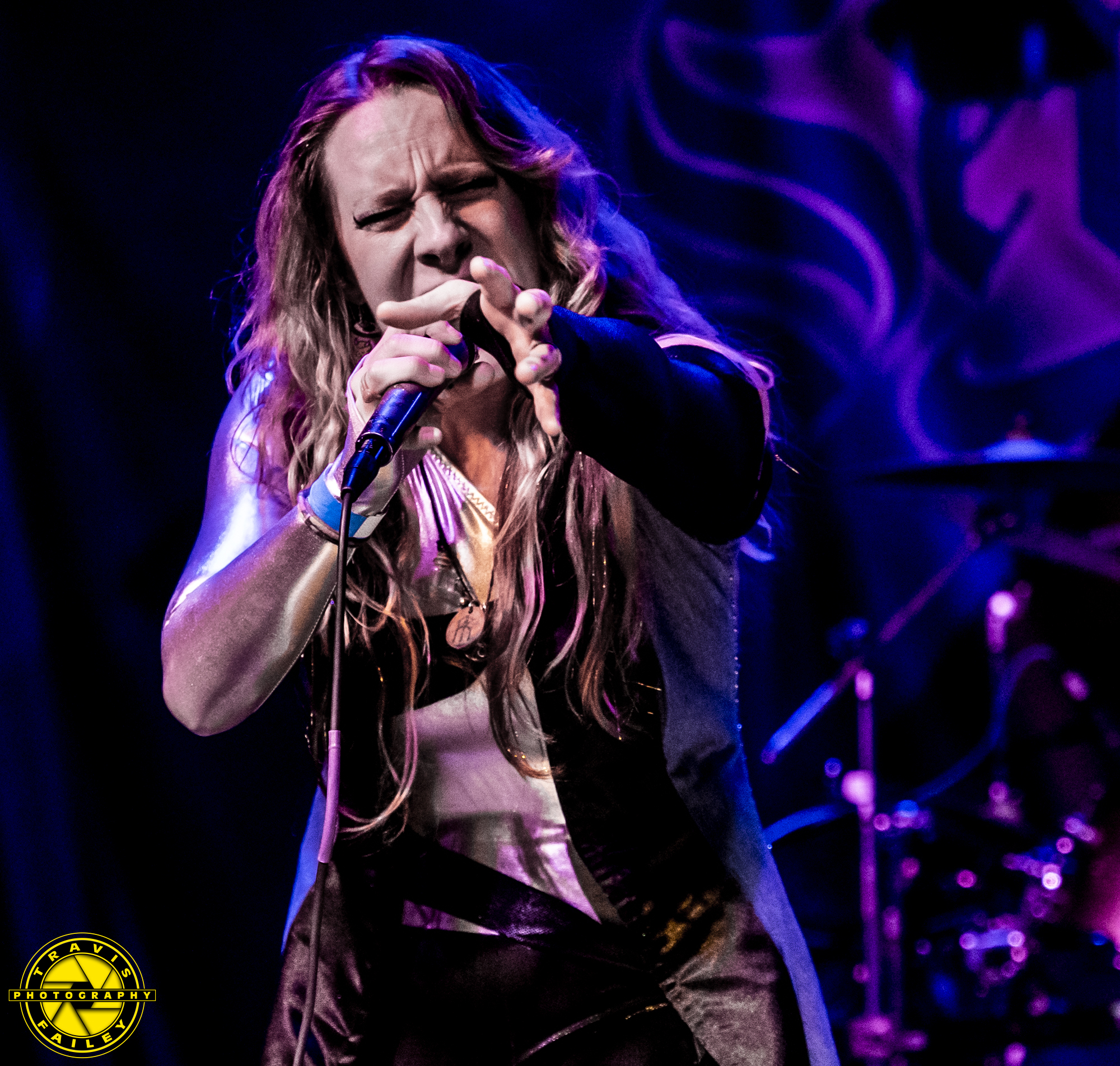 I also took a moment to talk to some of the attendees and asked if they were disappointed not to see BEAST IN BLACK and most were not as the show they witnessed was fantastic and I would agree.
There are many tour dates left on this run with BEAST IN BLACK back in the fold in full assault mode. If you like metal at its finest, check out this tour in a club near you.
https://beastinblack.com/tour.php
Check out some more photos from the show!
All Photos By Travis Failey Photography