WATAIN The Agony & Ecstasy of Watain


By Peter Atkinson, Contributor
Tuesday, May 10, 2022 @ 12:13 AM


| | | |
| --- | --- | --- |
| | | |
WATAIN
The Agony & Ecstasy of Watain
Nuclear Blast Records




What promised to a blasphemous black metal tour for the ages in the states ended up being just another MAYHEM headlining run when Sweden's WATAIN was forced off the "The Sanguine Sodomy of North America" bill days before it launched in early March. And not from the usual COVID complications, but from the formerly ubiquitous "visa issues" that are apparently rearing their head again as bands hit the road in earnest after two years of relative inactivity.

This wasn't WATAIN's first go-round with embassy/immigration snafus here – and it would seem the band's luck may be going from bad to worse in that regard. The quintet was almost denied entry for a 2019 tour with MORBID ANGEL after guitarist Pelle Forsberg ran afoul with U.S. Customs and Border Protection officials. The rest of the band was eventually able to perform, but as a quartet when Forsberg was not only turned away, but banned from entering the U.S. for five years – the lesson there is to be careful of photos you keep on your phone, especially after some Nazi salute hooha a year earlier cost touring guitarist Set Teitan his job! But no such "luck" this time.

Anyway, what especially sucks for WATAIN is that it was set to preview its seventh and latest album, the somewhat fittingly titled The Agony & Ecstasy of Watain, and really get the post-COVID ball rolling again with what no doubt would have been quite a spectacle of fire, filth and "Black Metal Magic", if previous tours were any indication. Oh well, at least we have the album now, and it's fiery and filthy enough in its own right.

The Agony & Ecstasy of Watain finds the sweet spot in the band's sometimes shape-shifting sound with its blend of primal black metal fury, snub-nosed, death metally brutality and progressive expanse and experimentation. Supposedly recorded live with the full band lineup inside an old church, the album does have a certain lack of polish, which is not necessarily not a bad thing. Indeed, it sounds just fine, even grand at times in fact, as there was obviously some work done in the studio after the fact to fill things out and beef things up.

Still, there is a rawish authenticity to the presentation that gives it some definite character. The Agony & Ecstasy of Watain blasts off – quite literally – with "Ecstasies In Night Infinite" where drummer E. Forcas replicates flash-bomb explosions a couple times with startling accuracy amid the song's rampaging black metal. "The Howling" follows in a similar vein, though with some fiendishly catchy grooves that are tempered to a degree by frontman E. Danielsson's scabrous caterwaul. Same goes for the otherwise nasty bit of business that is "Black Cunt".

"Funeral Winter" and "Leper's Grace" return to full-frontal delivery later on, with "Septentrion" closing things out to the slightly more measured double-bass gallop of Forcas and the tangle of Forsberg and H. Eriksson's tremmy guitars.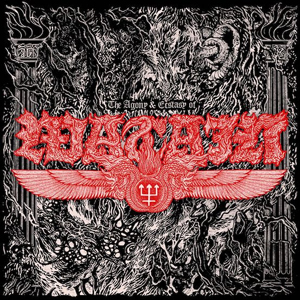 The moody, brooding "Serimosa" seems almost calm or meditative by comparison, despite its pronounced heaviness. But the slower tempos allow WATAIN's dynamic flair a chance to be heard above the din. There is definite depth to the band's music, sometimes a bit too much as on 2013's meandering The Wild Hunt or Lawless Darkness' 14:31 finale "Waters Of Ain". But here it is fairly well-balanced, if sometimes a bit hard to notice. "Before The Cataclysm", though, takes some of "Serimosa"'s doomy plod and epic air and plays it against furious sprints for a neck-snapping back and forth.
The gothy, at times electronic-like throb of "We Remain" is the album's lone real outlier. The haunting vocals of ex-THE DEVIL'S BLOOD frontwoman Farida Lemouchi and plucky guest guitar work by ex-IN SOLITUDE bassist Gottfrid Åhman, along with some chorale backing vocals, give it a haunting grace, even with its death march pace and heaving riffs.
I guess when – or, in fact, whether - we'll be able to see any of this presented live will have to wait until WATAIN is able to make another go at coming back to the States – if indeed the band decides it's worth the trouble. Let's hope it is because the material from The Agony & Ecstasy of Watain will certainly bring intensity or drama – or perhaps a bit of both, depending on what is added to the set list – to the mix amid the flash pots, flames, animal blood and bones and other assorted props the band utilizes to turn give its performances ritualistic flair.
4.0 Out Of 5.0

Please log in to view RANTS