Little Ceasar in Los Angeles


By Junkman, On-Air Personality
Thursday, December 29, 2005 @ 11:01 PM


| | | |
| --- | --- | --- |
| | | At the Malibu Inn |
Recently there have been a lot of bands from "back in the day" returning with new material, or just returning, some welcome some not. I could probably go on and on about which returning band returned successfully and which band should have kept their day jobs, but I wont. What I WILL tell you about is the return of a band that I highly regard as one of the best bands to ever come out of LA.

That's a pretty bold statement, for sure, but this a pretty bold band. A band beloved by many, including myself, of the local rock community, not just for its music, but for keeping its integrity and not changing what it does best, full "balls out, driving barroom rock", with the most soulful white boy vocals this side of the Atlantic ocean. The band I'm talking about is Little Caesar.

For those unfamiliar with them, they came screaming out of the 80's with an EP "Name Your Poison", and followed with the Bob Rock produced "Little Caesar" in 1990, which had a radio hit with a remake of the old soul tune "Chain Of Fools". Lots of touring and record company bullshit led to guitarist Apache leaving the band and being replaced by David Bowie guitarist Earl Slick for the release of 'Influence" in 1992.

By then, it seemed as though rock bands from LA were nothing more than an afterthought, and the band members settled into lives that were involved somehow in the music industry but not as collective performers. They got together for a few shows a few years back but once again Apache decided to leave and was replaced by Chris Latham from the LA band The Druts. A few more rockin shows in the LA area and just like that, they disappeared.

3 years passed. I have been friends with the band members and see them from time to time, and was surprised at a phone call I got from guitarist Louren Molinare saying that the band had been rehearsing and wanted to play a show or two and see how things sounded live. The first show, would be at MY BIRTHDAY PARTY at House Of Blues in Hollywood and I was asked to bring them onstage!

Well, as you can imagine, nothing could go wrong for me that night, and, as it turned out, nothing went wrong with the band either. They played a tight set and sounded wonderful. The only thing was, I hadn't documented the set. It was my birthday; I was drinking beer, and kissing hot women all night and listening to some great rock n roll. I didn't want to be bothered with writing a review. That opportunity took place a few weeks later at the Malibu Inn (in Malibu California, dumbass!) and it was a benefit show for a good friend of the band named Keith Kwazar, who had a serious motorcycle accident and needed a "lil' help from his friends".

The evenings live entertainment started off with LA musician Muddy Stardust and his band, Up the Dose, playing some acoustic numbers that got the crowd into it. He recently sent me a CD of this material and I really like it, especially in its electric form. When they were done, numerous door prizes were raffled off as well as auctioned off. I was pleased to be the winner of a vintage Little Caesar T-shirt, amongst other items, with all the proceeds once again donated to Kwazar.

At around 10:30 PM Little Caesar hit the stage. Opening with "Down and Dirty", the band, Ron Young (vocals) Louren Molinare and Chris Latham (guitars) Fidel Paniagua (bass) and Tom Morris (drums, BTW nice new kit dude…) really tore it up. The crowd, a mixture of friends and bikers and fans (typical Caesar crowd) couldn't get enough, loving every second as the band plowed its way through favorites like "Rock and Roll State of Mind", "Cajun Panther", and "Drive it Home", which Ron Young explained was just another fine example of the sexual innuendos of songs that deal with sex and cars. Along with some great covers reworked "Caesar-style". Like the afore-mentioned "Chain Of Fools", and the Temptations "I Wish It Would Rain", which showed off the bands soulful harmonies.

Truly the band was enjoying themselves onstage, joking and laughing and telling stories about being older and still in the business of rock and roll. Young introduced the song "Pray For Me", as being written about meeting an older woman who took offense to his many tattoos, and the pre-judgment of some folks who base their opinions on ones appearance alone. Little Caesar finished their set with a blistering version of "Down To the Wire" from the "Name Your Poison" EP, and the crowd once again roared their approval. As I scanned the crowd from my spot about 10 feet from the stage I noticed Kwazar, sitting in his wheelchair, grinning like a kid on Christmas. I guess that's what its all about, huh?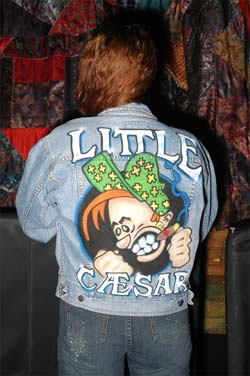 Backstage, after the show, I talked with the guys and just gushed about the performance and how much it means, as a fan, to have them back to playing live shows again, and they promised to play more in the near future. I told them how much I enjoyed hearing a version of "Cowboy Song" from Thin Lizzy that Little Caesar had played at a show a few years back. There are still LOTS of tunes that these guys can pull off live, that will have to be addressed at forthcoming shows. Do yourself a favor, and attend them. You will be an instant fan, trust me.
At around 12:30 or so, a version of Bang Tango hit the stage, opening up with, strangely, none other than "Cowboy Song" from Thin Lizzy!!! Freaky. It wasn't the original Bang Tango, I only recognized singer Joe Leste, one of the great shouters on the L.A. scene. They continued to blaze through a mixture of mostly cover songs and a few Bang Tango hits. The crowd (lots of hot looking women) ate it up. Everyone had a great time. Great music, great place, the Malibu Inn is a GREAT place to see a live band. And, best of all, quite a bit of money was raised for a great guy in need of it. Rock on my brotha. Get well soon! Hail Caesar!
Setlists:
Little Caesar:

Down And Dirty
Hard Times
Gods Creation
Rock N Roll State Of Mind
Pray For Me
Tastes Good To Me
Cajun Panther
Wrong Side Of The Tracks
I Wish It Would Rain
Drive It Home
Chain Of Fools
Down To The Wire
Bang Tango:
Cowboy Song
Back In the Saddle
Dancing On Coals
Night Train
Lil Devil
No More Mr.Nice Guy
Love Injection
Draw The Line
Lord Of The Thighs
Someone Like You
Welcome To The Jungle
Love Removal Machine
Walk All Over You

Please log in to view RANTS