I recently had the opportunity of interviewing CHAINS OVER RAZORS's guitarist Mikey V for KNAC.COM to talk about his band's latest self titled CD, the history of the band that he formed with his twin brother Andy who is the band's drummer. I Talked with Mikey about who some of his guitar heroes are who influenced him, what it's like to be in a band with his brother and talked about how the band has changed with the addition of new lead singer William Mullen who made his recording debut with CHAINS OVER RAZORS on the new CD, and Mikey also shared with us what fans can expect from the band in the near future.

KNAC.COM: Hello Mikey and thanks for taking time out of your very busy schedule to do this interview with KNAC.COM. We really do appreciate that. How long has CHAINS OVER RAZORS been together as a band?

MIKEY V: The band has been together for 6 years, but the new line up has been together for 4 years.

KNAC.COM: CHAINS OVER RAZORS is a band you started with your brother Andy V who is the band's drummer. What is it like to play in a band with your brother and who's older, you or Andy?

MIKEY V: Jamming in a band with my brother makes for a lethal combination as we are on the same page with writing, but also since we've been jamming together from the beginning we've become tight players and can anticipate each other's improvisation without verbally communicating most of the time. Could be a twin thing and he's my older brother by 1 minute, hahaha.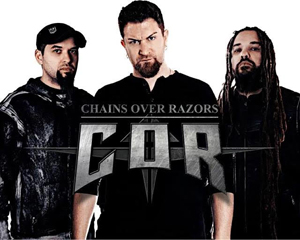 KNAC.COM: The band's current singer William Mullen is not the band's original singer so I was curious what led to the departure of the original singer and how did you and Andy find William?
MIKEY V: Our first singer had to leave due to a personal reason with his home life. It was a mutual decision but we also understood what he was going through. We still talk and are great friends with him. We met William in a recording studio laying down vocal ideas. We began talking and we had the same goals and also we like the same bands. We decided to roll into the studio together and started writing. The rest is history.
KNAC.COM: I really urge everyone to go out and by the new CHAINS OVER RAZORS CD because you guys really just killed it on the album! The most impressive thing to me is that anyone who is a Metal fan will love the album but the fact of the matter is you guys really don't sound like any other band out there, I mean you have a fresh, original sound that is all your own. When the band entered the studio to record this CD was that a goal you had as a band?
MIKEY V: When we entered the studio we just began writing from scratch. We didn't have any ideas to start with and our only goal was to write songs that we wanted enjoy jamming. Also we had a lot of anger in us that needed to be released. Hahaha. Our style developed on its own.
KNAC.COM: I know that legendary drummer Carmine Appice worked with the band in the studio as a producer. What was that experience of working with Carmine Appice like for you?
MIKEY V: Carmine definitely let us musically speak from our hearts but made sure we didn't stray off too far since we had so many ideas. Also if he heard something that we missed he was able to bring us back and recognize what we did and develop further from there. His experience and knowledge of songwriting really sharpened us, but he would always leave it to us to figure out our thing even if it was an idea he had or heard from what we were creating.
KNAC.COM: When your publicist sent me the press release on the band the first thing that stood out to me was the band's name. Please tell the story behind it.
MIKEY V: The name had multiple meanings to us from many inspirations. We had many band names but kept coming back to CHAINS OVER RAZORS as the months passed whether we saw a chain in some alley or a razor or just our love for horror movies. We also finally chose the name after being inspired by taboos around the world, whether it was body suspension or scarring with razors by grafting designs on whichever part of the body instead of tattoos. We felt we had a lot of so called "signs' bringing us to the name.
KNAC.COM: What was the thing you enjoyed the most about recording the new CHAINS OVER RAZORS CD?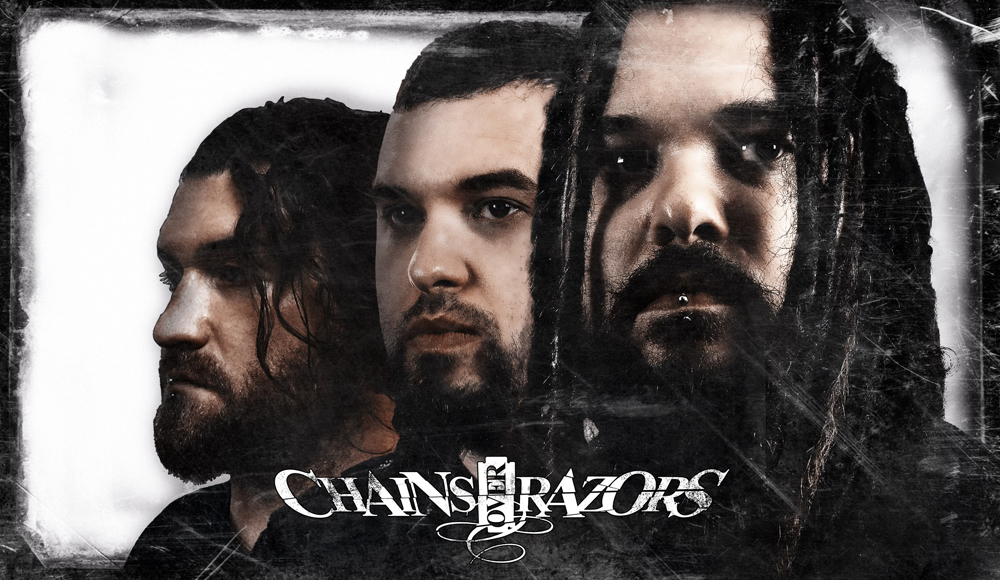 MIKEY V: The fact that we had some time to really spend writing the songs the way we wanted to. Plus hearing the songs in the different stages of development all the way to the mixing stage really started to reveal the intensity of the songs.
KNAC.COM: CHAINS OVER RAZORS is signed to Deko Entertainment which is a great record company to be signed to. How did the band land your current record deal?
MIKEY V: Carmine passed a few songs during the recording/mixing phase to Deko. We didn't know what to expect, but then they reached out and asked for a couple more ragers to hear. So we sent it. It wasn't much longer after that they took interest in us and offered us a deal.
KNAC.COM: Growing up who were some of your guitar heroes?
MIKEY V: My guitar teachers Doug Schoenbeck and Mike Mckissack are my first influence and guitar heroes. They both are unbelievable players and song writers. They opened my mind to various genres of music even though I had a love for the angry music. Hahaha.
KNAC.COM: The band released a lyric video for the song "Behind These Eyes". It seems like people have been really reacting to that song in a positive way. Talk a little bit about why the band chose that as the first single from the album?
MIKEY V: "Behind These Eyes" was the first song we wrote for the album. We didn't expect it to be the first song to launch the album as a single knowing that we have quite a few more singles to follow up with.
KNAC.COM: Have you had the opportunity to play out live at all since the CD was released?
MIKEY V: Yes we have and it has been a great reaction from the crowd! We will definitely smack ya upside the head when we go full throttle, and when we're done with our set you will need a moment to catch up on what just happened. Hahahaha. Our most recent show was with 10 YEARS, VRSTY and BLACK MAP. Was a hell of a night!!!!
KNAC.COM: CHAINS OVER RAZORS is a 3 piece band. Talk a little bit about that in regards to why you felt there wasn't a need for a 2nd guitarist?
MIKEY V: Carmine Appice picked up on the fact that my bro and I sounded so full for 2 guys because as kids we tried to sound as full as any song we learned since we didn't have other band members to jam with growing up. This eventually led to this 3 piece idea since I am able to create stereo guitars and bass with my Fractal Axe fx3 and cover all aspects of the sound spectrum including our low tuning with my 7 string Kurt Wilson custom guitar.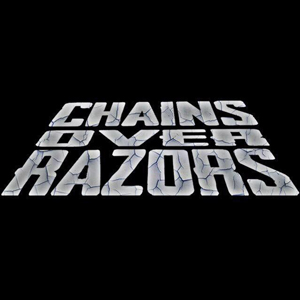 KNAC.COM: Does everyone in the band take part in the songwriting process?
MIKEY V: Yup!! We all have a hand in each part of writing.
KNAC.COM: How often does the band get together and rehearse?
MIKEY V: We rehearse daily as we want to sound our best, and we wrote some difficult tunes so we do want to stay on top of it and keep ourselves conditioned to perform them.
KNAC.COM: What can fans expect from CHAINS OVER RAZORS in the next year?
MIKEY V: We will be continuing to perform live and push this album as far as we can go.
KNAC.COM: Where can fans find you and the band online?
MIKEY V: www.chainsoverrazors.com, Twitter- @chainsrazors, www.facebook.com/chainsoverrazors, Instagram @chainsoverrazors