ARCH ENEMY, BEHEMOTH, NAPALM DEATH, UNTO OTHERS In Portland, OR With Photos!


By Ruben Mosqueda, Contributor
Monday, May 23, 2022 @ 9:21 AM


| | | |
| --- | --- | --- |
| | | Rumble At The Roseland-North American Siege: May 11th, 2022 |
All Photos By Mike Lewis Photography
ARCH ENEMY and BEHEMOTH's 'North American Siege Tour' made its way through Portland, Oregon on May 11th, 2022. This heavy hitting co-headlining show had rafters rattling at The Roseland Theater. Also on the bill were England's Grindcore vets NAPALM DEATH and Portland's Goth-Metal act UNTO OTHERS. It was an 'eclectic' package, though those outside of the metal community might not have the ability to differentiate one band from the next.
The Roseland was at about 80% capacity by the time BEHEMOTH took the stage. They put on quite the visual spectacle for the space they had to work with. Right before the Polish's Black Metal group made their appearance, fog began to billow followed by that sweet, Cotton Candy scent. BEHEMOTH are adored in The United States and frontman/guitarist NERGAL DARSKI presided over the black mass as he and touring musician SETH's guitars cut right through the eerie haze that hovered around the stage. It took but mere seconds for the concertgoers to get whipped into a satanic frenzy. The quartet that is BEHEMOTH delivered a punishing set that included fan favorite "Conquer All" to a deeper selection "Chwała Mordercom Wojciecha" to the new addition to the set, "Ov My Herculean Exile" had the congregation taking in every word and note to the very end. BEHEMOTH's 12th album Opvs Contra Natvram is due in the fall of 2022. I'm sure we'll be seeing more of them in North America. It had been a bit since I'd seen BEHEMOTH, but my opinion hasn't changed about their live performance, they are 'in league with Satan'.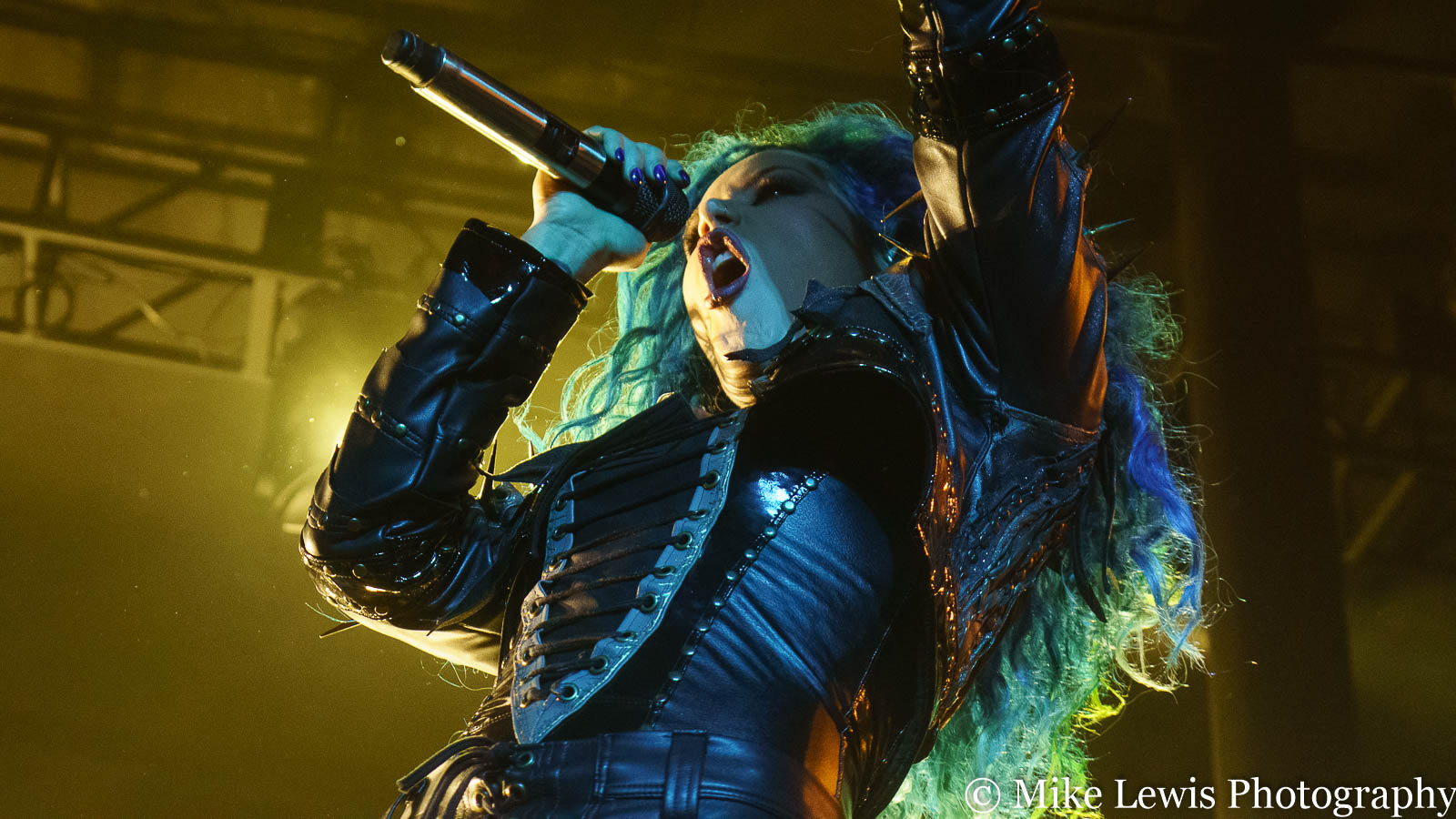 Those that weren't spent by the end of the BEHEMOTH set had another pummeling awaiting. ARCH ENEMY closed out the night, it was years ago, just down a few streets at the now defunct Meow Meow Club is where I saw ARCH ENEMY live for the first time. It was the size of a closet, it was dirty, gritty, grimey, it was very intimate, and an incredible show. That was on a balmy night in July of 2002. Fast forward to the present, where we find vocalist ALISSA WHITE-GLUZ taking command and filled some very big boots. The melodic death metal act blasted through a 12 song set, which included favorites "Ravenous", "War Eternal", "My Apocalypse", "Nemesis" and new additions "House of Mirrors", "Handshake With Hell" and "Deceiver, Deceiver" from the upcoming album Deceivers due July 29th, 2022 via Century Media. ARCH ENEMY are evolving and are bringing in more and more melody with each subsequent release, there's 'cleaner' vocals, more and more choreography, and White-Gluz eliciting a lot of audience participation. It's like a hard rock show on HGH. Having said that, the performance was still explosive, bombastic and a hell of a good time. If your missed this tour you missed a great show.
Check out some more photos from the show!
All Photos By Mike Lewis Photography

Please log in to view RANTS



PANTERA At Welcome To Rockville With Photos!

THE BLACK DAHLIA MURDER, TERROR, FROZEN SOUL, FUMING MOUTH, PHOBOPHILIC In Anaheim, CA With Photos!

ENFORCER Nostalgia

BUZZFEST Featuring GODSMACK, I PREVAIL, HIGHLY SUSPECT, THE STRUTS And Others In Houston, TX With Photos!

SLEEP TOKEN Take Me Back to Eden

UGLY KID JOE, FOZZY, PISTOLS AT DAWN In Houston, TX With Photos!

TESLA, FASTEST LAND ANIMAL, KURT DIEMER In Orlando, FL With Photos!

CATTLE DECAPITATION Terrasite

TYGERS OF PAN TANG Bloodlines

MYSTIC PROPHECY Hellriot

WHITECHAPEL, ARCHSPIRE, SIGNS OF THE SWARM, ENTHEOS In Santa Ana With Photos!

ALCATRAZZ Take No Prisoners

BURNING WITCHES The Dark Tower

ELVENKING Reader Of The Runes - Rapture

CHAOS AND CHARNAGE Tour Featuring SUICIDE SILENCE, DYING FETUS, BORN OF OSIRIS, ABORTED, CROWN MAGNETAR, SANGUISUGABOGG And SLAY SQUAD In Anaheim With Photos!

ENFORCED War Remains

SAVAGE EXISTENCE Savage Existence

BLACK ROZE Penny For Your Sins

WINGER Seven

JASON BIELER AND THE BARON VON BIELSKI ORCHESTRA Postcards From The Asylum

TITAN'S WRATH Will Of The Beast

VADER, KRISIUN, DECREPIT BIRTH In Los Angeles With Photos!

KIX In New Bedford, MA With Photos!

THE BANISHMENT Machine And Bone

ROSS THE BOSS Legacy of Blood, Fire & Steel