SOLAR FLARE Solar Flare


By Jason 'JRock' Houston, Contributor
Tuesday, May 24, 2022 @ 8:18 AM


| | | |
| --- | --- | --- |
| | | |
SOLAR FLARE
Solar Flare
Independent Release 2020




I recently had the pleasure of listening to the 2020 self titled CD from Ohio based Metal band SOLAR FLARE. SOLAR FLARE is exactly what any, true, blue Metal fan would want in that it's music that you can bang your heard! I've read over reviews where SOLAR FLARE lead singer Ethan Jackson has been compared to Legendary Metal Singers such as IRON MAIDEN's Bruce Dickinson and original QUEENSRYCHE singer Geoff Tate. I can understand those comparisons because Ethan Jackson sure can reach those high notes like Dickinson and Tate but I have to go on record that when it comes to SOLAR FLARE and their very talented Singer I must say that what impressed me the most about both the band and their debut album is that SOLAR FLARE both the band and the album are a fresh dose of Old School Metal and yet somehow SOLAR FLARE is like no band I have ever heard before!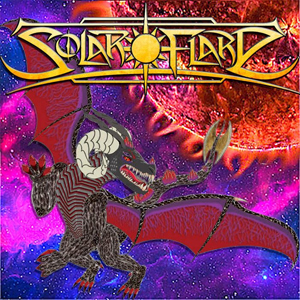 I can hear influences of everything from PRIEST to MAIDEN here but that's pretty much the band's influences coming out in their music. What really impressed me is that SOLAR FLARE made quite an impressive statement with their debut release. The album features only 7 tracks and while I would have loved for this to be a 10 or 11 track CD I was satisfied with just the 7 tracks!
SOLAR FLARE has a real, fresh, original sound that really is all their own and that's quite impressive when what they're delivering is old school METAL! As for the songs I really loved all 7 songs, hardest thing for me was to pick a favorite song because they really are all just really, well written, well structured songs! I am usually someone who really pays a ton of attention to the lyrics and the meaning of a song but on this debut release from SOLAR FLARE I found myself not paying so much attention to the lyrics or what a song was about and found myself having more of an appreciation for the music, the musicianship in the band. Not really sure why that is but maybe it's because the music is just that good! SOLAR FLARE delivers the METAL goods to their fans on this album and I can't wait to see what comes next for this band!
Words that best describe this bone crushing debut include: Heavy, Screaming, Intense, Soaring, Metal with Melody!
5.0 Out Of 5.0

Please log in to view RANTS