BON JOVI In Austin, TX With Photos!


By Halo, Heavenly Contributor
Friday, May 27, 2022 @ 7:56 AM


| | | |
| --- | --- | --- |
| | | At The Moody Center April 23rd |
All Photos By Halo/Halos & Horns Photography
Let me start by saying I am completely biased towards BON JOVI. I have seen them live countless times over the span of 33 years so if you donít want to read a review from a fanís standpoint, then scroll on. Letís just acknowledge the elephant in the room so to speak and get it over with. Yes, his vocals were off throughout the show. Not every song but some that were very notable. Is it hard to say this as a fan yes but I need to be honest as well. I have seen this band live so many times starting with the New Jersey tour. Was it the same band we grew up loving in the 80s taking the stage On April 23rd, 2022 in Austin? No. The dynamic is different obviously with Alec and Ritchie gone but there is still the brotherhood between Jon, David and Tico which is still evident. The band sounds great. This group of musicians have been playing for many years together before and after Ritchie left. Phil X was a great addition following Ritchieís departure and he brings a new energy which I personally love. Letís not forget Jon is 60 yrs. old. He still has plenty of energy up there night after night along with the rest of the guys. BON JOVI has been touring going on 35 years.
The set list for the Austin show consisted of 23 songs. I was shooting the show for the first 3 songs. After David, Phil and the other guys took the stage, Jon came on right as "Limitless" started. The second was "The Radio Saved My Life Tonight" followed by one of their first ever mega hits, "You Give Love A Bad Name". This was the first I noticed some vocal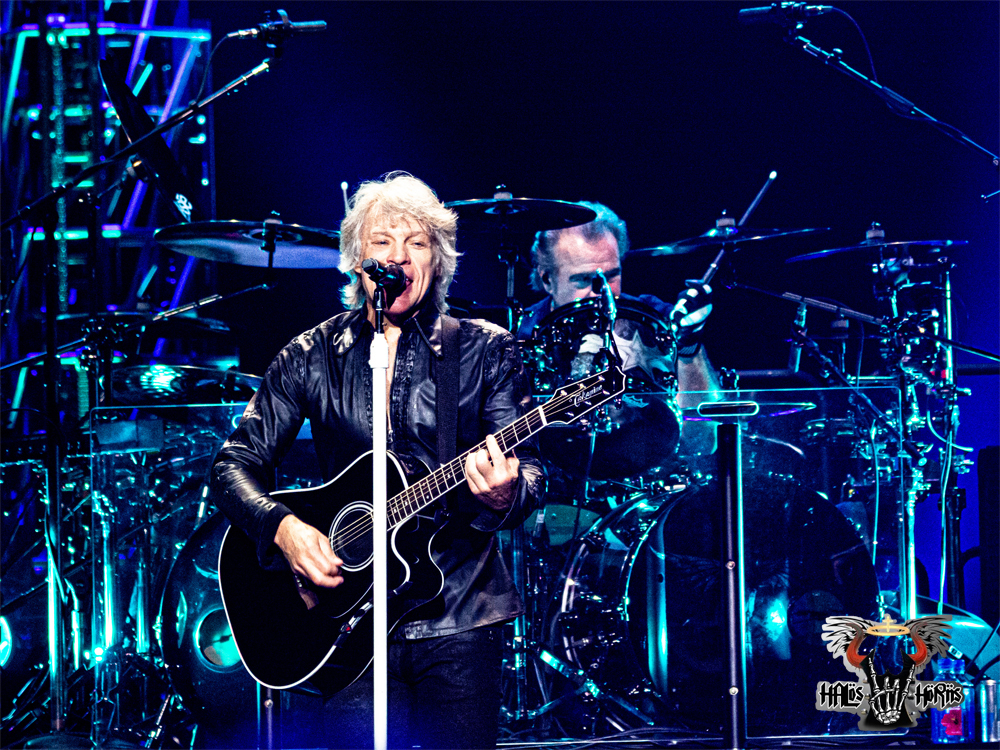 issues. I have seen so many opinions of what they think is going on and so-called experts who are just fans with cell phones pretty much doing their analyzations. Many have said he was singing in a lower key. I have news for them. YES, BON JOVI has been playing in a lower key since around 1995, around E flat but not much lower. The original recordings and first 10ish years of touring were in a different key. I have seen and read that heís tone deaf. NO. Its actually very rare for someone to be truly tone deaf. If his hearing has been affected so be it, but he is still clearly able to distinguish higher and lower notes. The hard truth about Jon is that during the New Jersey tour he started getting steroid shots for his vocal cords because by this tour they had continuously toured from the Slippery When Wet tour, recorded and flew right into the New Jersey tour and during this tour they played many US cities twice. I personally saw them twice in Houston during this tour. BON JOVIi has rarely taken a break from touring. They have consistently been one of the highest grossing tours for the last 30 plus years. Unlike other musicians that have been very candid about their vocal problems (i.e. James Hetfield and Phil Collins, these two received steroids but also took time off to rest vocals, no smoking etc.). Jon unfortunately didnít rest. He kept pushing the limits. I believe this is what is going on. His voice has suffered damage.
Ok let me continue, the 5th song, "Itís My Life", he dedicated it the people of Ukraine. The 6th song, my personal favorite of all their albums was "Born To Be My Baby". I was rushing from one side of the venue to the other after leaving my camera gear in a secure location. I heard it come on and ran into the nearest entrance to listen. I donít care how many times Iíve heard and seen this live, it still gets me every time. I remember rushing off my Jr High bus to get into the house to watch Dial MTV hosted usually by Adam Curry, whicht ran from 1986 to 1991. "Born To Be My Baby" was #1 many times. I still feel the nostalgia when this song comes on. Many other songs were played, with "Beautiful Drug" and "Roller Coaster" along with "Keep The Faith" being some of my favorites . The band did an encore and in Austin we were fortunate to hear 4 songs during the encore. Some cities didnít have that many. The encore consisted of "Wanted Dead or Alive", "Who Says You Canít Go Home", "Bad Medicine" and "I'll Be There For You". His vocals were off during "Bad Medicine" but no one cared. Fans were singing so loud and dancing it really didnít matter. The last song of the night was "I'll Be There For You" and I noticed Jon left the stage as the end of the song was playing. This made me sad. I really hope it wasnít a silent message to us as fans saying goodbye. I noticed a post on BON JOVIís Facebook page May 13th titled 'Truly a dream come true', a thank you for always coming back for more with fans posting memories etc. I deep heartedly hope that if Jon and the guys are finished theyíll do true farewell tour. I do believe his fans will show support. Jon has said numerous times when heís done and canít do it anymore, heíll know it. My true hopes are that he will rest his voice for good while. I can only wish for at least one more tour. He did suffer from Covid so none of us can know how that affected his vocals. I do know he still has a fantastical amount of energy for someone that isnít in his 20s anymore. He still has that infectious smile that we as fans have fallen in love with since the beginning when we all had our BON JOVI posters pinned to our bedroom walls. The entire band still gives us great music along with a lifetime of memories.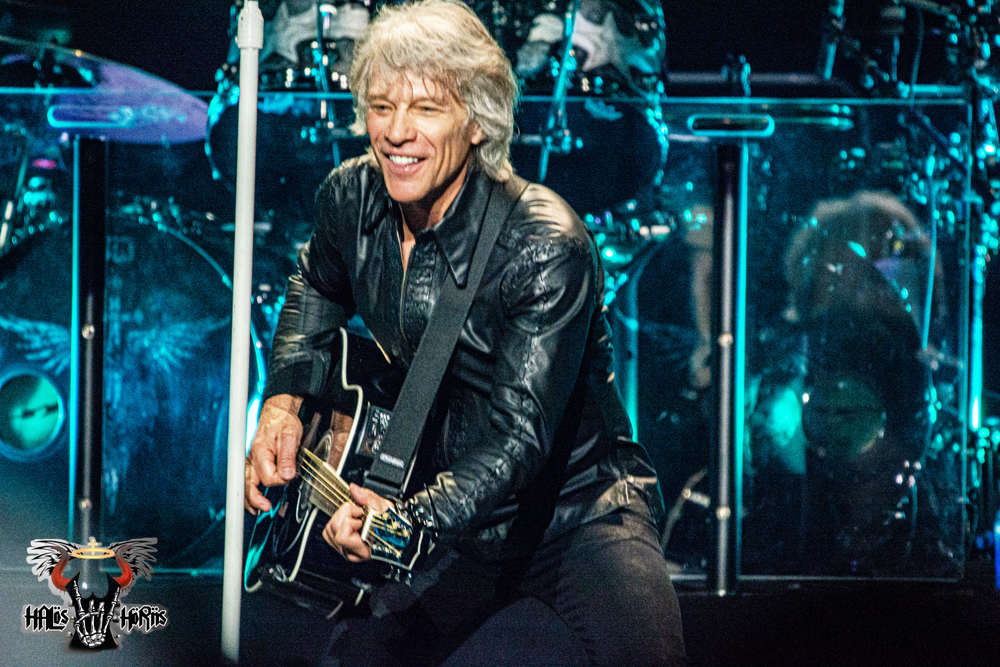 Setlist:
"Limitless"
"The Radio Saved My Life Tonight"
"You Give Love A Bad Name"
"We Weren't Born To Follow"
"It's My Life"
"Born To Be My Baby"
"This House Is Not For Sale"
"Beautiful Drug"
"Just Older"
"Let It Rain"
"Keep The Faith"
"American Reckoning"
"Whole Lot Of Leavin'"
"Do What You Can"
"I'll Sleep When I'm Dead"
"Lost Highway"
"Roller Coaster"
"Have A Nice Day"
"Livin' On A Prayer"
Encore:
"Wanted Dead Or Alive"
"Who Says You Can't Go Home"
"Bad Medicine"
"I'll Be There For You"
Check out some more photos from the show!
All Photos By Halo/Halos & Horns Photography

Please log in to view RANTS



SAVOY BROWN Blues All Around

JAG PANZER The Hallowed

THE DEFIANTS Drive

GLORYHAMMER Return To The Kingdom Of Fife

NIGHT LEGION Fight Or Fall

IMMORTAL War Against All

JOE PERRY Sweetzerland Manifesto MKII

BUCKCHERRY Vol. 10

DAVE LOMBARDO Rites Of Percussion

HELLOWEEN, HAMMERFALL In Worcester, MA With Photos!

DARK FUNERAL, CATTLE DECAPITATION, 200 STAB WOUNDS, BLACKBRAID In Houston, TX With Photos!

MR. BUNGLE, MELVINS, SPOTLIGHTS In Portland, OR With Photos!

PANTERA At Welcome To Rockville With Photos!

THE BLACK DAHLIA MURDER, TERROR, FROZEN SOUL, FUMING MOUTH, PHOBOPHILIC In Anaheim, CA With Photos!

ENFORCER Nostalgia

BUZZFEST Featuring GODSMACK, I PREVAIL, HIGHLY SUSPECT, THE STRUTS And Others In Houston, TX With Photos!

SLEEP TOKEN Take Me Back to Eden

UGLY KID JOE, FOZZY, PISTOLS AT DAWN In Houston, TX With Photos!

TESLA, FASTEST LAND ANIMAL, KURT DIEMER In Orlando, FL With Photos!

CATTLE DECAPITATION Terrasite

TYGERS OF PAN TANG Bloodlines

MYSTIC PROPHECY Hellriot

WHITECHAPEL, ARCHSPIRE, SIGNS OF THE SWARM, ENTHEOS In Santa Ana With Photos!

ALCATRAZZ Take No Prisoners

BURNING WITCHES The Dark Tower

ELVENKING Reader Of The Runes - Rapture

CHAOS AND CHARNAGE Tour Featuring SUICIDE SILENCE, DYING FETUS, BORN OF OSIRIS, ABORTED, CROWN MAGNETAR, SANGUISUGABOGG And SLAY SQUAD In Anaheim With Photos!

ENFORCED War Remains

SAVAGE EXISTENCE Savage Existence

BLACK ROZE Penny For Your Sins

WINGER Seven