CHUCK WRIGHT
Chuck Wright's Sheltering Sky
Cleopatra Records
www.chuckwright.com




Bassist Chuck Wright is most known for his time in GIUFFRIA, HOUSE OF LORDS, and QUIET RIOT. In addition, Wright has worked with hundreds of bands and musicians within the Hard Rock genre including ALICE COOPER, SLASH, MSG, LOVE/HATE, and IMPELLITTERI.

So let's get this out of the way early, Chuck Wright's Sheltering Sky sounds nothing like any of the bands mentioned above. If you are expecting a 'best of' Chuck Wright for his first solo effort, it's not here.

To be fair, Wright doesn't pretend this album will be a nod to his past. In fact, he goes on record stating this is 'the most diverse rock record in ages.' Joining Chuck Wright for this project are fellow musicians he's worked with in the past, plus a few up and coming talents as well.

The opening instrumental "The Weight of Silence" has an epic movie feel to it as it kicks off. From there it is accented by Ben Woods' flamenco guitars and Derek Sherinian's Mellotron keys. Chuck's deep bass tones are a presence as well.

"Army of Me" is a haunting cover of the BJÖRK classic. It features the sultry vocals of WHITNEY TAI, and the drum work of late MR. BIG drummer Pat Torpey. AVIATOR's vocalist August Young adds a different vibe on the acoustic track "The Other Side". His vocals are clean and melodic, and are in stark contrast to Whitney Tai's on the previous song.

Vocalist Joe Retta is Chuck's band mate in HEAVEN & EARTH. Retta brings the funk and soul on anti-war song "Throwing Stones". WHITNEY TAI returns for "Giving Up The Ghost" and "Time Waits For No One". Both tracks are essentially the Chuck and Whitney show. Tai's vocals really shine on the latter track.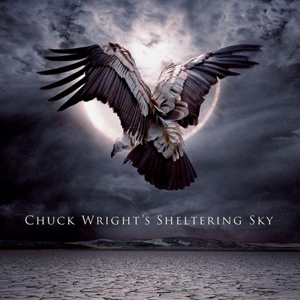 Jeff Scott Soto is unmatched as a singer when it comes down to great Melodic Rock vocals in my opinion. While Soto delivers on the vocal side of things on "It Never Fails", the song itself is just not that interesting to keep me coming back to it. Not even the fretwork of HOUSE OF LORDS guitarist Lanny Cardola could keep me interested.
One-time BOSTON singer David Victor takes on THE YOUNGBLOODS' classic "Darkness Darkness". Wright keeps the cover close to its Celtic infused original. "Cradle of the Sun (Lorelei)" adds the lap steel guitar of Dave Marino to give the track a country feel in the vein of MICHAEL NESMITH & THE FIRST NATIONAL BAND.
Chuck Wright's Sheltering Sky is assuredly a diverse and eclectic mix of music, unfortunately it may be too diverse to maintain its own identity. You can't deny the musicianship on this album. All pros, all great at what they do. The issue is, if one of these songs came up shuffled on your player, you are not likely to recognize it. You will not be able to say, hey this is CHUCK WRIGHT'S SHELTERING SKY. It just varies too much for that. Chuck Wright's Sheltering Sky may not play to its namesake's past, but it is certainly all Wright.
3.0 Out Of 5.0