GWAR The New Dark Ages


By George Dionne, Podcaster
Sunday, May 29, 2022 @ 10:02 AM


| | | |
| --- | --- | --- |
| | | |
GWAR
The New Dark Ages
Pit Records
www.gwar.net




GWAR is here to save mankind from an evil force that has been using our technology against us in hopes to fracture the universe and destroy the evolution of our species. GWAR tells the tale of this epic battle on their 15th studio album The New Dark Ages. The album is being released in tandem with the Z2 Comics graphic novel GWAR In The Duoverse of Absurdity.

The opening track "New Dark Age" is cinematic, punishing, and surprisingly a little bit melodic. Anger, intensity, and fury are unleashed with "Berserker Mode". GWAR leaves nothing open to interpretation on "Mother Fucking Liar". With the dark track "Unto the Breach", GWAR delivers a theme worthy of any supervillain assembling their army and plotting their attack.

"The Cutter" is indeed the antagonist in this epic battle. The intensity and speed of the track is sonically devastating. Lzzy Hale (HALESTORM) makes a guest appearance here. "Rise Again" is the least-sounding GWAR song you'll ever hear. It features guest vocals by Hey Steve, and treads late 90s Post-Grunge territory. "Venom of the Platypus" is led by a marching beat, with vocals delivered like a tyrant's speech.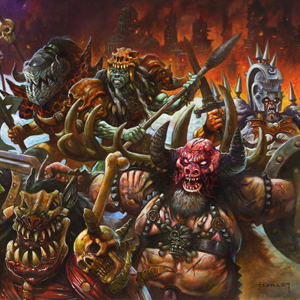 "Ratcatcher" is a rather upbeat and melodic track with disturbing lyrics. The final three tracks on the album, "Temple Ascent", "Starving Gods" and "Deus Ex Monstrum" make up the Death Whistle Suite. It represents the final encounter between the mighty GWAR and the forces of evil. The tempos wage a back and forth battle while the band's frontman (and leader) Blothar gives a play-by-play between instruments. Is it triumph for the Scum Dogs or defeat?
It has been 20 years since I last listened to a GWAR album for review. A lot has changed. I'm not oblivious to the fact that GWAR sadly lost their original lead Oderus Urungus some time ago, but that's not all that's changed about the band. This version of GWAR is more polished, refined, and palatable to the masses. Sure, their music was secondary to their live show performances, but it sounds like that is a thing of the past.
Even though The New Dark Ages is a concept album with a story that could only come from the Virginia legends, it also solidifies the latest era of GWAR. Yes, Oderus' reign as leader is legendary and unmatched, but under their latest leader Blother, GWAR is going to reach and appeal to more than just the band's loyal slaves with The New Dark Ages.
4.2 Out Of 5.0

Please log in to view RANTS