DECAPITATED
Cancer Culture
Nuclear Blast Records




Anyone who might have thought that Wacław "Vogg" Kiełtyka's recent affiliation with MACHINE HEAD would lead the guitarist to abandon DECAPITATED or in some way dilute the band's potent sound, rest easy. Not only does his presence seemed to have emboldened MACHINE HEAD – which had been staggered by the simultaneous departures of longtime guitarist Phil Demmel and drummer Dave McClain after 2018's largely reviled Catharsis album – but DECAPITATED shows itself to be, for the most part, as vicious and vital as ever with Cancer Culture.

The Polish death metal troupe had some trauma of its own to contend with following 2017's Anticult, with all four members spending several months in a Spokane, Wash., jail in late 2018 on rape and kidnapping charges that were ultimately dropped. Drummer Michał M. Łysejko and bassist Hubert E. Więcek left in the aftermath. But overcoming adversity has sadly been a nearly constant battle for much of DECAPITATED's star-crossed history, and it keeps bouncing back.

The band comes loaded for bear on Cancer Culture, despite its somewhat naff title. Vogg and longtime frontman Rafał Piotrowski team here with one-time bassist Paweł Pasek and veteran drummer James Stewart (also of BLOODSHOT DAWN and BERZERKER LEGION and ex of VADER) and vent plenty of pent up aggression, as well as showing some versatility that while admirable may not be to everyone's liking.

Since coming back from the two-year hiatus which followed the 2007 tour bus crash that killed Vogg's brother/drummer Vitek and left then-frontman Adrian "Covan" Kowanek with a traumatic brain injury, DECAPITATED's tech death template has developed adecidely groovier edge. The turbulent rhythms and agile arrangements certainly remained, but Vogg brought more determined riffiness to the table, which matched well with Piotrowski's barking cadence and would eventually make him a logical choice to fill the MACHINE HEAD vacancy.

This was especially true of Anticult, with its crunching wall of riffage rivaling PANTERA at its beefiest. Cancer Culture, the band's eighth album, however, finds a sweet spot between the dexterity and agility of old and the imposing heft of more recent efforts. Stewart certainly helps with his athletic drumming, effortlessly shifting from blast beats to double bass gallops to thunking, driving rhythms – all while firing off fleet fills – to steer the ship in whatever direction Vogg has in mind.

After a brief intro, the band launch full throttle into the title track and largely keep that up through "Just A Cigarette" and "No Cure", which is both dazzlingly complex and niftily catchy. Things go a bit askew, though, with "Hello Death" as its fury and hulking hooks are tempered by the guest clean vocals of JINJER's Tatiana Shmayluk, which sounds more than a bit contrived.

Still, it ends up being an unintentional show of unity given that it was recorded before Russia's "special military operation" into Ukraine, from which JINJER hails and which is but an hour from DECAPITATED's hometown of Krosno, Poland. And hat's off to Vogg and company for shuttling van loads of supplies to Ukraine in the early days of the invasion.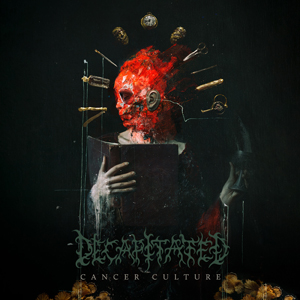 Similarly, MACHINE HEAD frontman Robb Flynn contributes a mostly clean accompaniment on the otherwise stampeding "Iconoclast". I understand the intent here and with "Hello Death" – the band is trying to stir things up a bit - but don't really see the point of such obvious tropes, which have been played out since metalcore became a thing. They don't serve DECAPITATED particularly well in either instance, bogging down the album's midsection and sounding a bit band-wagony before things quite literally blast off again with the curiously titled, but fast and furious "Suicidal Space Programme".
"Locked" then kicks things into overdrive in a 1:17 microburst of screeching riffs and distorted vocal effects that are much more effective than the aforementioned cleans. "Hours As Battlegrounds" then does an abrupt about face as the album's one moody, groove-centric number before "Last Supper" brings things to a close with a tech deathy carpet bombing graced by a gloriously melodic lead break.
I don't know if it's fair to call Vogg underrated, but he certainly doesn't share the notoriety of many of his peers despite being an adept, inventive guitarist who favors genuine feel in much of his lead work. His solos here are especially good, andoffer a wee bit more flash, which – along with the MACHINE HEAD gig – should deservedly raise his and DECAPITATED's profile. And while the grooviness may not be as prominent on Cancer Culture, there is certainly bite and catchiness that reins in the technicality to a degree to nicely balance the equation, even if the clean vocal parts miss the mark.
4.0 Out Of 5.0