HYPOCRISY, CARACH ANGREN, THE AGONIST, HIDEOUS DIVINITY In Los Angeles, CA With Photos!


By Francisco Zamudio, Metal X Candy 2.0
Monday, May 30, 2022 @ 11:00 AM


| | | |
| --- | --- | --- |
| | | May 15th At 1720 |
All Photos By Diego Gonzales Pictures
For fans and bands alike, many are just starting to experience live music again for the first time in about 2 to 3 years. Some likely for the first time ever in their life as they've reached an age or perhaps point in their life, where this sort of experience for a true rock and metal fan is a necessity. For the start of a week that would entail TWO great concerts, this was one hell of a way to start the week. On a night and in a town full of options, with an absolutely crushing line-up of 4 bands, and not overly stacked with unnecessary local pay-to-players like some L.A. shows, from beginning to end the HYPOCRISY lead tour was one to catch.
HIDEOUS DIVINITY is an insanely extreme band. They are Death Metal from Italy and started off the night simply pummeling. With drummer Giulio Galati on the far left (or stage-right in performer speak) with headphones dialed in and guitarist Enrico Schettino, the precision of their playing at neck-breaking speed was so intense. Vocalist Enrico Di Lorenzo was working the early crowd as bassist Yoav Ruiz-Feingold (of ATHEIST) was totally raging on stage. He was filling in a few shows for the absent Stefano Francescnini who I had previously interviewed, so I was a bit bummed I didn't get to catch up with him. But HD picked a hell of a person to fill in for the time being. They just managed to tour off their 2019 release Simulacrum before lockdown and last year they released an EP titled LV-26 of which they performed both original tracks from the EP and cuts form their latest full-length. Plus the title track from the 2014 full-length Cobra Verde, and a track from 2017's Adveniens. Excellent way to start the night.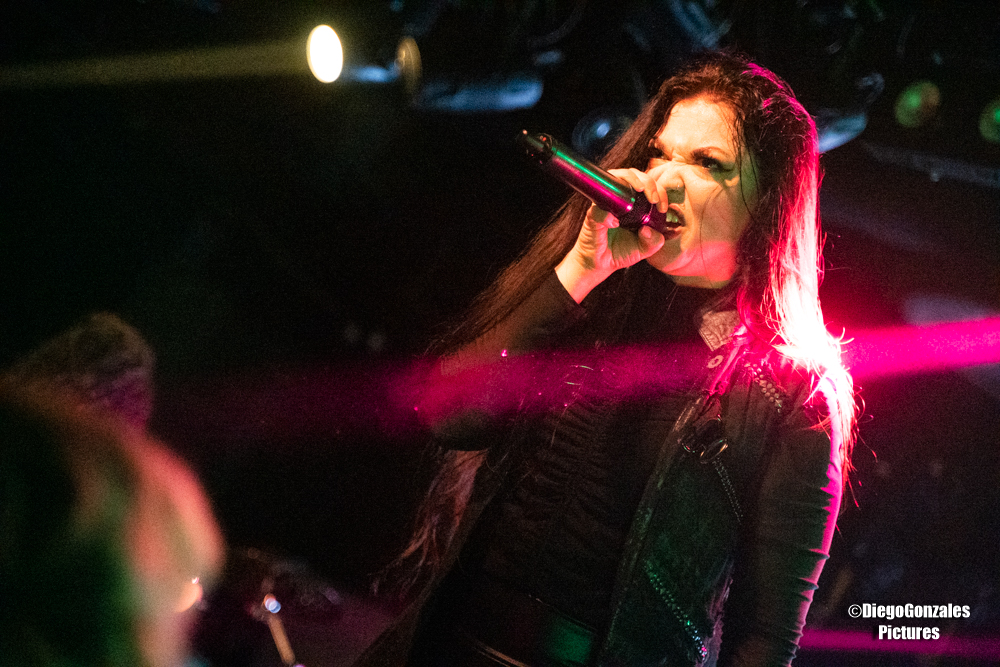 They were followed by Canadian's THE AGONIST, lead by American born Vicky Psarakis, who was an absolute powerhouse of a vocalist. It took a couple of songs before the crowd warmed up to them but her personality, talent and the excellent songwriting would eventually captivate the crowd. Energetic and connecting with the fans, they were a lot of fun to watch and hear as you could tell by the crowd that stood still in attention. Their set-list entailed songs from their last couple of releases; Three tracks from 2019's full-length Orphans and last year's EP Days Before The World Wept. They had a strong connection with fans and took the time to take photos with people, Diego and I included. We got a photo with Vicky after their set and before entering the venue during our pregame session, we met guitarist Paco Jobin whose guitar work was excellent. The former band of current ARCH ENEMY vocalist Alissa White-Gluz have not lost any stride nor gone soft since the introduction of Vicky Psarakis in 2014. I'm glad I got to catch them because female musicians in Rock and Metal rule and I have a soft spot for female vocalists.
Direct support for HYPOCRISY was the symphonic Black Metal group from the Netherlands, CARACH ANGREN, who was an excellent complement to an already perfect bill. Lead by Seregor on vocals and Ardek on keys, they are one of today's best modern Black Metal bands. Joing them on tour is "The Butcher" Bastiaan Boh on guitars and Michiel van der Plichton drums. The crowd again mostly stood and watched as they certainly are entertaining to watch. Although touring off Franckensteina Strataemontanus, their newest release from last year, they only played a few songs off the new album. The rest of the set included a couple of songs off their 2008 debut Lammendam and one from the rest of their past releases. Although the crowd didn't give much action in the pit, they did give some good feedback towards CARACH ANGREN and did really appreciate their performance.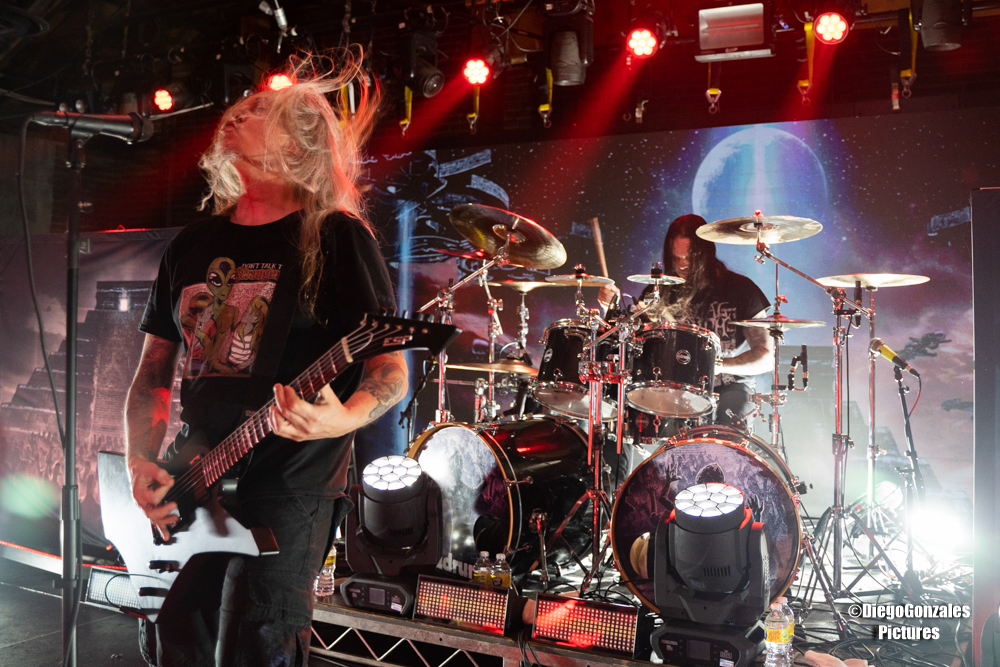 I can't recall if I ever saw HYPOCRISY back in the day but I know I was certainly looking forward to seeing them this night. The crowd was certainly anxious for the return of the veterans of Swedish Death Metal and were greatly welcomed by the crowd right off the first song, the title track off their latest release Worship, for which this tour was in support of. It was time to let all that energy onto the crowd who gave it back to them 10-fold. For an hour and a half their set list was a 'Best of' with everyone's favorite hits of a song taken from all their past releases, with a couple off of The Final Chapter and of course a few off the new album. It took a few songs and "Mind Curruption" off of The Fourth Dimension that really set off a pit. It's not all the time that the pit is a reflection of how great a show is and on this night, HYPOCRISY was a band that everyone wanted to stand back and enjoy. I recently interviewed Peter Tägtgren so this as a bit of a homecoming, I'm sure he felt the love from Los Angeles. When "Eraser" hit, the pit went off for a bit again as well as on the quick hitter, "Don't Judge Me", so the crowd would show some movement here and there throughout their set.
This was an experience you needed, to witness a big name like HYPOCRISY in a venue like this, to understand what Swedish Death Metal means. Such history in their sound and the combination of a lineup of bands with a pretty varied style is a great tour package. I always expect more energy from the crowd but for a Sunday, I'll cut them some slack… just a little.
Check out some more photos from the show!
All Photos By Diego Gonzales Pictures

Please log in to view RANTS



IMMORTAL War Against All

JOE PERRY Sweetzerland Manifesto MKII

BUCKCHERRY Vol. 10

DAVE LOMBARDO Rites Of Percussion

HELLOWEEN, HAMMERFALL In Worcester, MA With Photos!

DARK FUNERAL, CATTLE DECAPITATION, 200 STAB WOUNDS, BLACKBRAID In Houston, TX With Photos!

MR. BUNGLE, MELVINS, SPOTLIGHTS In Portland, OR With Photos!

PANTERA At Welcome To Rockville With Photos!

THE BLACK DAHLIA MURDER, TERROR, FROZEN SOUL, FUMING MOUTH, PHOBOPHILIC In Anaheim, CA With Photos!

ENFORCER Nostalgia

BUZZFEST Featuring GODSMACK, I PREVAIL, HIGHLY SUSPECT, THE STRUTS And Others In Houston, TX With Photos!

SLEEP TOKEN Take Me Back to Eden

UGLY KID JOE, FOZZY, PISTOLS AT DAWN In Houston, TX With Photos!

TESLA, FASTEST LAND ANIMAL, KURT DIEMER In Orlando, FL With Photos!

CATTLE DECAPITATION Terrasite

TYGERS OF PAN TANG Bloodlines

MYSTIC PROPHECY Hellriot

WHITECHAPEL, ARCHSPIRE, SIGNS OF THE SWARM, ENTHEOS In Santa Ana With Photos!

ALCATRAZZ Take No Prisoners

BURNING WITCHES The Dark Tower

ELVENKING Reader Of The Runes - Rapture

CHAOS AND CHARNAGE Tour Featuring SUICIDE SILENCE, DYING FETUS, BORN OF OSIRIS, ABORTED, CROWN MAGNETAR, SANGUISUGABOGG And SLAY SQUAD In Anaheim With Photos!

ENFORCED War Remains

SAVAGE EXISTENCE Savage Existence

BLACK ROZE Penny For Your Sins

WINGER Seven