KREATOR Hate Über Alles


By Francisco Zamudio, Metal X Candy 2.0
Wednesday, June 15, 2022 @ 8:03 AM


| | | |
| --- | --- | --- |
| | | |
KREATOR
Hate Über Alles
Nuclear Blast




To know Thrash metal you will need to know who "The Big Teutonic 4" are. Having recently interviewed Geere, vocalist of the Beer-drinking, hell-raising TANKARD, only a few weeks ago catching DESTRUCTION live who destroyed L.A., and though I have yet to cross SODOM off my list, KREATOR, who has always been the more melodic of the group, returns to reassure old school thrash fans that Thrash is well and good. It's been 5 years since their chart topping album Gods Of Violence that reached #1 in the German album charts, #4 in Austria, and #7 in Czech Republic and Finland - and it's due time for some new music to keep the proverbial pit going.

KREATOR have just released Hate Über Alles (Nuclear Blast) and it's sure to make a large impact. Since their debut Endless Pain, KREATOR have done exactly that in being unrelentless, true German Thrash. While most Metal has always had some sort of socio-political underlying, that is to say that we are influenced (both positively and negatively) by our surroundings and the current state of the world and the great cancer that is Politics – this new album is claimed to be their "most political effort to date". The album title, an ode to Punk Legends DEAD KENNEDYS' "California Über Alles", is a reflection of the world through Mille Petrozza and company's eyes. Argument aside of whether you want politi-speak in your Metal but you can't deny that it makes from some great lyrical content and that is what it's about. To pierce your mind and make you think (for yourself), even if just a little.

KREATOR has had a lot of melodic moments that makes it palatable for those for those Metalheads who can't take full-throttle Thrash. "Conquer And Destroy" is one such example of this as well as "Midnight Sun" featuring Best 'Newcomer for 2019' (1Live Radio, Germany), German New Wave Singer Sofia Portanet (as does the video which is an extraordinary vision by Tom Schlagkamp) which feels like a different side of KREATOR. They pushed the boundaries with this song and the added element of her vocals make this one of the best songs on the album (it's also made me a fan of hers as I checked out her prior work). For those who are brave enough, the title track alone will go straight for your gut. I love the video too. It's total vintage with crowd pumping, and going against "authority, with the band in the background just jamming away. Before you realize the first track has ended, you'll find yourself in the frenzy of "Killer Of Jesus" which takes off like a rocket.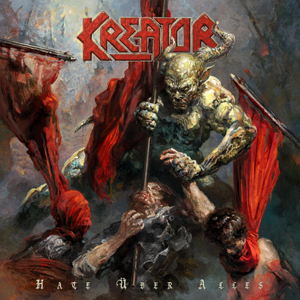 In tradition of their crowd-engaging songs (along with a video featuring world famous vegan strongman Patrik Baboumian), "Strongest Of The Strong" is exactly that. They managed to release 4 videos for this album and the recent was a great montage, reflecting what the song talks about. "Remember where you came from… BECOME IMMORTAL!!" It's an excellent example of what Metal and Rock represent and reflects the great attitude and perspective KREATOR has always lived up to. "Demonic Future" is also one of my favorite tracks on this album demonstrating that there are no signs of letting up after 4 decades in their pocket.
On this, their 15th album, it's loaded with songs with exceptional writing. It felt like there was a lot of melody on this one and even some times of experimentation and attempts at something new as in the case with the song "Midnight Sun". Although I welcome every album with open arms, I wanted more of the fast and heavy stuff but in many ways was surprised by the excellent song-writing that made up for anything that may have felt lacking. I'd hate to say maturity but stigma aside, this album has a great modern Thrash feel without any sense of that generic mainstream feel. It's a great Thrash album with lots of story to tell and history in their words. After 5 years since their last album, it shows the patience they held on to in order to make an awesome masterpiece, both as audio and with the videos that accompanied this album. Visuals greatly help. To top it all off, one huge key aspect of a new music release is artwork. The cover art on this great record was done by Eliran Kantor, the artist behind works for TESTAMENT, HELLOWEEN, HATEBREED and many more. This record will be on repeat for a while.
4.5 Out Of 5.0

Please log in to view RANTS



IMMORTAL War Against All

JOE PERRY Sweetzerland Manifesto MKII

BUCKCHERRY Vol. 10

DAVE LOMBARDO Rites Of Percussion

HELLOWEEN, HAMMERFALL In Worcester, MA With Photos!

DARK FUNERAL, CATTLE DECAPITATION, 200 STAB WOUNDS, BLACKBRAID In Houston, TX With Photos!

MR. BUNGLE, MELVINS, SPOTLIGHTS In Portland, OR With Photos!

PANTERA At Welcome To Rockville With Photos!

THE BLACK DAHLIA MURDER, TERROR, FROZEN SOUL, FUMING MOUTH, PHOBOPHILIC In Anaheim, CA With Photos!

ENFORCER Nostalgia

BUZZFEST Featuring GODSMACK, I PREVAIL, HIGHLY SUSPECT, THE STRUTS And Others In Houston, TX With Photos!

SLEEP TOKEN Take Me Back to Eden

UGLY KID JOE, FOZZY, PISTOLS AT DAWN In Houston, TX With Photos!

TESLA, FASTEST LAND ANIMAL, KURT DIEMER In Orlando, FL With Photos!

CATTLE DECAPITATION Terrasite

TYGERS OF PAN TANG Bloodlines

MYSTIC PROPHECY Hellriot

WHITECHAPEL, ARCHSPIRE, SIGNS OF THE SWARM, ENTHEOS In Santa Ana With Photos!

ALCATRAZZ Take No Prisoners

BURNING WITCHES The Dark Tower

ELVENKING Reader Of The Runes - Rapture

CHAOS AND CHARNAGE Tour Featuring SUICIDE SILENCE, DYING FETUS, BORN OF OSIRIS, ABORTED, CROWN MAGNETAR, SANGUISUGABOGG And SLAY SQUAD In Anaheim With Photos!

ENFORCED War Remains

SAVAGE EXISTENCE Savage Existence

BLACK ROZE Penny For Your Sins

WINGER Seven