DEF LEPPARD
Diamond Star Halos
Bludgeon Riffola/Mercury Records/UMe-2022




In advance of writing this review, I've avoided reading any reviews of the new DEF LEPPARD CD Diamond Star Halos, but being on any kind of social media makes it pretty much impossible to avoid seeing what your friends and/or follows have to say about the band's 12th studio album.

And what I've seen is mostly summed up in one of two ways. The first is the group of people who have never gotten over the fact that the band evolved beyond the sound of their first two albums. To them, I just shake my head and wonder why they refuse to get over it.

But the second group could have somewhat of a good point. This group notes that with fifteen songs on Diamond Star Halos, the album is too long. The reason I don't completely disagree with this point is that the album as it is constructed is indeed a bit too long. But not simply because there are fifteen tracks on it. It's more due to the fact that some of the songs just don't do "it" for me.

But before I get to that, why don't we just start at the beginning. DEF LEPPARD released at least three songs before the album itself came out. The first one was the song "Take What You Want" and it was a bit polarizing for the fanbase. When I first heard it, I wasn't all that excited about it. While the song has a solidly uptempo flair to it, it seemed a bit off for some reason. But as I listened to the actual CD a few times, I thought the song (which kicks off the disc) grew on me quite a bit and I quite enjoy it now.

The 2nd track released was "Kick" and that is one excellent rocker cut that seemed to capture the band in fine form as they rocked out. The third track released, "Fire It Up", is another faster paced number but I did think it was noticeably slower than the first two songs. Not that it hurt the song's overall quality.

The first song on Diamond Star Halos that struck me as perhaps not belonging on the disc was "This Guitar". But unlike some other songs, this was more about the song's style than the overall quality. This ballad-to-midtempo track features Country/Americana singer Alison Krauss dueting with singer Joe Elliott. There's no doubt that is is actually a fantastic song but it sounds more like a song that would be on an Alison Krauss album where Elliott would be billed as the guest. I know Krauss has done two collaborative albums with Robert Plant, so it isn't like she's out of place or anything. But "This Guitar" definitely strikes me as more of a Country music type of song. The song "SOS Emergency" continues to vex me. I quite enjoy the song, which wastes no time in giving itself a full-fledged rock and roll soundtrack. But I swear this sounds like another DEF LEPPARD song from a past release and I've yet to figure out which one it is. Still, damn fine track.

The middle of the album is where songs I think could've been left off Diamond Star Halos come into play. Neither "Open Your Eyes" or "Liquid Dust" really grabbed me at all, despite repeated plays of the album. The latter track isn't terrible so I can live with that one still being on the album but it isn't one that I would consider a particular high watermark either. It feeds directly into a much better track, the midtempo "U Rok Mi" (can we please start spelling words correctly, for the love of all the grammar gods!) I liked how on that song the chorus had a slightly harder sound to it.

But the ballads "Goodbye For Good This Time" and "Angels (Can't Help You Now)" are just not songs I want to listen to anymore. I will say that on "Goodbye For Good This Time" does have a superbly understated guitar solo I like. I just wish it was surrounded by a better song. But the "Angels" song is, for me, just flat out awful.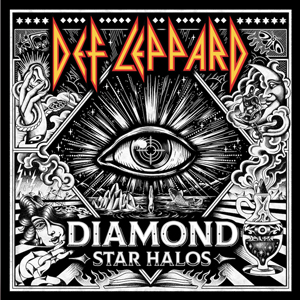 Thankfully, there's a bevy of other great songs to balance the disc out and DEF LEPPARD does a great job with tracks like "All We Need" (which bounces between mid and uptempo pacing) and "From Here To Eternity" which is a solid way to close out the album.
But the real highlights for the second half of Diamond Star Halos come in the form of instant melodic wonders "Lifeless" (the 2nd song to feature Alison Krauss) and "Unbreakable". If forced to choose a standard bearer favorite track though, I'd have to go with "Gimme A Kiss That Rocks". The song opens with a big musical flourish and then the tempo slows for a beat or two before it rocks through the rest of the song. And you get that classic big vocal/music combination sound on the song's chorus. It's a song that shows DEF LEPPARD delivering the goods in quite a vibrantly zesty fashion.
Because DEF LEPPARD has always seemed to release the material they want to hear themselves, I figure they are always going to be hearing a lot from every possible section of their fans. Why doesn't Diamond Star Halos sound like On Through The Night or Hysteria or (fill in the blank of your particular favorite album from the band)? But their refusal to deliver simply a rehash of their past does tend to make for a lot of interesting music to listen to with each successive release.
For me, I'm less interested in hearing Pyromania 2 than I am in the material being fantastic regardless of the band's musical direction. So while I did indeed think there were a few songs that just didn't quite measure up to the best DEF LEPPARD has proven so often they can offer, Diamond Star Halos is still a pretty worthwhile endeavor that will have the more broadminded members of the fan base continuing to enjoy all the great individual songs on the album.
4.0 Out Of 5.0