DOWNSET Maintain


By Francisco Zamudio, Metal X Candy 2.0
Monday, June 20, 2022 @ 9:39 AM


| | | |
| --- | --- | --- |
| | | |
DOWNSET
Maintain
Nuclear Blast




Every generation has it's era in music that somewhat defined the times and what fans were going through. Pop has always been pop and has gone downhill but when it comes to the large umbrella that is Rock and Metal, the 90's was probably the most confusing yet groundbreaking, annoying yet successful time. Rock and metal bands and music fans alike were desperate. The result, you got styles that was never thought of to work, lo and behold, "rap-rock". We can blame ANTHRAX and PUBLIC ENEMY, and yeah sure AEROSMITH and RUN DMC, and most certainly BLONDIE's "Rapture". These opposite styles clashed together creating a different sort of rage with a message to see who was down for their cause and who was simply cashing in on the fad. And from Los Angeles, during a heated time came DOWNSET meshing heavy and blues-infused rock, traditional (East Coast) hardcore with a vocally creative approach by the way of rap. The OG, vocalist Rey Oropeza had vision for what he wanted his message to be. Now 30 years later, he's still out for blood with their latest release Maintain

, through their newly signed partnership with Nuclear Blast Records.

What promises to be a return to form with a new line-up, even though some of the faces have changed, the message remains. With the help of TERROR's Nick Jett behind the scenes as engineer, new members Bobby (Blood) Ponte on drums and Philip Gonzales on bass, along with the returning and original guitarist Rogelino Lozano - they all wanted to bring back the sound and vision that gave DOWNSET that highly respectable street credit. Maintain is their first album in 8 years and their 6th album overall and will rank among their best along with their self-titled debut, Do We Speak A Dead Language and Check Your People. It's been worth the wait and with their new signed deal with Nuclear Blast, a "New Respect" is definitely in order. The breakdowns and groove on this album flows really well and is aggressive in its statement and in its sound, especially the bass and guitars which are very present. Rey's message still rings true and he is on point with his vocal approach as he spits rhymes and some clean singing for added melody. Guitar riffs driving it all home and drum beats that breakout of the pocket but still hold it down. Along with some clever nods to the old albums that some might catch, this is very enjoyable album.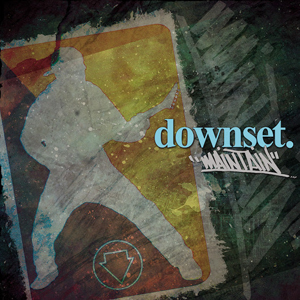 Some of my favorite songs are the title track itself, "Won't Forget", "On Lock (Only The Defest)", the empowering track "Your Power" and what I'd say is the heaviest tune on the album, "Hear Me Now". DOWNSET have taken the traditional Hardcore sound and created havoc throughout the underground Los Angeles scene since their inception falling under that "crossover" banner. You have bands that are representatives of where they are from while others realy have no identity relating to their origin. With DOWNSET, it's a clear statement where Rey and the name came from, about survival and not letting your past define you but to be present and know where you going and that's ahead. Maintain is an excellent example of this and gives a new, positive energy that, through the help of Nuclear Blast, will reach more listeners.
Although times were different in the 90's, it seems the more things change… well, you know the rest. It may sound "dated" but like many caught on the nostalgia trip of the 90's, Maintain really takes me back to my teenage years, hanging out with my high school crew. And even though many of those friends sadly drifted away from Metal and eventually slipped through the cracks, to those few who survived, I have a tremendous amount of love and respect for and that respect goes especially out to Rey for keeping the DOWNSET name alive.
4.0 Out Of 5.0

Please log in to view RANTS



IMMORTAL War Against All

JOE PERRY Sweetzerland Manifesto MKII

BUCKCHERRY Vol. 10

DAVE LOMBARDO Rites Of Percussion

HELLOWEEN, HAMMERFALL In Worcester, MA With Photos!

DARK FUNERAL, CATTLE DECAPITATION, 200 STAB WOUNDS, BLACKBRAID In Houston, TX With Photos!

MR. BUNGLE, MELVINS, SPOTLIGHTS In Portland, OR With Photos!

PANTERA At Welcome To Rockville With Photos!

THE BLACK DAHLIA MURDER, TERROR, FROZEN SOUL, FUMING MOUTH, PHOBOPHILIC In Anaheim, CA With Photos!

ENFORCER Nostalgia

BUZZFEST Featuring GODSMACK, I PREVAIL, HIGHLY SUSPECT, THE STRUTS And Others In Houston, TX With Photos!

SLEEP TOKEN Take Me Back to Eden

UGLY KID JOE, FOZZY, PISTOLS AT DAWN In Houston, TX With Photos!

TESLA, FASTEST LAND ANIMAL, KURT DIEMER In Orlando, FL With Photos!

CATTLE DECAPITATION Terrasite

TYGERS OF PAN TANG Bloodlines

MYSTIC PROPHECY Hellriot

WHITECHAPEL, ARCHSPIRE, SIGNS OF THE SWARM, ENTHEOS In Santa Ana With Photos!

ALCATRAZZ Take No Prisoners

BURNING WITCHES The Dark Tower

ELVENKING Reader Of The Runes - Rapture

CHAOS AND CHARNAGE Tour Featuring SUICIDE SILENCE, DYING FETUS, BORN OF OSIRIS, ABORTED, CROWN MAGNETAR, SANGUISUGABOGG And SLAY SQUAD In Anaheim With Photos!

ENFORCED War Remains

SAVAGE EXISTENCE Savage Existence

BLACK ROZE Penny For Your Sins

WINGER Seven