SUFFOCATION, ATHEIST, CONTRARIAN, SOREPTION In Los Angeles With Photos!


By Francisco Zamudio, Metal X Candy 2.0
Tuesday, June 21, 2022 @ 8:17 AM


| | | |
| --- | --- | --- |
| | | At Venue 1720 |
All Photos From The Pomona/Glass House Show By Thomas Delgado (For The Horde Productions)
As I made my way back up the 5 freeway leaving behind the anti-climactic NAMM (Nation Association Of Music Merchants) convention, I also left behind the hangover I was feeling from the day before. I had to get myself in order and cruise back to L.A. for another killer show at the 1720. Iíve said before, the skid row-adjacent Ďhood location isnít the most appealing, nor are the over-priced beers but itís a venue that is holding it down in terms of great HEAVY shows and tours hitting Los Angeles. On this night in particular, the line-up was stacked with Brutal and Technical bands in that of CONTRARIAN and SOREPTION, capped off by a pair of Old School names in that of ATHIEST and the mighty SUFFOCATION.
Up first and opening the night was CONTRARIAN, a progressive Death Metal band from New York of which on this tour only consisted of 3 out of 5 regular members. Vocalist Jakob Sin was filling in on this tour for an absent Cody McConnell and also absent was drummer Bryce Butler who was currently out on tour with SHADOW OF INTENT. Not much was known of this band but they made a good impression despite a thin crowd. Very technical stuff almost made it hard to wrap your head around but they have a strong sound. Still a young band with only 4 albums under their belt, the lastest in 2020 and one album Their Worm Never Dies (2019) features Sick Drummer George Kollias Ė itís obvious they arenít kidding around demonstrating their musical ability of chords and melodies, and drumming as complex as possible. Iíd be interested to see these guys again in full-form.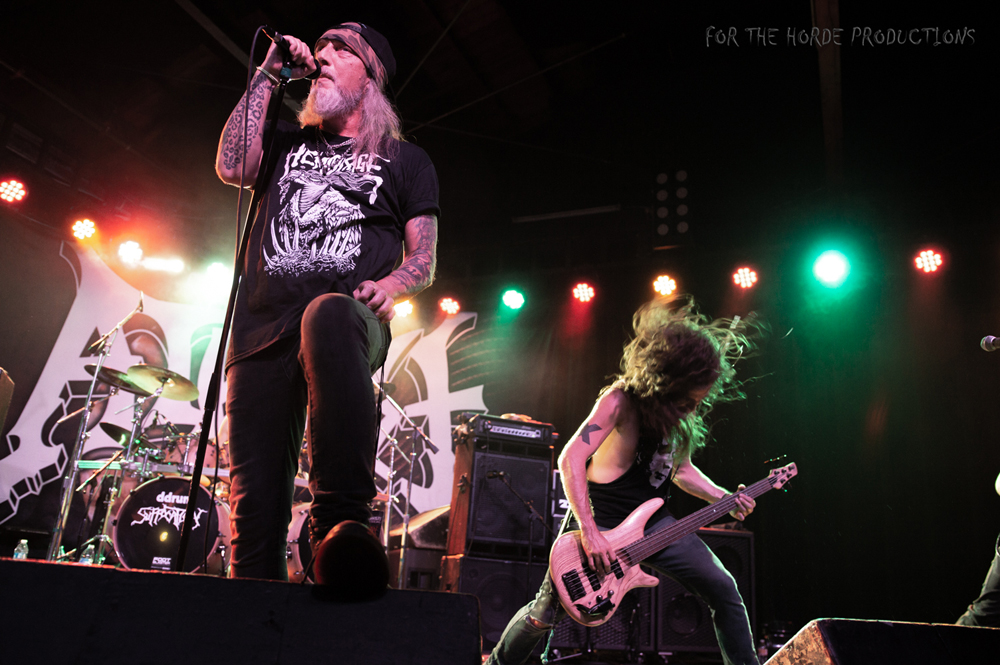 SOREPTION was a band that was on my radar for some time now. Swedish Death Metal is another label that deserves a hefty representation and SOREPTION definitely has all the meat-and-potatoes to carry the label. Unlike most Swedish DM, these guys are graced with awesome technicality and are more Brutal and a lot less melodic. They are one of modern Death Metalís best with a young career of 4 albums and just over 10 years as a band. It takes a lot of effort playing complex, technical stuff and sometimes your stage presence suffers a little, which was the only thing missing from them. Otherwise, their music really took hold of the crowd who was just in awe of their skills. We got a taste of a couple of songs off their new album Jord and they performed this new material with ease.
I had always known the name ATHIEST but I admit that I wasnít really at all familiar with them other than a tune here and there that I heard and that they are legends from Florida. They have an avant-garde approach to their style of Death Metal that has gained them a loyal following ever since 1990ís debut Piece Of Time (Active Records). There was a lot of energy coming off that stage thanks to frontman Kelly Shaefer and bassist Yoav Ruiz-Feingold (who actually came through on tour recently with HIDEOUS DIVINITY). After their split in 1994, then reforming in 2006, theyíve only released 1 album since then in 2010, so their whole set was mostly all classic tunes from the 90ís that demonstrates how ahead of the curve they are as being recognized as one of the early technical death metal bands, especially one to come out of Florida, ripe with Technical and Brutal Death Metal. Very entertaining to watch and hear.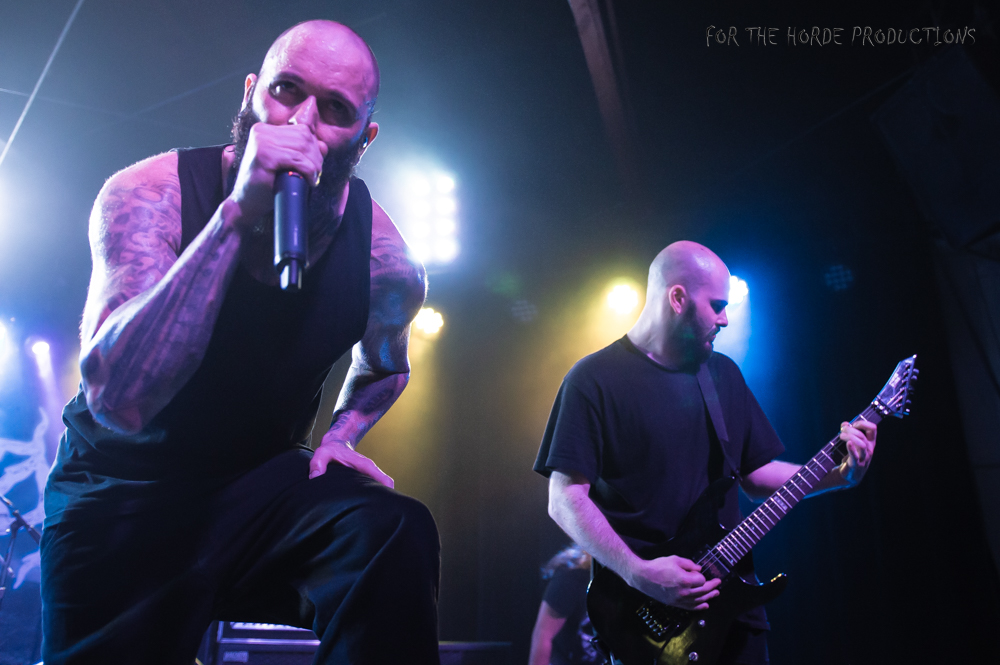 Now with SUFFOí, what can I say that I havenít already stated. One of my favorite Death Metal bands of all time, Iíve seen them several times late in their career and Iíve been lucky enough to see them with Frank, Mike and Guy. Itís be an understatement to point out the tremendous amount of respect I have for Terrance Hobbs and bass-beast Derek Boyer to keep SUFFOí going. Guitarist Charles Errigo, Eric Morotti and his man-bun on Drums and drummer-turned-vocalist Ricky Meyer (DISGORGE) have done more than just earn their stripes. Theyíve damn well murdered it. Iíve caught this new line-up several times and they get better and better each time. SUFFOCATION came to kill. L.A. always shows love and I think Terrance and the guys were feeling it. With a setlist that was non-stop brutality, only playing 1 track of the last album while the rest went all the way back with cuts off Effigy OF The Forgotten, opening with "Liege Of Inveracity" and then the title track.
For an hour and 15 minutes, a set way too short, it was hard to fit in everyoneís favorites for sure but we needed songs like "Catatonia", "Thrones Of Blood", and a couple of my all-time favorites with "Bind/Torture/Kill" and "Infecting The Crypts". With a birthday shoutout to their merch girl right before "Entrails Of You" and a honorable mention of the recently departed Trevor Strnad to introduce "Pierced From Within" Ė this only emphasized the Metal-bond that was felt not only in the room but the whole night.
*We were unable to provide photos from the L.A. show due to vandalism, but we got photos from the Pomona/Glass House show June 6th by Thomas Delgado (For The Horde Productions).
Check out some more photos from the tour!
All Photos From The Pomona/Glass House Show By Thomas Delgado (For The Horde Productions)

Please log in to view RANTS



IMMORTAL War Against All

JOE PERRY Sweetzerland Manifesto MKII

BUCKCHERRY Vol. 10

DAVE LOMBARDO Rites Of Percussion

HELLOWEEN, HAMMERFALL In Worcester, MA With Photos!

DARK FUNERAL, CATTLE DECAPITATION, 200 STAB WOUNDS, BLACKBRAID In Houston, TX With Photos!

MR. BUNGLE, MELVINS, SPOTLIGHTS In Portland, OR With Photos!

PANTERA At Welcome To Rockville With Photos!

THE BLACK DAHLIA MURDER, TERROR, FROZEN SOUL, FUMING MOUTH, PHOBOPHILIC In Anaheim, CA With Photos!

ENFORCER Nostalgia

BUZZFEST Featuring GODSMACK, I PREVAIL, HIGHLY SUSPECT, THE STRUTS And Others In Houston, TX With Photos!

SLEEP TOKEN Take Me Back to Eden

UGLY KID JOE, FOZZY, PISTOLS AT DAWN In Houston, TX With Photos!

TESLA, FASTEST LAND ANIMAL, KURT DIEMER In Orlando, FL With Photos!

CATTLE DECAPITATION Terrasite

TYGERS OF PAN TANG Bloodlines

MYSTIC PROPHECY Hellriot

WHITECHAPEL, ARCHSPIRE, SIGNS OF THE SWARM, ENTHEOS In Santa Ana With Photos!

ALCATRAZZ Take No Prisoners

BURNING WITCHES The Dark Tower

ELVENKING Reader Of The Runes - Rapture

CHAOS AND CHARNAGE Tour Featuring SUICIDE SILENCE, DYING FETUS, BORN OF OSIRIS, ABORTED, CROWN MAGNETAR, SANGUISUGABOGG And SLAY SQUAD In Anaheim With Photos!

ENFORCED War Remains

SAVAGE EXISTENCE Savage Existence

BLACK ROZE Penny For Your Sins

WINGER Seven

JASON BIELER AND THE BARON VON BIELSKI ORCHESTRA Postcards From The Asylum

TITAN'S WRATH Will Of The Beast