ORIGIN Chaosmos


By Nathan Dufour, Great White North
Tuesday, June 28, 2022 @ 10:06 AM


| | | |
| --- | --- | --- |
| | | |
ORIGIN
Chaosmos
2022, Nuclear Blast Records




Album number eight, and 25 years of playing really, really, fast. It is a safe assumption that not much has changed in the ORIGIN camp since 2017's Unparalleled Universe and, for the most part, one could be forgiven for such an assumption. The truth of the matter is that change is the only constant. Oh, and space. Hail space.

The spiky logo this time around is a warning. The cover art for Chaosmos is a warning - the swirl of the black hole is almost tangible, and the hairs on the back of your neck are already perking up before even pressing the play button. Chaosmos is a lean, mean, neck wrecking machine. The production punches up, especially the drums and bass guitar, and that isn't a bad thing. Truly, the writing and sense of nuance on display here is stupefying. For a band not known for, umm, restraint, ORIGIN have somehow used some while also being completely unhinged. Completely.

"Ecophagy" is as subtle as a brick to the face - and that's exactly how ORIGIN should feel. Mike Flores' bass punctuates the maelstrom that is John Longstreth and Paul Ryan, the attack is just plain unrelenting. And then, it happens: about two and a half minutes in, the band break out one of the absolute sickest grooves of their storied career - the change is unexpected, but there is more where that came from.

Jason Keyser jumped on my head once, true story. I mention it here only because the nature of the music that ORIGIN creates doesn't easily lend itself to the pit or stage dives - except when it does (and it does often just check YouTube. Don't forget your pillow). Underscoring nearly the entirety of the band's recorded output is an unstoppable, immutable groove. That groove is all over Chaosmos, as ever present as stars in the night sky. Somehow, by the time "Panoptical" comes around, Longstreth sounds like he is absolutely dismantling his kit, Keyser is in planet smashing mode, and Flores and Ryan are ripping apart space and time. I love this stuff, but admittedly I was vastly underprepared.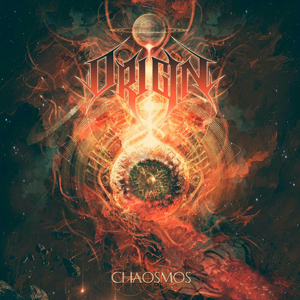 "Decolonizer" is, in a word, revelatory. ORIGIN bring the thrash here, with a huge production. I wasn't prepared for the change in velocity and neither was my neck. Then the swirl starts again, the band blasting shit to bits with wild abandon before shifting lock-step into a pure death groove at the mid point. And just when you think you've recovered, a china cymbal splashes in the distance and that's it, folks. The steamroller riff cometh and you cannot stop it. The pretty guitar lead comes next and can someone please explain to me what exactly is happening with those kick drums?! I literally cannot stop listening to this whole album, let alone this tune in particular. Oh, it's blasting again…
I must confess, I love everything the band has done since they burst forth like a coronal mass ejection at the turn of the century, but Chaosmos stands head and shoulders above it all. The album is a Galactus size behemoth of burgeoning, bubbling, badassery the likes of which are unlikely to be topped this year (or until ORIGIN releases something new.) The rating reflects a band at the very peak of their game, but I'm tired and can't imagine how they feel after getting off a stage. Maybe I should send them a get well card, because ORIGIN is sick. Long may they reign.
4.5 Out Of 5.0

Please log in to view RANTS