All Photos By Wendy Jasper
One can never go wrong when choosing to spend an intimate evening with Century Media recording artists OCEANS OF SLUMBER. My friend Kelly and I did just that when we trekked over to my new favorite venue, the Black Magic Social Club, to see the band give a pre-tour performance for their longtime Houston fans. The band hails from the Houston area and has amassed a worldwide following that began locally but grew rapidly. Vocalist Cammie Beverly, drummer Dobber Beverly, guitarist Alexander Lucian, keyboardist Mat V. Aleman, guitarist Jesse Santos and bassist Semir Ozerkan pull no punches live or on their upcoming album, Starlight And Ash.
The dimly lit room gives quite the witchy aesthetic but it also felt warm and inviting…really warm because it's summer in Texas. The staff are excellent and the wall behind the stage boasts 3D skulls that merge nicely with the vampire mural along the east wall of the club. I can't wait to go back. Another really nice thing about this band is that they are accessible to their fans and they make friends wherever they go and that resonates quite well with those who are there for the performance.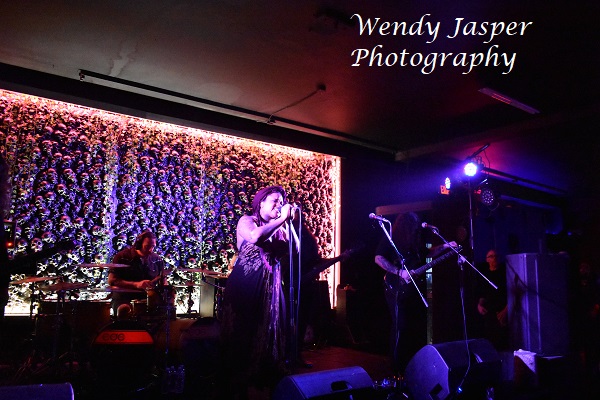 The set opened with a new tune called "The Waters Rising", which can be seen on KNAC.COM HERE.
Cammie's voice is power and soul and angst. She is arguably one of the best female vocalists there is. She can't be pigeonholed into any particular genre and this new album is less metal than their previous offerings so she will be able to cross boundaries that others can't. They moved effortlessly into "Hearts of Stone", another excellent tune from the new album.
"The Colors of Grace" and "Return to The Earth Below" are featured on the band's 2020 self-titled release and by this time the audience was entranced with what the band was offering. This was an incredibly well rounded set that featured songs from their very diverse catalog.
"The Banished Heart", from the album of the same name, is probably one of my absolute favorites. Released in 2018, this is the album that made my end of year favorites list, propelled the band into a whole new stratosphere as far as their career is concerned, and is an album I can listen to over and over again. I so enjoy hearing this song live and if you are not familiar with it, check out the official video HERE.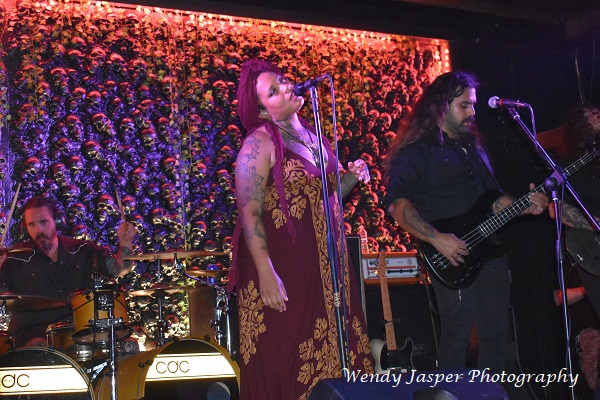 The set was rounded out with "Wolf Moon", "Phantom Green (Agents of Oblivion)", and another new offering called "The Lighthouse". Afterward, the band came out to mingle with the crowd; they knew most of us personally but there were some new fans to be made and I love that they are human and friendly and that they share time with their fans and friends after a show. So many bands have stopped doing that since the start of the pandemic and that is unfortunate. You miss so much when you don't get to visit; particularly if you are a new fan and the band is one that normally makes an after show appearance.
OCEANS OF SLUMBER starts their fall tour on August 27th at The Secret Group in Houston. The tour will carry them through mid-September. Check their website at www.oceansofslumber.com for more information on the new album and subsequent tour. If they come to your town, please go see them. They are a band you should not miss.
Check out some more photos from the show!
All Photos By Wendy Jasper