PHIL LYNOTT Songs For While I'm Away/THIN LIZZY The Boys Are Back In Town [Live]


By Ruben Mosqueda, Contributor
Friday, July 1, 2022 @ 6:23 AM


| | | |
| --- | --- | --- |
| | | |
PHIL LYNOTT
Songs For While I'm Away
THIN LIZZY The Boys Are Back In Town [Live]
Mercury Studios 2022




THIN LIZZY fans that have followed PHIL LYNOTT'S career with LIZZY or as a solo artist, know of the man's tremendous songwriting abilities, his gigantic stage presence, his smooth, soulful vocal and his brilliance as a wordsmith. A documentary was produced and released in 2020 and was released theatrically worldwide last fall. It received little fanfare in the United States, which is simply criminal. It was just released on streaming platforms so perhaps it will get its justice due the second time around.

Songs For While I'm Away digs deeper into Lynott's mixed-race heritage, with additional insight from friends and family, his daughters amongst them. Philomena Lynott, Phillip's mother, makes an appearance posthumously, via audio clips. One thing that becomes clear is that Lynott's friends, family and bandmates still find it hard to talk about his death which took place in 1986. The pain is still very fresh and they continue to grieve his death.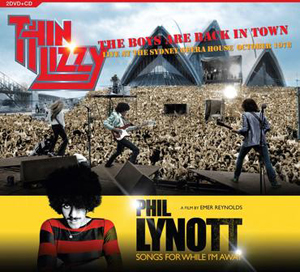 THIN LIZZY's beginnings are covered, from their surprising hit of their cover of "Whiskey In The Jar" a traditional folk tune, to their ups, downs and the band's revival. There's some mention of classic albums along the way like Johnny The Fox, Jailbreak, Bad Reputation, and their notorious live album Live And Dangerous, which as it turns out was 'sweetened' in the studio. No matter, it's still a classic and not loved any less by this writer.
You can always tell when you're watching a documentary that is well done, you get caught up in the story, you're mesmerized by it and you don't want it to end. Songs For While I'm Away clocks in at close to two hours and it passes by in what seems like a blink of an eye. A strange move is the 'restraint' in making mention of the substance, in this case heroin which he abused toward the end of his life and his health issues related to the substance, which he succumbed to. Viewers not familiar with Lynott are left wondering why he passed, and if it was unexpected. I feel had Lynott's substance use been addressed directly, it would have made for an even more powerful conclusion to the film. As a bonus to this already fantastic doc, a remixed and restored version of a classic THIN LIZZY [video] performance at the Sydney Opera House on October 1978, and an audio collection [CD] of highlights from the Sydney performance. This set is superb and essential for any Lynott and LIZZY enthusiast.
5.0 Out Of 5.0

Please log in to view RANTS