TOM KEIFER, L.A. GUNS, FASTER PUSSYCAT In Houston, TX With Photos!


By Larry Petro, News Monkey
Tuesday, July 5, 2022 @ 10:44 AM


| | | |
| --- | --- | --- |
| | | The Sonic Slam Tour Hits Warehouse Live On June 25th |
All Photos By Larry Petro/Petrofyed Photography
As the Houston are continues to melt under above average June temperatures it was only fitting that we get a hot night of rock n' roll in the form of the Sonic Slam Tour, featuring CINDERELLA's TOM KEIFER and L.A. GUNS and FASTER PUSSYCAT. The traveling rock circus rolled into town on June 25th at Warehouse Live.
As the crowd started filling up the venue openers FASTER PUSSYCAT took the stage. Although the band has had its own revolving door of members that would almost rival that of fellow tourmates L.A. GUNS, they continue with vocalist Taime Downe, who's been clean and sober now for sometime and is currently sporting the Lemmy from MOTORHEAD look, and drummer Chad Stewart along with bassist Danny Nordahl. Sam "Bam" Koltun and Ronnie Simmons now anchor the band on guitar. The band kicked off the evening with an 8 song set started with "Jack The Bastard" and strangely enough did not include the new song the band had released last year, "Nola", although looking at other setlists from the tour, they had been playing it. But in the brief time they did perform we got the most notable hits like "Don't Change That Song", "Slip Of The Tongue", "Bathroom Wall" and closing number "Babylon". The band was tight and Taime sounded great as they got the crowd going for the evening.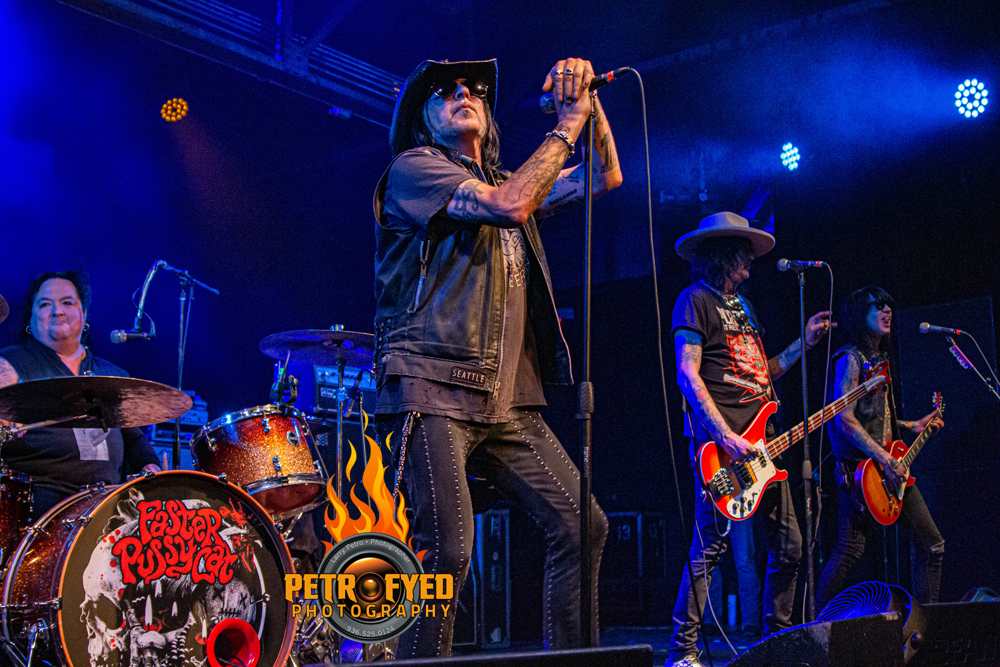 Setlist:
"Jack The Bastard"
"Don't Change That Song"
"Cathouse"
"Slip Of The Tongue"
"Nonstop To Nowhere"
"House Of Pain"
"Bathroom Wall"
"Babylon"
New up was Los Angeles' resident sleaze rockers L.A. GUNS. Holding the record for the most people being a member of the band at one time or another, the core duo of vocalist Phil Lewis and guitarist Tracii Guns continue to leed the GUNS' charge, supported by bassist Johnny Martin, new drummer Shawn Duncan and guitarist Ace Von Johnson (formerly of FASTER PUSSYCAT). Following the intro music of Ozzy's Diary Of A Madman", L.A. GUNS hit the ground running with opener "Cannonball". Vocalist Lewis himself has somewhat of a new look as well, sporting a curly moustache that instantly reminded me of the cartoon character Snidely Whiplash if you can pciture that. The look took nothing away from the sound however as L.A. GUNS also played a tight set with all their hits such as "Electric Gypsy", "Sex Action", "The Ballad Of Jayne" and "Speed" before ending with "Rip And Tear". And by now the venue was prettty well packed with anticipation for the coming headliner.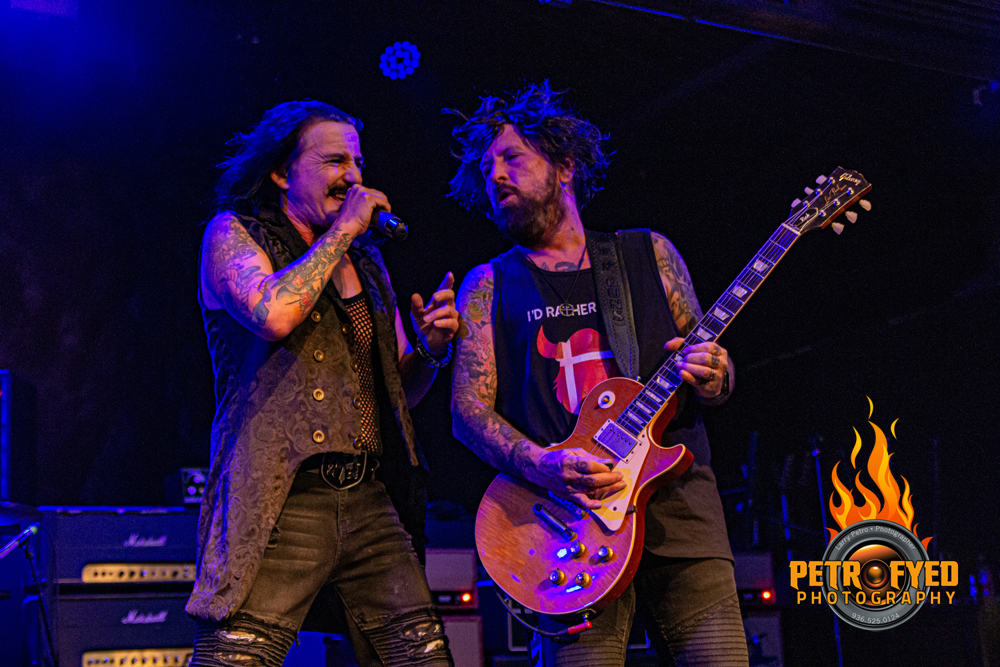 Setlist:
"Cannonball"
"Electric Gypsy"
"Over The Edge"
"Sex Action"
"Gone honey"
"Speed"
"Kiss My Love Goodbye"
"The Ballad Of Jayne"
"Never Enough"
"Rip And Tear"
With the death of guitarist Jeff LaBar last July a true CINDERELLA reunion will never materialize, but at least we still have the voice of the band, Tom Keifer, to keep the music forever alive. Tom and his band of merry men were the tour's headliner and for good reason. He continues to bring a stellar performance each and every time he takkes the stage and tonight was no exception. The set was heavy on the CINDERELLA hits as expected but we did get a few other rtunes from Tom's solo efforts, including the opening number "Touching The Divine". This was followed by "Night Songs" and "Coming Home" before going back to solo song "It's Not Enough". Given the past vocal issues Tom has experienced it is a wonder that the guy can sing at all, much less sing the way he used to but he's obviously taken care of his voice as he sounds every bit as good as he did in CINDERELLA's heyday, especially on songs like "Somebody Save Me", "Nobody's Fool", "Fallin' Apart At The Seams" and "Shake Me". As with the other groups the TOM KEIFER BAND was on top of their game and performed a near perfect show, which even included an appearance from tour manager Craig Bradford donning an acoustic guitar during the song "Shelter Me". And as per other shows in the past Tom ended the night with "Gypsy Road".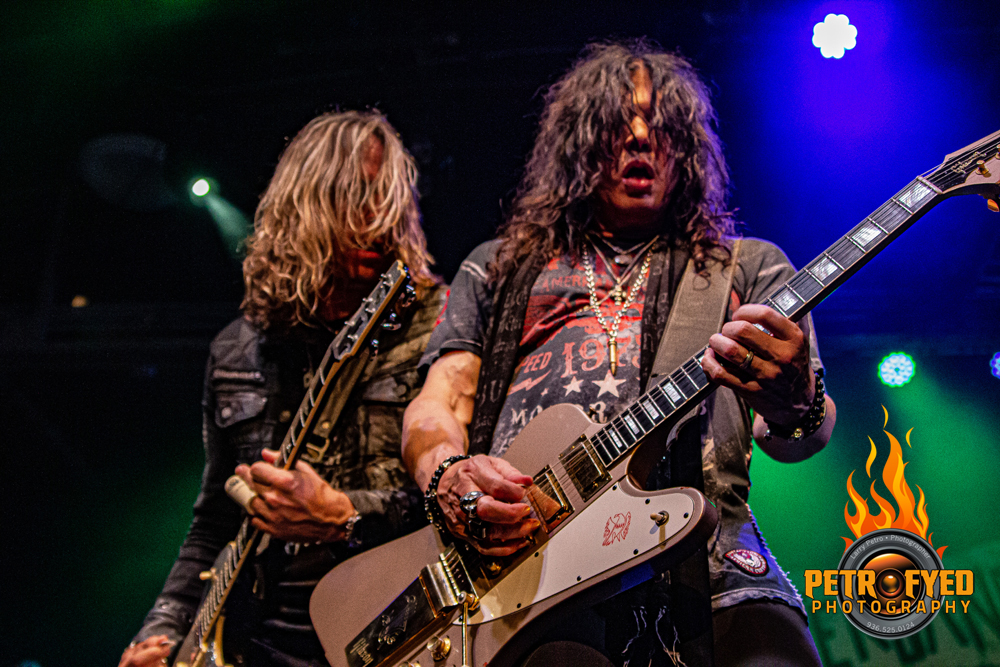 Even though Tom Keifer alone is worth the price of admission, the other bands coming along on the tour make it a great night for 80's rock n' roll and with more shows still left on the tour, catch them live if they come near you!
Setlist:
"Touching The Divine"
"Night Songs"
"Coming Home"
"It's Not Enough"
"Somebody Save Me"
"Nobody's Fool"
"Solid Ground"
"Fallin' Apart At The Seams"
"The Last Mile"
"Don't Know What You got (Till It's Gone)"
"Shake Me"
"Shelter Me"
Encore: Check out some more photos from the show!
All Photos By Larry Petro/Petrofyed Photography

Please log in to view RANTS



IMMORTAL War Against All

JOE PERRY Sweetzerland Manifesto MKII

BUCKCHERRY Vol. 10

DAVE LOMBARDO Rites Of Percussion

HELLOWEEN, HAMMERFALL In Worcester, MA With Photos!

DARK FUNERAL, CATTLE DECAPITATION, 200 STAB WOUNDS, BLACKBRAID In Houston, TX With Photos!

MR. BUNGLE, MELVINS, SPOTLIGHTS In Portland, OR With Photos!

PANTERA At Welcome To Rockville With Photos!

THE BLACK DAHLIA MURDER, TERROR, FROZEN SOUL, FUMING MOUTH, PHOBOPHILIC In Anaheim, CA With Photos!

ENFORCER Nostalgia

BUZZFEST Featuring GODSMACK, I PREVAIL, HIGHLY SUSPECT, THE STRUTS And Others In Houston, TX With Photos!

SLEEP TOKEN Take Me Back to Eden

UGLY KID JOE, FOZZY, PISTOLS AT DAWN In Houston, TX With Photos!

TESLA, FASTEST LAND ANIMAL, KURT DIEMER In Orlando, FL With Photos!

CATTLE DECAPITATION Terrasite

TYGERS OF PAN TANG Bloodlines

MYSTIC PROPHECY Hellriot

WHITECHAPEL, ARCHSPIRE, SIGNS OF THE SWARM, ENTHEOS In Santa Ana With Photos!

ALCATRAZZ Take No Prisoners

BURNING WITCHES The Dark Tower

ELVENKING Reader Of The Runes - Rapture

CHAOS AND CHARNAGE Tour Featuring SUICIDE SILENCE, DYING FETUS, BORN OF OSIRIS, ABORTED, CROWN MAGNETAR, SANGUISUGABOGG And SLAY SQUAD In Anaheim With Photos!

ENFORCED War Remains

SAVAGE EXISTENCE Savage Existence

BLACK ROZE Penny For Your Sins

WINGER Seven